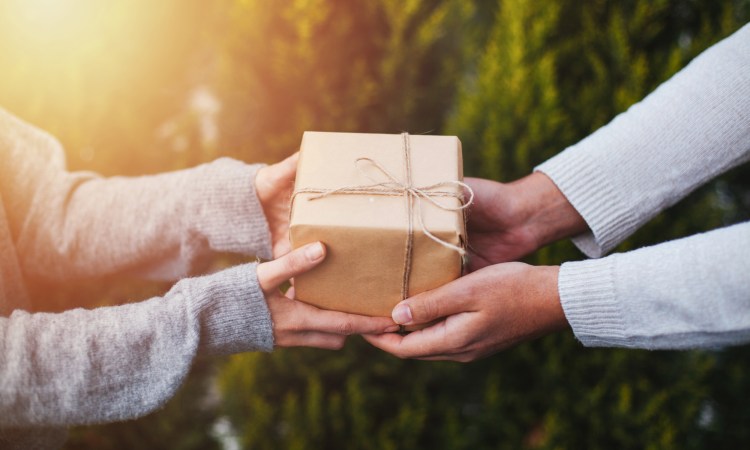 The winter holidays are a time of giving, but too often that means nonstop spending, shopping and stress. Read how one family boldly reimagined their annual gift swap.
Giving presents is a fun way to show people we care about them. But as many of us know, giving presents during the December holiday season can cost a lot of money and cause a lot of stress. In the US alone, holiday spending is estimated to exceed $1.1 trillion in 2018, with Americans planning to spend roughly $850 on gifts, on average.
A few years ago, our family made a few observations about the financial and emotional toll of our holiday gift exchange. Our exchange involves seven adults — three sisters (Kate, Lizzie and Charlotte), their parents (Ted and Sue), and Kate and Charlotte's husbands (David and Sam) — and two children (Nyaanina and Arthur).
Gift giving was getting more and more tricky. Traditionally, everyone showed up with a present for every other person, and Sue, the matriarch, provided an additional bounty "from Santa" that she chose through loving but laborious guesswork. But after the packages were opened, we inevitably found that people didn't want or need many of the presents they'd received; there was always the distinct threat of repeat gifts for the same person or the same household (one year, three copies of Yotam Ottolenghi's vegetable cookbook Plenty More were exchanged among seven grownups); and the need for so much shopping took away from how present we could be during the holidays.
For Christmas 2016 we tried to go lower key, inspired by an idea of Lizzie's: We made Google Docs where every adult would list a few relatively inexpensive items ($20 or less) that they'd be pleased to receive. People decided on one item to buy for each person, and communicated their selection to everyone (except the recipient, of course!). And "Santa" was eliminated entirely from the circle of gift-givers.
It worked but also, it didn't. Some people procrastinated writing their lists (probably a sign they didn't want or need more stuff). And, even with the new plan, gift buying still took too much time and energy during a period that was supposed to be about family connection.
For Christmas 2017, we made a big change. First, one ground rule: The kids could get as many gifts as the loving adults in their lives wanted to shower on them (because shopping for toddlers is fun!). But instead of adults exchanging presents, each of us would give the rest of the family a presentation — in any format and on any topic they wished.
This idea began as an elaboration on a family joke from another get-together; somehow, we'd started talking about the Powerpoint presentations we'd given at work or school, and we resurrected a few of them for dramatic renditions. It was amusing and strangely edifying (one oddball presentation titled "The Mitford Sisters: A Surprising Powerpoint" became a family favorite).
We thought it could be fun to do this in a more purposeful way over the holidays — and we were genuinely curious about what our family members might share. We left the format wide open. Besides a Powerpoint, people could offer a how-to workshop, detailed update, story, performance, demonstration, Q&A, facilitated discussion, and so on. We all liked how this form of giving emphasized shared activity, conversation and focused attention.
In the weeks before Christmas, we circulated a Google Doc so people could commit to a time slot. On December 23, there was great excitement at the grandparents' house as we convened for the first of eight presentations to take place over the next few days. Seated together in the living room, we practiced the hissing of snakes with Uncle Sam and learned what sounds giraffes make from his 15-month-old son, Arthur, a budding animal vocalist and Sam's copresenter on "Animal Sounds." Then, two-year-old Nyaanina — with assistance from her father, David — led demonstrations of gravity and shadows in her presentation "Physics by babies: What do light sources, the horizon, shadows and gravity have in common?"
Next, Ted introduced us to the principle of chi and led a sensational tai chi session for beginners. Sue read some "greatest hits" from a record book of family meetings in the '80s and '90s, which were the "town hall" for discussing family business and making decisions (every member, no matter their age, had an equal vote). Kate, Nyaanina's mother and codirector of a breastfeeding innovation project, held a Q&A on her research into obstacles to breastfeeding and breast pumping in the US. Her husband, David, then a research scientist at IBM Research Africa, introduced the family to modern AI techniques by analyzing the family WhatsApp chat history using natural language processing. David found, for example, that the mention of Kate's name in the family chat was closely linked with words and sentiments of travel (Kate had travelled a lot that year for work). Lizzie, a graduate student in political theory, led a dinnertime conversation about the meaning of "neoliberalism." Charlotte, who had taken up the piano again after a ten-year break, performed a few of the pieces she'd been working on.
Over our four-day gathering, we learned something new about animals, mindfulness, political theory, breast pumps and family history. We also learned new things about each other and what we'd all been up to over the past year.
We're planning to do it again this Christmas, and for years to come. As Arthur and Nyaanina grow up, it will be exciting to see them find their way in this tradition. What will they choose to tell us about their lives and interests? It promises to be a creative and productive forum for the rest of us as well. For those of us who don't have opportunities in our day-to-day life to give presentations about our preoccupations, it's a good way to consolidate our thoughts and see how they add up. It's also a great venue for sharing small or informal projects that don't have a natural public outlet or aren't intended for a larger audience. And it will likely provide an effective deadline to motivate us to finish such projects.
Through this re-conceived gift exchange, we've found a way to put the focus firmly on what matters — on people, not objects; on building rapport with each other; and on family togetherness. It's been fascinating and lots of fun, and there's no last-minute shopping needed.
Watch David Sengeh's TED talk here: