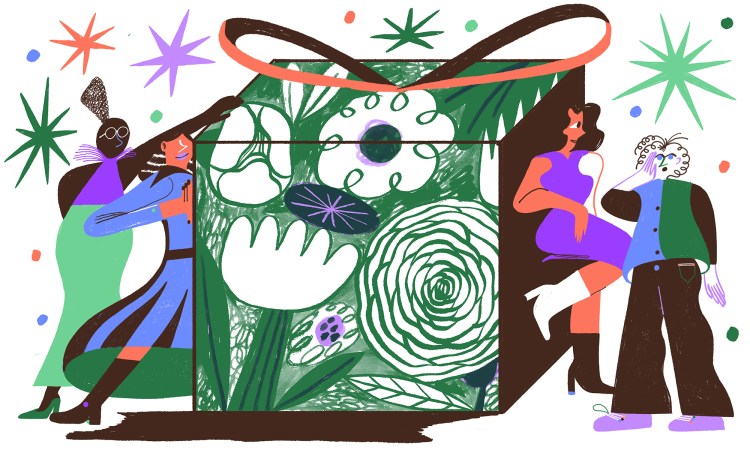 The holidays are here — a time for family, friends and festivities. But it's also a season of consumerism, which is costing our planet a hefty price. 
This year, the world has seen the biggest increase in ship emissions in over a decade (along with endangered whales getting struck by congested cargo ships.) In the US alone, returned packages will generate around 15 million tons of carbon pollution (equivalent to 3.2 million cars driven on the road for one year). And then there are the environmental harms caused by the gifts themselves, which could include polluting fast fashion items, plastic toys made from fossil fuels, or sweet treats that are driving deforestation.  
But it is possible to show your loved ones you care while also caring for our collective home. We asked TED speakers to share planet-friendly gift recommendations, and here are 16 ideas for a merry — and more sustainable — holiday season. 
[Editor's note: One of the greatest gifts you can give is the gift of lifelong learning. For your favorite curious soul, consider sending them a TED Membership, where they can enjoy exclusive programs and events throughout the year as well as access to a global community of like-minded people. Learn more here.]
1. Digital subscriptions for the mind, body and soul

I love the ritual of presents, and I've found that digital subscriptions are great gifts. Here are three:
1) An annual gift subscription to Duolingo (Plus or Family), because learning another language is a beautiful gift to ourselves and to the world. It creates stronger bonds and connects with other cultures.
2) An annual subscription to Body Groove. During the pandemic, I learned that dancing at home does wonders, physically and mentally. We need to keep strong!
3) An annual subscription to a magazine that will introduce you to great writing and emerging voices. Because in an age marked by existential struggles — climate, COVID, inequality — we need fiction and non-fiction. We need the power of stories to help us expand our imaginations and transcend our everyday lives.
— Monica Araya (TED Talk: How cities are detoxing transportation)
2. Sustainable alternatives to frequently purchased products
Some of the most impactful gifts are those that can replace "sleepwalk consumption" products — the things we buy repeatedly without much thought. Luckily, many of these products can be replaced with sustainable alternatives, and many companies have made delightful, whimsical and giftable versions of them. By giving a beautiful sleepwalking product as a gift, you could change one person's — or one family's — impact over the rest of their lives. Here are a few ideas: 100 percent Slave-Free Chocolate, "Give" Holiday Edition Toilet Paper, Oatly Chocolate Milk, Brew Dog Beer Advent Calendar, Bite Toothpaste or Dirty Labs Laundry.
— Mariana Prieto (TED Talk: Why animals need design)
3. Tree saplings
If you live in the UK, why not give your loved one a pack of 105 tree saplings to plant, thereby helping save the planet by removing more carbon dioxide from the air and providing valuable new habitats? They can be obtained from The Woodland Trust — and the best thing is that they're free. I helped plant 210 saplings last week! And if you don't live in the UK, there may be a similar scheme where you are, but even if there isn't, give someone some trees anyway.
— Ian Firth (TED Talk: Bridges should be beautiful)
4. Outdoor gear 
Being that change is certain but not predictable, I'll suggest a gift from BioLite, which offers great products for outdoor adventures and off-the-grid and emergency energy. I love Biolite's awesome commitment to serving both campers and people who still lack access to reliable power, and the company has also won the prestigious 2021 National Design Award from the Cooper Hewitt, Smithsonian Design Museum. I'm getting my pal who has frequent outages an Alpen Glow 500, so she can charge her devices with it too.
— Wendy Brawer (TED Talk: How green is my city?) 
5. A parks pass

My planet-friendly gift recommendation for any Americans on your list is an annual pass to the US National Parks. It's a great gift, because what could be more fun than spending time outdoors with your loved ones learning about the beautiful planet we live on? The money also goes towards the National Parks Service, which has conservation as an essential part of its mission (and has since its founding in 1916).
— Zoe Pierrat (TED-Ed Lesson: Earth's mysterious red glow, explained)
6. Refurbished antiques

My favorite climate-friendly gifts are refurbished antiques. It's a wonderful way to repurpose a once-functional item from the past into a beautiful gift. I am also an environmental science teacher, so every year I create a bulletin board that suggests other green holiday ideas to my students because there are so many ways to offset your carbon footprint.
— Kim Preshoff (TED-Ed Lesson: What's a smartphone made of?)
7. A mushroom garden

My sustainable holiday gift recommendation is a mushroom grow cube that allows you to easily grow a delicious, sustainable food source from your kitchen, basement, bathroom — wherever is convenient for you. It's fun to watch them grow (quicker than you would expect!) with very little effort, and they come in several mushroom varieties. You can get them from a variety of sources online, but to make the gift more sustainable, you can look into a local mushroom grower online or get them in person at your local farmers' markets. (For example, here is a local mushroom grower near me in Maryland.) 
— Noah Bressman (TED-Ed Lesson: The fish that walk on land)
8. A giant of a plant

Most of us have enough stuff, so this holiday season, why not give a gift that will create a legacy? While the Archangel Ancient Tree Archive won't sell you their certified champion Giant Sequoia seedlings, they will plant one for you — or even an entire forest. What better gift can you give than one that will be around for thousands of years?
— Camille Seaman (TED Talk: Connection and purpose: tales of polar photographer)
9. A vegan dessert

The Brave Robot cake mix uses a non-animal whey protein that replaces the equivalent of three eggs! It produces an animal-free yellow cake that doesn't use aquafaba, flax seeds or other traditional egg replacements that can mess with flavor or texture. The protein is made by reprogramming microflora to produce the same whey found in cow milk — it's cellular agriculture in action!
— Isha Datar (TED Talk: How we could eat real meat without harming animals)
10. A map of your town or city

Who doesn't love a good map? Humans have been using them ever since our ancestors started drawing on cave walls. My planet-friendly gift recommendation is a map of your city or town. If you want, circle your favorite places that are accessible on foot, bicycle, bus and metro, such as parks, vistas, buildings and shops. You could give it in either digital or paper form — and bonus points if you can find an old map at an auction site or local map store and get it framed. Maps can help people rediscover the amazing diversity of their natural and built environment, support local business and help keep everyone's footprint local.
— Robert Muggah (TED Talk: The biggest risks facing cities — and some solutions)
11. Support a local theater or bookstore

While we fight climate change, we can still do the things that are most important, like hugging grandmothers, meeting friends and celebrating holidays. A ticket to a local theater might be one of the most climate-friendly gifts, and it strengthens the community.
Here in Iceland, a book has been the most popular Christmas gift for the last century. We have what is called jólabókaflóð, or the Christmas book flood. Most books are published in November and December to become Christmas gifts, and for most people, there is no holiday without going to bed with a new book. 
So I would recommend giving a book, perhaps by a local author from a local bookstore. The book can last decades, and it never becomes obsolete. You can pass it on; it is not run by evil algorithms; does not monitor your behavior; give you likes; or collect your data in energy-intensive data farms. A good book lets you dive into other people's minds — and at best, it can change your life.
— Andri Snær Magnason (TED Talk: On time and water)
12. Wildflower seeds

Native wildflower seeds make a wonderful gift. As they bloom, they become the foundation of local ecosystems for pollinators and birds, while improving soil health and preventing erosion. They won't break your bank, and your recipient will smile every time they see them.
— Jeff Kirschner (TED Talk: This app makes it fun to pick up litter)
13. Zero-carbon fashion

We know the fashion industry has disproportionately negative impacts on the environment — it is responsible for 20 percent of our water pollution, 10 percent of carbon emissions, and every time we wash synthetic fibers, we are contributing to microplastic pollution. That's why I created a company that produces clothing made by hand with only three ingredients — sun, plants and mountain water — and without using any electricity, chemicals, plastics or fossil fuels. Another clothing and textile company that's aiming to do things more sustainably is Rough Linen. They create beautiful linen products from natural fibers, including sumptuous bathrobes, PJs, aprons, tea towels and so much more, and all products are handmade in the US. With each gift, you can remind your cherished giftee that our consumer choices can impact industries.
— Angel Chang (TED Talk: How ancient textiles can help the future)
14. A local experience

Personally, I try to move away from purchased items for my giftees, as consumerism results in significant carbon emissions and awe-worthy amounts of waste. Instead, I try to spend money on shared local experiences that bring joy and create shared memories. These can be regionally specific and vary considerably in price; however, the plentiful availability of virtual workshops does make this a highly accessible gift idea. In the past, my giftees and I have learned the art of falconry as well as how to scuba dive, race sled dogs, zip line, blow glass, metalsmith, cook pasta, taste whiskey, bead jewelry and sew. Last but not least, we've visited baby goats and learned to make cheese and garden!
— Anne Madden (TED Talk: Meet the microscopic life in your home — and on your face)
15. A day out in nature

Give the gift of learning to reconnect with nature, which is at the heart of solving our environmental crisis. Create a homemade "nature experience gift card" to suit your loved ones' interests — creating a personalized day out in nature that's organized by you. Depending on where you live and what you enjoy doing with them, it could be a mountain hike, a walk on a quiet beach, a visit to a botanic garden, or a picnic in a local park. While you are there, invite them to sit quietly; observe the sounds, smells and feel of the surroundings and the visual beauty; and simply notice what happens.
— Carol Farbotko (TED-Ed Lesson: Where will you be able to live in 20 years?)
16. A workshop or course

How about giving a gift that gives back? I'm thinking of a gift that can build someone's skills to pursue a life of purpose and dignity. These resources already exist in us today, but we don't utilize them enough. Why not gift someone a workshop or course that enhances their skills so they can be confident, empowered and encouraged? I like to gift a basic survival skills course that will teach them to deal better when in crisis. Your giftee will thank you for it!
— Rumaitha Al Busaidi (TED Talk: Women and girls, you are part of the climate solution) 
---
Can having less stuff, in less room, lead to more happiness? Writer and designer Graham Hill lays out three rules for editing your life: