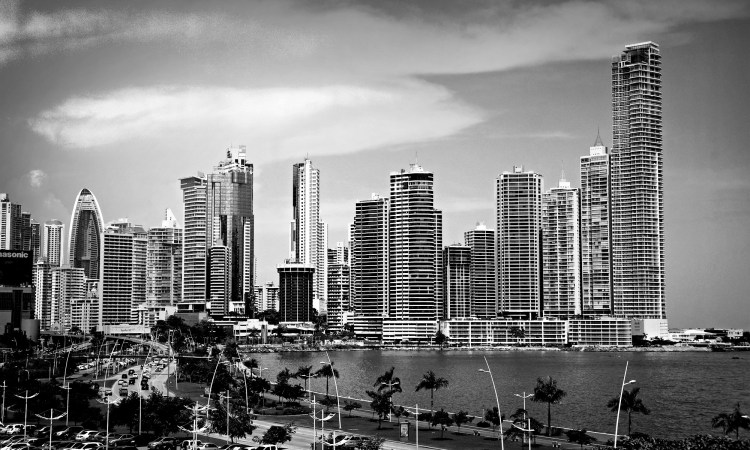 An inside look at the intense year-long investigation into the shady sales of the Trump Ocean Club high-rise in Panama
The glittering 72-story tower on Panama City's oceanfront is a standout. Shaped like a sail, it was the tallest building in Latin America when it opened in 2011. It also marked the Trump Organization's first international licensing venture. And, according to a new report from TED Prize winner Charmian Gooch and her colleagues at Global Witness, this particular building, known as the Trump Ocean Club, is a textbook example of how money gleaned through crime and corruption can enter global markets through what look like legitimate deals. Global Witness' year-long investigation revealed how members of drug cartels and the Russian mafia used real estate in the building to launder money. Below, an inside look into how it was conducted and what its findings suggest.
Step 1: Start with a hunch.
Panama is known for its canal, its watersports and its biodiversity. And in the 2000s, it also became known in the criminal underworld as a fantastic place to launder money through luxury condos. It's a classic move — corrupt officials, criminals and even terrorists "wash" ill-gotten wealth by buying apartments in cash, so the purchase will be subject to little scrutiny, or with bearer shares, unregistered stock certificates that were only restricted in Panama in 2013. Then when they sell the property, the proceeds become part of a legitimate transaction, and can be spent freely.
Why did Global Witness decide to look at the Trump Ocean Club? "Panama has been known as a hotspot for dirty money, and the warning signs were there, suggesting money laundering in its early stages of the development," says Global Witness investigator Eryn Schornick. "Global Witness' main objective is to find the facts, expose corruption and use that to propel policy change." The Trump Ocean Club was the Trump Organization's most lucrative licensing deal to date, so they wanted to see what went on in the project's early years.
Step 2: Follow the paper trail and see where it leads.
The Trump Ocean Club was announced in 2006, and the project marked a pivot for The Trump Organization — it was the first time the company licensed its name to another developer (a business approach they've used since). Collaborating with media partners Reuters and NBC News, Global Witness began their probe by digging up all public documents associated with the building. They requested property records, gathered info on all the property's main players, and scrutinized media reports and promotional material (like the marketing brochure that included a personal letter from then-businessman Donald Trump). According to a bond prospectus, Trump was expected to make $75.4 million from the project by 2010, from licensing fees and by receiving a cut of each unit sold. (When then-president Trump filed financial disclosure records in early 2017, he revealed that he continued to profit from the building through 2016.)
Global Witness noticed something strange in the building's property records. Many units hadn't been purchased by individuals but by corporations, and investigators found a slew called, for example, "Trump Ocean Club Unit 1502" or "Trump Ocean Club Unit 1605." Says Schornick, "There was a really clear naming convention." In total, 119 special Panamanian companies appear to have been created just for buying units in the building, and those companies obscured the real buyer. This lack of transparency appeared to be neither accidental nor innocent. "Anonymous companies are like getaway cars for the criminal and corrupt," says Schornick. "From Global Witness' perspective, there is no legitimate business purpose for them."
Step 3: Hit the ground to interview people.
Global Witness dispatched an investigator to Panama. He stayed there for weeks, talking to more than a dozen people who had knowledge of the building. The story that he pieced together: the announcement of the Trump Ocean Club in 2006 kicked off a pre-construction sales period that ran through June 2007. During that time, the developer needed to lock in enough sales to secure the $220 million in financing needed to build the high-rise.
The real estate agent who was the MVP during this time was a Brazilian by the name of Alexandre Henrique Ventura Nogueira. He sold about one-third of the building's 666 pre-construction sales units (overall, he says he sold 350 to 400 of the building's 1004 units for a little more than $100 million). Interviews revealed that the creation of an anonymous shell company was actually part of the service package that Ventura Nogueira and his associates offered to buyers — a practice that Global Witness had heard of but never actually seen in an investigation. They also learned from brokers that Russians who could pay in cash were seen as the ideal buyers.
Interviews also surfaced another surprising finding: Ventura Nogueira had ties to David Eduardo Helmut Murcia Guzmán. Murcia Guzmán is a Colombian businessman who was sentenced in 2011 by a US court to serve nine years in federal prison for laundering "the proceeds of narcotics trafficking" from the guerrilla groups FARC and AUC. Murcia Guzmán moved dirty money through his marketing company, DMG Group, and through real estate purchases in Florida as well as Panama. Global Witness' interviews suggested that he purchased multiple units in the Trump Ocean Club through Ventura Nogueira, potentially with cash transported into Panama by drug mules from Colombia.
Step 4: Identify the patterns.
NBC News' Richard Engel landed some major interviews for the investigation, confirming much of what Global Witness suspected. In November 2017, Engel managed to speak to Ventura Nogueira himself. (After being arrested for multiple counts of fraud in 2009, he fled Panama in 2012 and has been living on the lam since then.) He denied having a close relationship with Murcia Guzmán, saying they interacted for only 45 days. But he confirmed acting as Murcia Guzmán's broker for the purchase of "a maximum of 10" units in the building. Ventura Nogueira also estimated that 50 percent of his clients were Russian and said he'd sold units to people with ties to crime. "I had some customers with, you know, questionable backgrounds, Russian mafia," he told Engel. He added, "If they launder money, that's their problem."
Engel also interviewed Monte Morris Friesner, a Canadian who was also involved with the building and who had been convicted of financial crimes in the 1990s. Friesner said the Trump Ocean Club was made of "cocaine concrete" — meaning it had been financed by drugs — and that many purchasers were "Russians with dirty money." He said that people bought 5, 10 and even 20 units at a time, sometimes with suitcases of money or bearer shares, and then sold them quickly — all hallmarks of money laundering.
Step 5: Push for change.
Global Witness' report does not allege that the Trump Organization broke the law. In a statement to NBC, The Trump Organization said it had no involvement in the sale of units for the Panamanian building and was not responsible for vetting buyers — and Global Witness agrees this may be true. However, "there were all of these warning signs that money laundering was happening at the Trump Ocean Club," says Schornick. "The signs were so apparent, it's extremely difficult to believe no one thought to ask." The solution that Global Witness advocates: Require everyone involved in a deal — from sellers to real estate agents to lawyers — to know who they're doing business with and profiting from, to make sure no one hides dirty money behind an anonymous company.
To learn more, read Global Witness' full report Narco-a-Lago: Money Laundering at the Trump Ocean Club Panama.