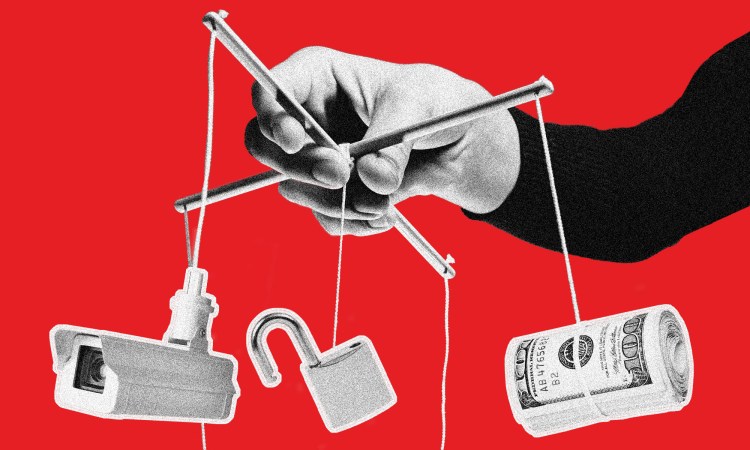 When taxpayer money goes to companies with murky ownership, it may put lives in danger and support shady actors. The watchdog group Global Witness shows what can happen when a government ends up working with anonymous companies.
In February 2017, President Trump proposed a $54 billion increase to the annual defense budget. His proposal raised eyebrows at Global Witness, the watchdog organization cofounded by TED Prize winner Charmian Gooch (TED Talk: Let's launch a new era in business). But the group's concerns weren't just those voiced by others — that this spending would over-emphasize hard power and force deep cuts in non-defense programs. No, their worry is that when government budgets increase without adequate oversight, so does the potential for abuse. "When oversight isn't tight, it's open season for criminal and corrupt persons to do what they like," says Global Witness researcher Eryn Schornick.
Since 2014, Global Witness has investigated businesses that operate without the public knowing the person or entity who ultimately owns them. These so-called anonymous companies are all around us — based in the islands of the Caribbean and even in Delaware, perhaps founded with a fake name on the owner's dotted line. Some legitimate companies use anonymity for reasons like patent protection or competition — but others are designed to obscure the actions of owners with ill intentions. Anonymous companies can easily bid on lucrative defense contracts — and win them, says Schornick. She highlights several American cases from the past 15 years to show why increases in defense spending must be coupled with strict oversight.
Anonymous companies open the door for crooks to commit fraud — and compromise the military's ability to act. Roger Charles Day Jr. served prison time for defrauding the US Department of Defense. After his release, he did it again — by setting up at least 18 anonymous companies in eight states and Canada. Day and a group of co-conspirators bid on and won up to 1,000 contracts to supply parts for military aircrafts and weapons systems. They landed $11.2 million worth of work — but did it by supplying shoddy, unusable equipment they'd purchased at low cost and sold at inflated prices. Besides being a rip-off, the defective parts caused many problems: an Air Force master sergeant in Florida couldn't test an aircraft's missile detection system for weeks; technicians at a base in Georgia were unable to fix a plane's radar control panel; a Marine Corps quality assurance specialist in New York found that parts for an amphibious vehicle could have led to steering malfunctions in combat. When any of Day's companies became barred from getting contracts, he simply shifted the bidding to the ones that weren't. "He used anonymously owned companies so he could continue to do business with the government," says Schornick. The scam lasted for four years. Day was busted in Cancun in 2008, and three years later, he was sentenced to 105 years in prison for conspiracy to commit fraud (five of his co-conspirators pleaded guilty as well).
Anonymous companies allow money to end up in enemy hands. The US lost somewhere between $31 billion and $60 billion from 2002 to 2011 due to contract waste and fraud in Iraq and Afghanistan, according to the Commission on Wartime Contracting. In Afghanistan, where the American government relied on contractors and subcontractors on the ground, it didn't have the personnel to handle oversight. The result: $360 million flowed directly to the Taliban and Afghan crime networks — the very people the US was fighting. This estimate comes from Task Force 2010, a team of forensic accountants and investigators who spent nearly two years looking into suspicious deals in Afghanistan. In 2011, The Washington Post detailed the team's examination of eight trucking firms contracted by the US to move military supplies through Afghanistan. Six were believed to have given fraudulent paperwork; four of the companies were linked to crime networks or support for the Taliban. Investigators traced a $7.4 million payment as it passed through subcontractors straight into the bank account of an Afghan National Police commander. From there, $3.3 million was funneled to insurgents via weapons, explosives and money. "It's not just that it's taxpayer money — this put troops at risk," says Schornick.
Anonymous companies enable internal corruption. As American troops left Afghanistan, that country's forces were charged with taking greater responsibility for their security. Army Lieutenant Colonel David Young served as a US liaison for this transfer, and when it came time to hire a contractor to train Afghan commandos in weapons maintenance, he shared information about the project with two associates. "They basically colluded," says Schornick. "He shared confidential information so they could craft the perfect bid." It worked. Young's associates won $54 million in contracts, and the group pocketed $20 million of that sum. At least $9.4 million was diverted from Afghan security and into anonymous companies set up by Young, who used the funds to buy 16 properties, a Hummer, a boat and a stockpile of gold coins. Their plot was eventually uncovered, and Young received three-and-a-half years in prison for fraud in 2014. His associates pleaded guilty as well.
Anonymous companies leave federal agencies vulnerable. In January 2017, the Government Accountability Office (GAO) released a report that looked at federal agencies — including the FBI and DEA — which rent office space for high-security operations such as storage of evidence and sensitive data. Investigators sought to find out how many were renting space from foreign owners. Clearly, not all foreign owners are nefarious, but it does open up the possibility, the report stated, of "security risks such as espionage and unauthorized cyber and physical access." In the end, the GAO found 26 agencies renting space from foreign owners, and of the 14 contacted, nine of them didn't know they were leasing from a foreign owner because the building ownership wasn't clear. In one case, an FBI field office in Seattle responsible for investigating public corruption and money laundering in Asia, among other things, was discovered to be leasing space in a building owned, through a series of domestic and foreign companies, by the Taib family of Malaysia. The Taibs are suspected of selling off their country's rainforests for personal gain. "The FBI has a 20-year lease for the space, and at the end, it will have paid $56 million in rent to this family," said Schornick. "That makes no sense."
The good news: Anonymous companies can be stopped. The key to preventing abuse and misuse of funds is transparency. Global Witness would like to see the US government collect, verify and publish details of those who own companies that are bidding for government contracts, so those issuing contracts can do their due diligence. Meanwhile, all companies bidding on federal contracts should also disclose who ultimately owns them as an expression of integrity — and they should demand this information from any companies to whom they'll be subcontracting, no matter how small. Finally, it hopes voters will push for greater transparency by asking Congress to create an open-access, public registry of company ownership in the US. Because when anonymity vanishes, fraud becomes that much harder. "This very common sense, simple solution could go such a long way," says Schornick.