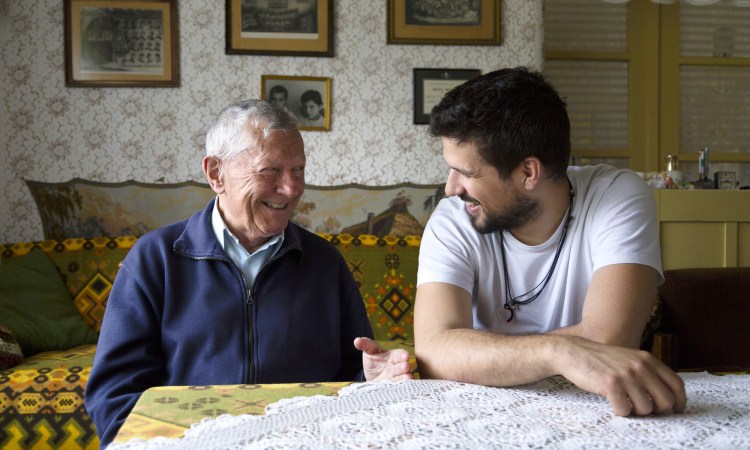 It's only human to avoid discussing death. But when we do, we run the risk of not knowing how our loved ones want to live — and die. Advocate and journalist Ellen Goodman tells us how to kick off this critical conversation.
Death and taxes are two of life's certainties. But while we've most likely talked to our relatives and dearest friends about money, few of us bring up death — even with the people we're closest to. That must change, says Pulitzer Prize-winning journalist Ellen Goodman (TEDxBoston talk: The conversation project); as she puts it, we need to bring dying into the open.
Her belief stems from her own missed opportunities. She and her mom had the kind of relationship where they talked about everything — or so she thought. But when her mother became seriously ill and unable to make decisions, Goodman recalls, "I got a phone call from her doctor at the long-term care facility. He said, 'Your mom has another bout of pneumonia. Do you want her to have antibiotics?' And I froze." At that moment, she realized how little she knew about what her mother wanted.
In 2010, Goodman founded The Conversation Project, a nonprofit based in Cambridge, Massachusetts, that helps people talk about their end-of-life plans. Here, she shares how to kick off this critical conversation with someone you love.
Step #1: Identify why you're worried about having the talk.
Hesitation is natural. There are many reasons not to talk about death, especially the death of a parent. Maybe you're scared that your mom or dad isn't emotionally ready to have the conversation. But according to a survey from The Conversation Project, 92 percent of Americans polled said they were eager to talk about their end-life-care.
Perhaps you think talking about death is unnecessary now — your parent is in great health. But, as we all know, death is unpredictable. Goodman says, "It's best to have these conversations before there's a crisis, because a crisis is a terrible time to learn."
Or, you may worry your parent will change their mind about what they want between your talk and when they finally need end-of-life care. But as Goodman points out, "None of this is written in stone." The point is just to get started.
Step #2: Say "I need your help."
OK, you've accepted that it's time to talk — but you don't know how to even begin. Again, this is normal. Goodman suggests a brilliant way to open the conversation. "With children talking to their parents, we find it's often good for them to say 'Mom, Dad, I need your help. There may come a time when I need to make decisions for you.'" Why this approach? Goodman explains, "When you phrase it in those terms, it's a rare parent who will say, 'No, I'm not going to help you.'"
Another way you can begin: Share a family story. In her time zigzagging across the country for the Conversation Project, Goodman has found everybody has a story — whether it's about a good or difficult death.
"You can start with 'Remember when Grandma or Uncle Jeff died. What did you think about it? How would you like yours to be different?"' says Goodman. "Touching on a familiar experience opens the door to how people experienced it and how people feel about it."
Pro tip: Blunt is bad.
While there are many good ways to start, please avoid the tell-it-like-it-is approach. Goodman says a sledgehammer statement like "Dad, you know you're gonna die someday" is a terrible opener. "It just makes everybody tense."
Step #3: Invite them to finish this sentence.
To guide the conversation, ask your loved one to complete this sentence for you: "What matters to me at the end of life is …"
Possible answers could include:
"Being in the best hospital with the best care available."
"Being in the comfort of my own home."
"Having a chance to say goodbye to loved ones."
"Being assured that all medical efforts have been used to keep me alive."
"Being assured that no heroic efforts will be used to artificially keep me alive."
"Knowing that Person X will take care of all my financial affairs."
"Knowing that Person X will make my medical decisions."
This sentence can give you an understanding of your loved one's priorities and concerns, and also point you towards which issues will need to be explored.
Step #4: Know that everything won't get wrapped up in a single discussion.
Let your initial talk last as long as it does naturally — without your extending it or steering it. According to Goodman, "this usually takes several conversations" to hammer out. Many people may want more time to think about these questions; they might also come up with their own. So how should you conclude this first talk? "A hug would be nice," says Goodman.
Rather than seeing these conversations as a painful ordeal or a dreaded obligation, try to see them as a chance for you to speak honestly with your loved ones and bring everyone's worries out into the open. "People are so anxious about having the conversation," reports Goodman. "But once they do, the huge majority will say, 'It's the best conversation we ever had. It was real, it was emotional, it was talking about things that matter.'"
These talks are a gift we can give each other, says Goodman. By having them, she says, "it's not that everything will go perfectly at the end of your loved one's life, but you will know you did the best you could."
For more advice, check out the Conversation Starter Kit on The Conversation Project website.
Watch Ellen Goodman's TEDxBoston talk here: