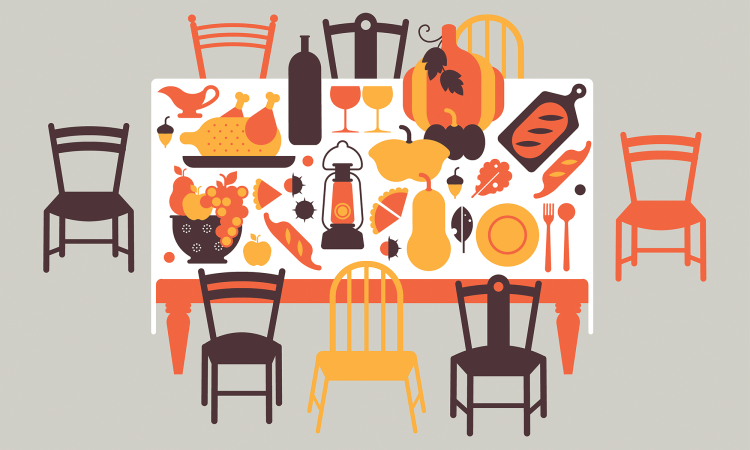 Plus: 3 stories of gratitude and generosity from StoryCorps
Sometime between the first bite of turkey and the last slice of pie, it'll happen: a lull in the dinner conversation. What will you do next? If you're breaking bread with acquaintances, you might turn small talk into smart conversation. But if you're with family and friends and want to deepen the ties that bind, then try asking one of the following 10 questions around the table, as recommended by StoryCorps founder (and 2015 TED Prize winner) Dave Isay:
.


What are you grateful for?
What are you proudest of?
What's been the happiest moment of your life so far?
What's been the hardest moment of your life, and how did you get through it?
What are the most important lessons you've learned in life?
How would you describe yourself as a child? Were you happy?
Who has been kindest to you?
How do you want to be remembered?
If your great great grandchildren could listen to this years from now: is there any wisdom you'd want to pass on to them? What would you want them to know?
If you could honor one person in your life — living or dead — by listening to their story, who would that be, what would you ask them and why?
---
Need some inspiration first? Below, check out 3 stories of gratitude and thanksgiving, chosen by Dave Isay. For more stories from the heart, listen to these 7 unforgettable StoryCorps tales and read Ties That Bind: Stories of Love and Gratitude from the First Ten Years of StoryCorps.
"I put an ad in the local paper and offered to cook Thanksgiving dinner for twelve people."
"Scott Macaulay remembers how, 25 years ago, he started an annual holiday dinner for strangers who have nowhere else to go." Listen to his story.
"If we left, they wouldn't have nobody."
"In 2013, Maurice Rowland was working as a cook at Valley Springs Manor, an assisted living home for elderly residents in California. He got his friend Miguel Alvarez a job there as a janitor last fall. But in October of that year the company that managed the home suddenly shut it down, leaving many of the elderly residents with nowhere to go. The staff stopped being paid so they all left, except for Maurice and Miguel. At StoryCorps they remembered caring for abandoned residents until the fire department and sheriff took over three days later." Listen to their story. 
"A good man"
"Bryan Wilmoth and his seven younger siblings were raised in a strict, religious home. At StoryCorps, Bryan talks with his brother Mike about what it was like to reconnect years after their dad kicked Bryan out for being gay." Watch the animated story.
Featured image via iStock