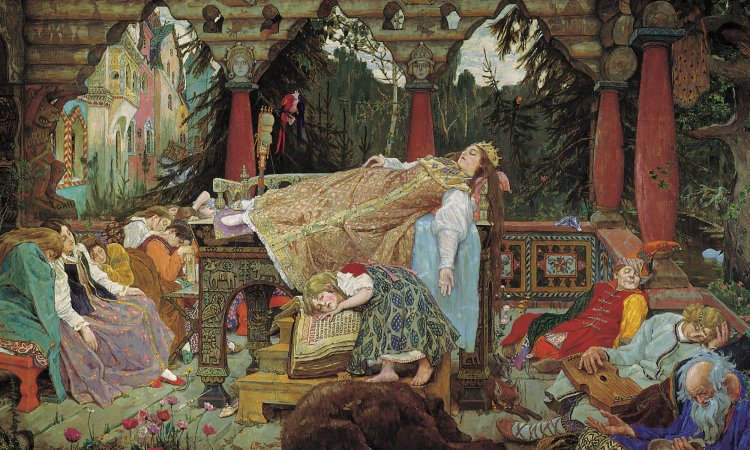 Arianna Huffington's small idea to help you unlock your big ideas: Sleep more.
"I learned the hard way the value of sleep," said Arianna Huffington at TEDWomen in 2010. "Two and a half years ago, I fainted from exhaustion, and I hit my head on my desk." (Watch: Arianna Huffington: How to succeed? Get more sleep.) Since then, the media mogul has become a spokesperson for being better rested. Getting enough sleep, she suggests, leads to more productivity and better leadership — even though sleep experts still aren't completely sure why we sleep or exactly how much we should.
Below, explore 16 articles and scientific papers on the evolving study of sleep, recommended by Huffington.
Why we sleep
"Brains sweep themselves clean of toxins during sleep"
Jon Hamilton
NPR, October 17, 2013
This audio podcast compares sleep to a dishwasher that cleans the brain of toxins that can impact health and cognitive function.
"Habitual 'sleep credit' is associated with greater grey matter volume of the medial prefrontal cortex, higher emotional intelligence and better mental health"
Mareen Weber et al.
Journal of Sleep Research, October 2014
This report highlights some of the research suggesting that sleep enhances emotional intelligence and cognitive functioning.
"Five myths about sleep"
Till Roenneberg
The Washington Post, November 21, 2012
This article debunks 5 myths about sleep. "Early to bed and early to rise …" might have been true when Ben Franklin wrote it, but now? Not so much.
Glowing screens' effect on sleep
"Bright screens could delay bedtime"
Stephani Sutherland
Scientific American, December 19, 2012
Using bright screens before bed can lead to insomnia, as the body reacts to unexpected doses of blue-and-white light.
"Light level and duration of exposure determine the impact of self-luminous tablets on melatonin suppression"
Brittany Wood et al.
Applied Ergonomics, March 2013
In a study that examines the ties between brightly lit screens and melatonin suppression, the authors suggest that makers of screens should take our circadian rhythms into account.
Sports and sleep
"Sleeping giants"
Peter Keating
ESPN The Magazine, April 5, 2012
Cheri Mah's insights on sleep and sports came from working with Stanford swimmers, who noticed they notched personal bests after getting more sleep than usual. For more on Mah's work, read "Stanford athletes sleep for better performance" by Erin Allday, from the SF Chronicle, July 4, 2011
"Mavs first to dive into fatigue analysis"
Jeff Caplan
NBA.com, October 16, 2013
What happens when you ask the Dallas Mavericks basketball team to wear smart wristbands tracking "team sleep data"?
The cost of sleep deprivation
"Sleep deprivation reduces perceived emotional intelligence and constructive thinking skills"
William D.S. Killgore et al.
Sleep Medicine, July 2008
This report examines the impact of sleep deprivation on mood, cognition and emotional intelligence.
"The sleeper public health issue of our time"
Arianna Huffington
The Huffington Post, June 23, 2014
Huffington's manifesto shows why sleep deprivation is a society-wide health, safety and social issue.
"Self-reported symptoms of sleep disturbance and inflammation, coagulation, insulin resistance and psychosocial distress: Evidence for gender disparity"
Edward C. Suarez
Brain, Behavior, and Immunity, August 2008
Chronic sleep deprivation may have worse, and wider, health consequences for women than for men.
"Exercise to improve sleep in insomnia: Exploration of the bidirectional effects"
Kelly Glazer Baron et al.
Journal of Clinical Sleep Medicine, August 15, 2013
There's a surprising two-way link between exercise and sleep.
"Effect of short sleep duration on daily activities — United States, 2005–2008"
Centers for Disease Control and Prevention, March 4, 2011
The CDC looked at the sleep habits of more than 10,000 adults, to show the impact of insufficient sleep on daily life in the U.S.
"The great British sleep survey 2012"
Sleepio, 2012
What keeps Brits awake at night?
"Insomnia and the performance of U.S. workers: Results from the America Insomnia Survey"
Ronald C. Kessler et al.
Sleep, September 1, 2011
This report examines the ties between American insomnia and performance in the workplace.
"Train engineers prone to 'microsleep' spells, experts say"
Kevin Short and Ben Hallman
The Huffington Post, December 6, 2013
After "microsleep" was blamed for a deadly 2013 commuter-train crash just outside New York City, other railroad employees spoke up about the dangers of working on too little sleep.
[ted id=1044]
Featured image via Wikipedia.