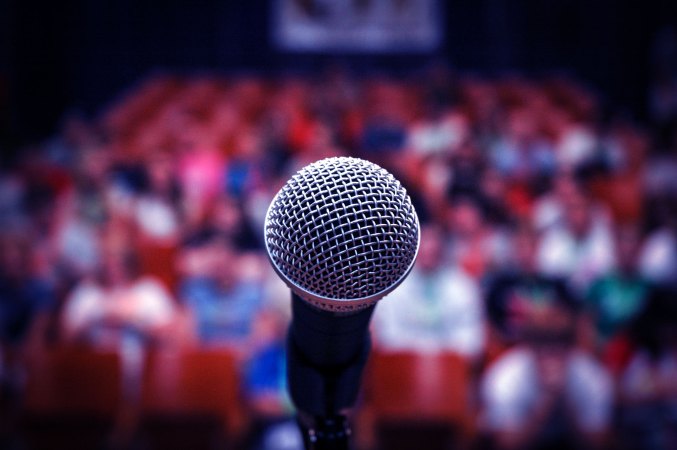 TED curator Chris Anderson discusses the transformative power of speaking to an audience from the heart.
You're nervous, right?
Stepping out onto a public stage and having hundreds of pairs of eyes turned your way is terrifying. You dread having to stand up in a company meeting and present your project. What if you get nervous and stumble over your words? What if you completely forget what you were going to say? Maybe you'll be humiliated! Maybe your career will crater! Maybe the idea you believe in will stay buried forever!
But guess what? Almost everyone has experienced the fear of public speaking. Indeed, surveys that ask people to list their top fears often report public speaking as the most widely selected, ahead of snakes, heights — and even death.
How can this be? There is no tarantula hidden behind the microphone. You have zero risk of plunging off the stage to your death. The audience will not attack you with pitchforks. Then why the anxiety?
It's because there's a lot at stake — not just the experience in the moment, but in our longer-term reputation. How others think of us matters hugely. We are profoundly social animals. We crave each other's affection, respect and support. Our future happiness depends on these realities to a shocking degree. And we sense that what happens on a public stage is going to affect these social currencies, for better or worse. But with the right mindset, you can use your fear as an incredible asset. It can be the driver that will persuade you to prepare for a talk properly.
That's what happened when Monica Lewinsky (TED Talk: The price of shame) came to the TED stage. For her, the stakes couldn't have been higher. Seventeen years earlier, she had been through the most humiliating public exposure imaginable, an experience so intense it almost broke her. Now she was attempting a return to a more visible public life, to reclaim her narrative. But she was not an experienced public speaker, and she knew that it would be disastrous if she messed up. She told me:
"Nervous is too mild a word to describe how I felt. More like . . . Gutted with trepidation. Bolts of fear. Electric anxiety. If we could have harnessed the power of my nerves that morning, I think the energy crisis would have been solved. Not only was I stepping out onto a stage in front of an esteemed and brilliant crowd, but it was also videotaped, with the high likelihood of being made public on a widely viewed platform. I was visited by the echoes of lingering trauma from years of having been publicly ridiculed. Plagued by a deep insecurity I didn't belong on the TED stage. That was the inner experience against which I battled."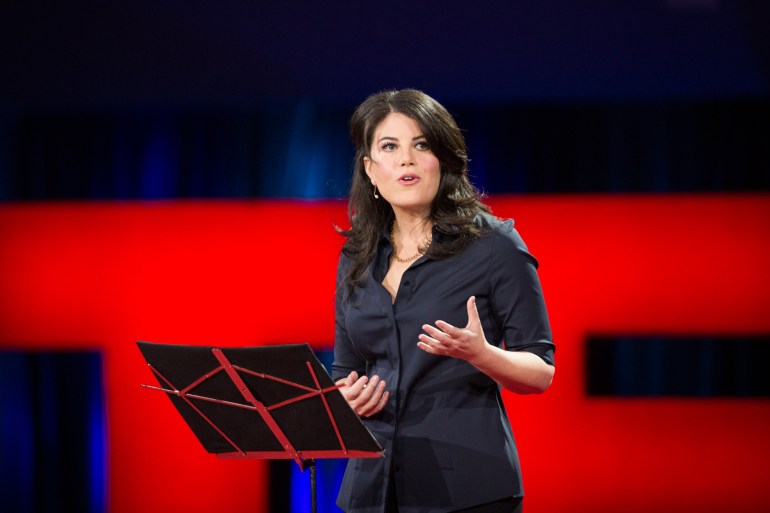 And yet Monica found a way to turn that fear around. Her talk won a standing ovation at the event, rocketed to a million views within a few days and earned rave reviews online. It even prompted a public apology to her from a longtime critic, feminist author Erica Jong.
The brilliant woman I am married to, Jacqueline Novogratz (TED Talk: Inspiring a life of immersion), was also haunted by fear of public speaking. In school, at college and into her twenties, the prospect of a microphone and watching eyes was so scary it was debilitating. But she knew that to advance her work fighting poverty, she'd have to persuade others, and so she just began forcing herself to do it. Today she gives scores of speeches every year, often earning standing ovations.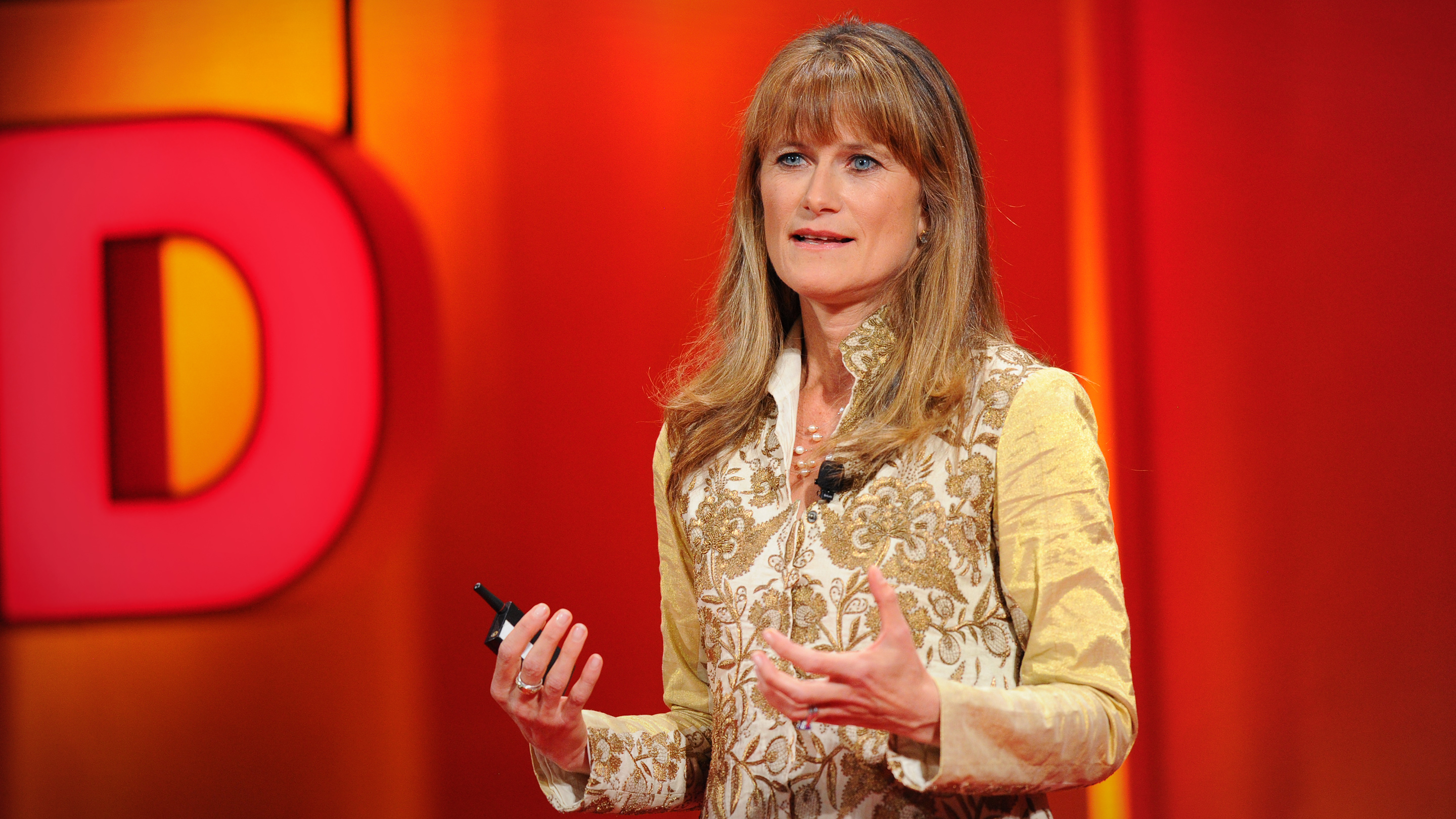 Indeed, everywhere you look, there are stories of people who were terrified of public speaking but found a way to become really good at it, from Eleanor Roosevelt to Warren Buffett to Princess Diana, who was known to all as "shy Di," but found a way to speak informally in her own voice, and the world fell in love with her.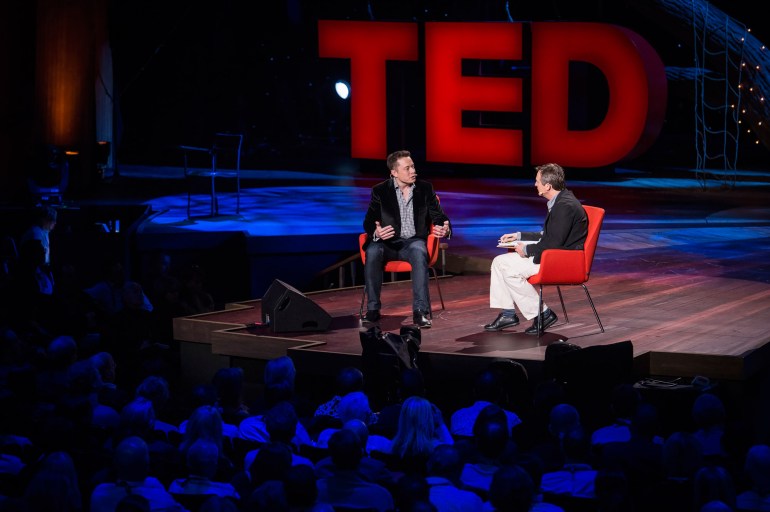 If you can get a talk right, the upside can be amazing. Take the talk that entrepreneur Elon Musk (TED Talk: The mind behind Tesla, SpaceX, SolarCity …) gave to SpaceX employees on August 2, 2008. Musk was not known as a great public speaker. But that day, his words marked an important turning point for his company. SpaceX had already suffered two failed launches. This was the day of the third launch, and everyone knew failure could force the company's closure. The Falcon rocket soared off the launch pad, but right after the first stage fell away, disaster struck. The spacecraft exploded. The video feed went dead. Some 350 employees had gathered and, as described by Dolly Singh, the company's head of talent acquisition, the mood was thick with despair. Musk emerged to speak to them. He told them they'd always known it would be hard, but that despite what had happened, they had already accomplished something that day that few nations, let alone companies, had achieved. They had successfully completed the first stage of a launch and taken a spacecraft to outer space. They simply had to pick themselves up and get back to work. Here's how Singh described the talk's climax:
Then Elon said, with as much fortitude and ferocity as he could muster after having been awake for like 20+ hours by this point, "For my part, I will never give up and I mean never." I think most of us would have followed him into the gates of hell carrying suntan oil after that. It was the most impressive display of leadership that I have ever witnessed. Within moments the energy of the building went from despair and defeat to a massive buzz of determination as people began to focus on moving forward instead of looking back.
That's the power of a single talk. You might not be leading an organization, but a talk can still open new doors or transform a career.
TED speakers have told us delightful stories of the impact of their talks. Yes, there are sometimes book and movie offers, higher speaking fees and unexpected offers of financial support. But the most appealing stories are of ideas advanced, and lives changed. Young Malawian inventor William Kamkwamba's inspiring talk about building a windmill in his village as a 14-year-old (TED Talk: How I harnessed the wind) sparked a series of events that led to him being accepted into an engineering program at Dartmouth College.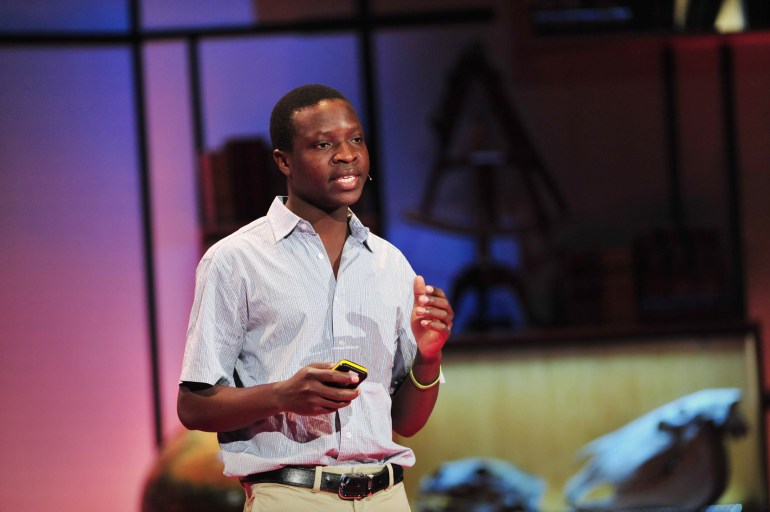 Here's a story from my own life: When I first took over leadership of TED in late 2001, I was reeling from the near collapse of the company I had spent 15 years building, and I was terrified of another huge public failure. I had been struggling to persuade the TED community to back my vision for TED, and I feared that it might just fizzle out. Back then, TED was an annual conference in California, owned and hosted by a charismatic architect named Richard Saul Wurman, whose larger-than-life presence infused every aspect of the conference. About 800 people attended every year, and most of them seemed resigned to the fact that TED probably couldn't survive once Wurman departed. The TED conference of February 2002 was the last to be held under his leadership, and I had one chance and one chance only to persuade TED attendees that the conference would continue just fine. I had never run a conference before, however, and despite my best efforts at marketing the following year's event, only 70 people had signed up for it.
Early on the last morning of that conference, I had 15 minutes to make my case. And here's what you need to know about me: I am not naturally a great speaker. I say "um" and "you know" far too often. I will stop halfway through a sentence, trying to find the right word to continue. I can sound overly earnest, soft spoken, conceptual. My quirky British sense of humor is not always shared by others.
I was so nervous about this moment, and so worried that I would look awkward on the stage, that I couldn't even bring myself to stand. Instead I rolled forward a chair from the back of the stage, sat on it and began.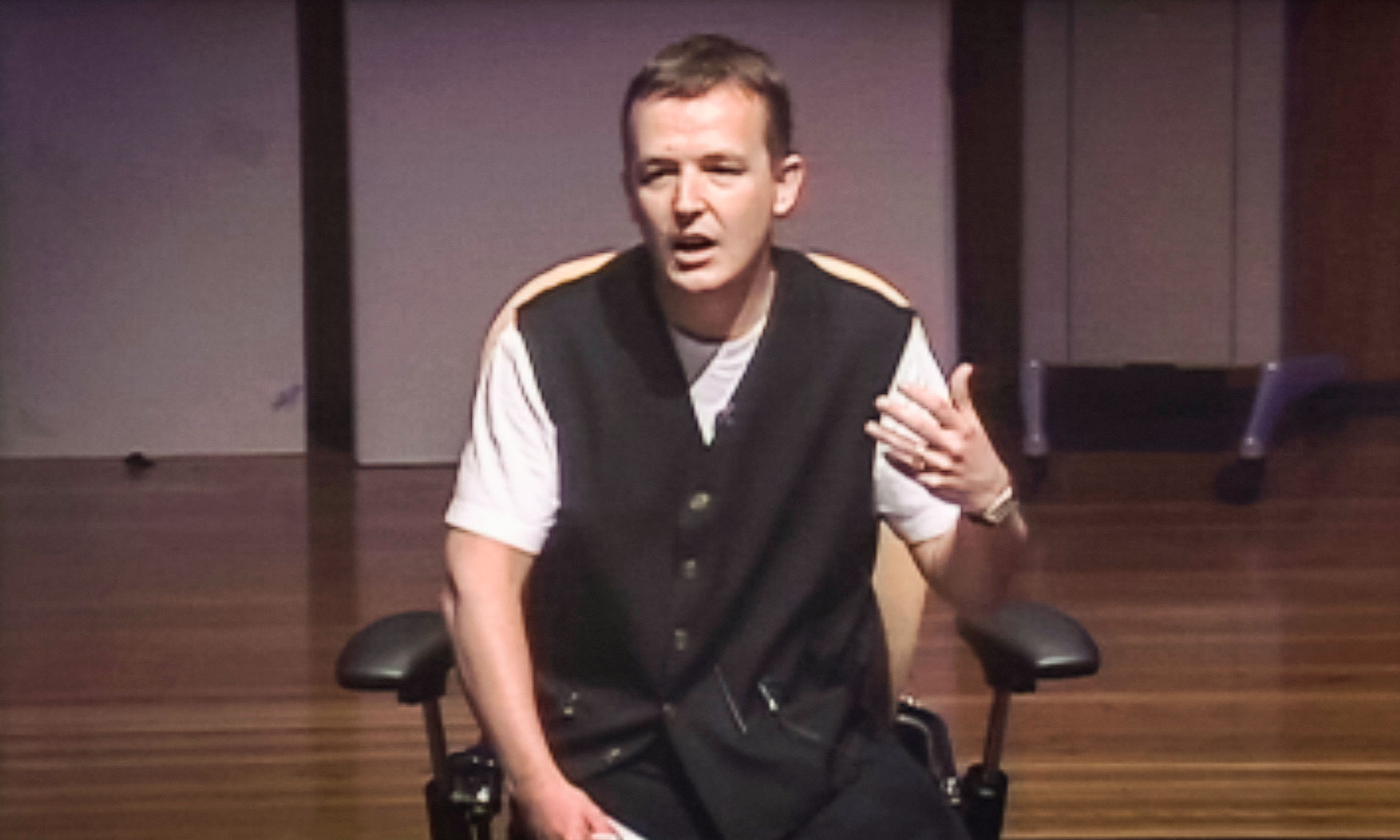 I look back at that talk now and cringe — a lot. If I were critiquing it today, there are a hundred things I would change, starting with the wrinkly white T-shirt I was wearing. And yet … I had prepared carefully what I wanted to say, and I knew there were at least some in the audience desperate for TED to survive. If I could just give those supporters a reason to get excited, perhaps they would turn things around. Because of the recent dotcom bust, many in the audience had suffered business losses as bad as my own. Maybe I could connect with them that way?
I spoke from the heart, with as much openness and conviction as I could summon. I told people I had just gone through a massive business failure. That I'd come to think of myself as a complete loser. That the only way I'd survived mentally was by immersing myself in the world of ideas. That TED had come to mean the world to me — that it was a unique place where ideas from every discipline could be shared. That I would do all in my power to preserve its best values. That, in any case, the conference had brought such intense inspiration and learning to us that we couldn't possibly let it die … could we?
Oh, and I broke the tension with an apocryphal anecdote about France's Madame de Gaulle and how she shocked guests at a diplomatic dinner by expressing her desire for "a penis." In England, I said, we also had that desire, although there we pronounced it happiness and TED had brought genuine happiness my way.
To my utter amazement, at the end of the talk, Jeff Bezos, the head of Amazon, who was seated in the center of the audience, rose to his feet and began clapping. And the whole room stood with him. It was as if the TED community had collectively decided, in just a few seconds, that it would support this new chapter of TED after all. And in the 60-minute break that followed, some 200 people committed to buying passes for the following year's conference, guaranteeing its success.
If that 15-minute talk had fizzled, TED would have died, four years before ever putting a talk on the Internet.
No matter how little confidence you might have today in your ability to speak in public, there are things you can do to turn that around. Facility with public speaking is not a gift granted at birth to a lucky few. It's a broad-ranging set of skills. There are hundreds of ways to give a talk, and everyone can find an approach that's right for them and learn the skills necessary to do it well.
Several years ago, TED's content director, Kelly Stoetzel, and I went on a global tour in search of speaking talent. In Nairobi, Kenya, we met Richard Turere, a 12-year-old Maasai boy who had come up with a surprising invention. His family raised cattle, and one of the biggest challenges was protecting them at night from lion attacks. Richard had noticed that a stationary campfire didn't deter the lions, but walking around waving a torch did seem to work. The lions were apparently afraid of moving lights! Richard had somehow taught himself electronics by messing around with parts taken from his parents' radio. He used that knowledge to devise a system of lights that would turn on and off in sequence, creating a sense of movement. It was built from scrapyard parts — solar panels, a car battery and a motorcycle indicator box. He installed the lights and — presto! — the lion attacks stopped. News of his invention spread and other villages wanted in. Instead of seeking to kill the lions as they had done before, they installed Richard's "lion lights." Both villagers and pro-lion environmentalists were happy.
It was an impressive achievement but, at first glance, Richard certainly seemed an unlikely TED speaker. He stood hunched over in a corner of the room, painfully shy. His English was halting, and he struggled to describe his invention coherently. It was hard to imagine him on a stage in California in front of 1,400 people, slotted alongside Sergey Brin and Bill Gates.
But Richard's story was so compelling that we went ahead anyway and invited him to come speak at TED (TED Talk: My invention that made peace with lions). In the months before the conference, we worked with him to frame his story — to find the right place to begin, and to develop a natural narrative sequence. Because of his invention, Richard had won a scholarship to one of Kenya's best schools, where he had the chance to practice his TED Talk several times in front of a live audience. This helped build his confidence to the point where his personality could shine through.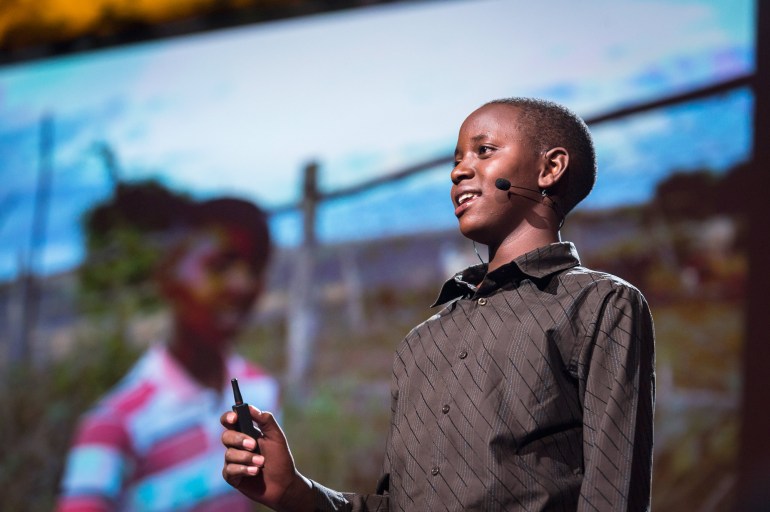 He got on an airplane for the first time in his life and flew to Long Beach, California. As he walked onto the TED stage, you could tell he was nervous, but that only made him more engaging. As Richard spoke, people were hanging on his every word, and every time he smiled, the audience melted. When he finished, people just stood and cheered.
Richard's tale can encourage us all to believe we might be able to give a decent talk. Your goal is not to be Winston Churchill or Nelson Mandela. It's to be you. If you're a scientist, be a scientist; don't try to be an activist. If you're an artist, be an artist; don't try to be an academic. If you're just an ordinary person, don't try to fake some big intellectual style; just be you. You don't have to raise a crowd to its feet with a thunderous oration. Conversational sharing can work just as well. In fact, for most audiences, it's a lot better. If you know how to talk to a group of friends over dinner, then you know enough to speak publicly.
And technology is opening up new options. We live in an age where you don't have to be able to speak to thousands of people at a time to have an outsized impact. It could just be you talking intimately to a video camera, and letting the Internet do the rest.
Presentation literacy isn't an optional extra for the few. It's a core skill for the twenty-first century. It's the most impactful way to share who you are and what you care about. If you can learn to do it, your self-confidence will flourish, and you may be amazed at the beneficial impact it can have on your success in life, however you might choose to define that.
If you commit to being the authentic you, I am certain that you will be capable of tapping into the ancient art that is wired inside us. You simply have to pluck up the courage to try.
Excerpted from the book TED Talks: The Official TED Guide to Public Speaking by Chris Anderson. © 2016 by Chris Anderson. Reproduced by permission of Houghton Mifflin Harcourt. All rights reserved.