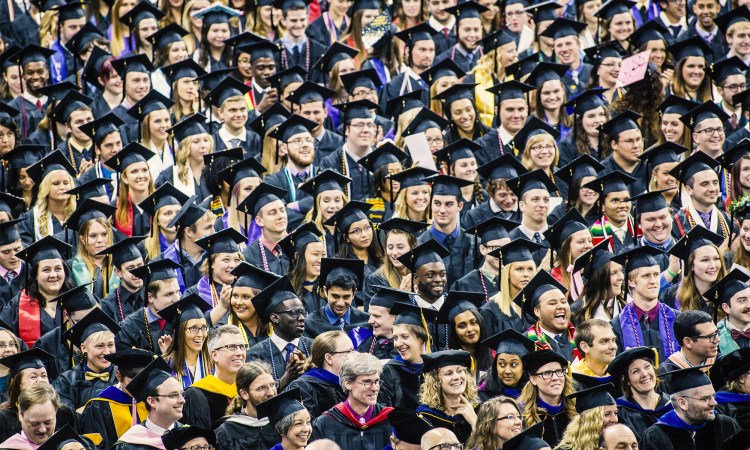 Steve Jobs has been credited over the years with popularizing any number of other people's inventions, from the personal computer to the tablet to the mobile phone. But none of these gifts may be as enduring as one of his rarely credited contributions to contemporary life — popularizing the viral commencement address.
On June 12, 2005, Jobs stood before the graduating class of Stanford University and reminded them that he had never graduated from college. "Truth be told, this is the closest I've ever gotten to a college graduation." He then told three stories about his life. "That's it. No big deal. Just three stories."
That speech, coinciding as it did with the rise of internet virality (the first TED Talk would be posted on TED.com exactly 12 months later; the iPhone was introduced exactly 12 months after that), launched a global obsession with pithy, inspirational talks. Jobs's speech has since been viewed more than 40 million times on YouTube.
Graduation speeches, long viewed as the burdensome interruption before diplomas were granted and mortar boards were tossed, have since become big business. Kurt Vonnegut, Ann Patchett, Carl Hiaasen, J.K. Rowling, Mary Karr, David Foster Wallace and many others have all had their commencement speeches published as books.
I've been fortunate to give a handful of commencement addresses over the years, and I confess to a fascination with the genre. The internet has been a boon this hobby. There are thousands of commencement speeches on the web. Can we learn anything from their messages?
I've spent the last few years gathering and coding hundreds of life stories, looking for patterns and takeaways that could help all of us live with more meaning, purpose and joy. I decided to put some of my coding tools to work, analyzing 100 of the most popular recent commencement speeches.
Here are the four tips they all contain:
1. Dream big
"I think it is often easier to make progress on mega-ambitious dreams. I know that sounds completely nuts. But, since no one else is crazy enough to do it, you have little competition. There are so few people this crazy that I feel like I know them all by first name. They all travel as if they are pack dogs and stick to each other like glue. The best people want to work the big challenges." — Larry Page at University of Michigan, 2009
"We don't beat the reaper by living longer. We beat the reaper by living well and living fully. For the reaper is always going to come for all of us. The question is: What do we do between the time we are born, and the time he shows up? Because when he shows up, it's too late to do all the things that you're always gonna, kinda get around to." — Randy Pausch at Carnegie Mellon University, 2009
"Graduates, we need you. We need you to run companies and make decisions about who has access to capital. We need you to serve at the highest levels of government and determine our country's standing in the world. We need you to work in our hospitals and in our courtrooms and in our schools. We need you to shape the future of technology. We need you because your perspective — the sum total of your intellect and your lived experience — will make our country stronger." — Kamala Harris at Tennessee State University, 2022
2. Work hard
"Your work is going to fill a large part of your life, and the only way to be truly satisfied is to do what you believe is great work. And the only way to do great work is to love what you do. If you haven't found it yet, keep looking. Don't settle. As with all matters of the heart, you'll know when you find it." — Steve Jobs at Stanford University, 2005
"I just directed my first film. I was completely unprepared, but my own ignorance to my own limitations looked like confidence and got me into the director's chair. Once there, I had to figure it all out, and my belief that I could handle these things, contrary to all evidence of my ability to do so was half the battle. The other half was very hard work. The experience was the deepest and most meaningful one of my career." — Natalie Portman at Harvard University, 2015
"When you're doing the work you're meant to do, it feels right and every day is a bonus, regardless of what you're getting paid … But make it your life's work to remake the world because there is nothing more beautiful or more worthwhile than working to leave something better for humanity." — Oprah Winfrey at Stanford University, 2008
3. Make mistakes
"Fail big. That's right. Fail big … It's a new world out there, and it's a mean world out there, and you only live once. So do what you feel passionate about. Take chances, professionally. Don't be afraid to fail. There's an old IQ test with nine dots, and you had to draw five lines with a pencil within these nine dots without lifting the pencil, and the only way to do it was to go outside the box. So don't be afraid to go outside the box." — Denzel Washington at University of Pennsylvania, 2011
"The world doesn't care how many times you fall down, as long as it's one fewer than the number of times you get back up." — Aaron Sorkin at Syracuse University, 2013
"My experience has been that my mistakes led to the best thing in my life. Being embarrassed when you mess up is part of the human experience of getting back up dusting yourself off and seeing who still wants to hang out with you afterward and laugh about it. That's a gift. The times I was told no or wasn't included wasn't chosen, didn't win, didn't make the cut, looking back it really feels like those moments we're as important if not more crucial than the moments I was told yes." — Taylor Swift at NYU, 2022
4. Be kind
"Work hard, be kind, and amazing things will happen." — Conan O'Brien at Dartmouth College, 2011
"Empathy and kindness are the true signs of emotional intelligence." — Will Ferrell at the University of Southern California, 2017
"So here's something I know to be true, although it's a little corny, and I don't quite know what to do with it: What I regret most in my life are failures of kindness. Those moments when another human being was there, in front of me, suffering, and I responded … sensibly. Reservedly. Mildly. Or, to look at it from the other end of the telescope: Who, in your life, do you remember most fondly, with the most undeniable feelings of warmth? Those who were kindest to you, I bet. It's a little facile, maybe, and certainly hard to implement, but I'd say, as a goal in life, you could do worse than: Try to be kinder." — George Saunders at Syracuse University, 2013
So what can we learn from these themes?
Every era in American life has its own standards of what it means to be a success. Shortly after America's founding, success was all about character. Led by Benjamin Franklin, Americans embraced virtue, industry, and frugality. In the twentieth century, success was all about personality. Led by Dale Carnegie, Americans embraced salesmanship, reinvention and charisma. Today, led by Steve Jobs, Americans are embracing meaning, authenticity and bliss. Or, as Kermit the Frog put it in a 1996 commencement speech at Southampton College, "May success and a smile always be yours … even when you're knee-deep in the sticky muck of life."
Dream, work, fail and smile are as good a foursome of American identity today as I know. And if those ideas don't inspire you, you can always embrace the far more practical advice erroneously attributed to Kurt Vonnegut in a commencement speech that he never gave at MIT, but was instead delivered by Chicago Tribune columnist Mary Schmich in an imaginary speech to graduates she published in an old-fashioned newspaper, "Ladies and gentlemen of the class of '97: Wear sunscreen."
This post was adapted from one published on his newsletter The Nonlinear Life; go here to subscribe.
Watch his TEDxIEMadrid Talk now: