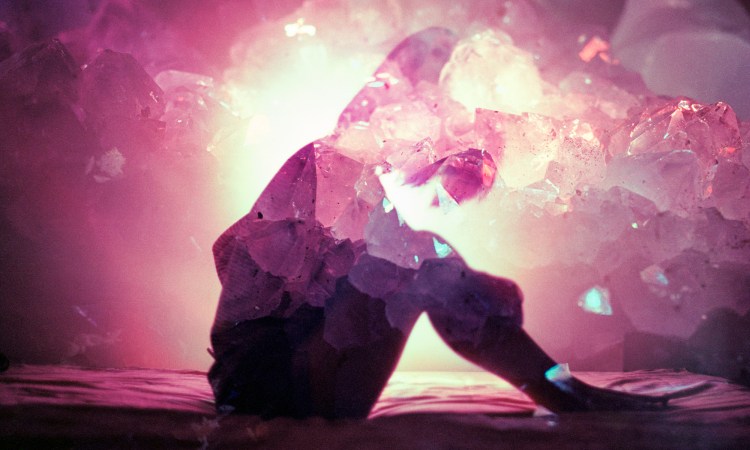 Want to get your creative juices flowing? We've got just the thing for you. Filmmaker and writer Wanuri Kahiu and sci-fi author Charlie Jane Anders know more than a thing or two about finding inspiration —  and they've curated this list of recommendations to fire you up. 
And if you like it, you're in luck! They've also put their brilliant minds together for a TED Course that will teach you how to inject more playfulness, curiosity, authenticity and originality into your life and work. Go here to find out more and sign up.
Inspiring reads 
Binti by Nnedi Okorafor (watch her TED Talk here!) 
Wanuri loves the inventive, futuristic novella Binti (the first in The Binti Series), which will take you on a voyage of inquiry into new places and people and what they could be in the future. Read an excerpt on the author's website.
Perfectly Parvin by Olivia Abtahi
This YA novel — a romantic comedy about identity and belonging — is recommended by Charlie Jane, and it's a debut from Olivia Abtahi, a writer and filmmaker from Washington DC. The Globe and Mail calls its 14-year-old heroine "a prankster with a rambunctious wit"; you'll experience nothing but pure pleasure to tag along through her misadventures. Read an excerpt on the publisher's website.
The Phantom Tollbooth by Norton Juster
Charlie Jane says this classic children's book gave her permission to be weird when she was a kid. Milo, a bored ten-year-old, finds a large tollbooth in his room and drives through it, launching him on a fantastic journey. Read an excerpt of the first chapter on NPR's website.
The City We Became by N.K. Jemisin
Wanuri found this sci-fi novel incredibly clear and visceral. Read NPR's book review to learn how its fantastical storyline can be read as a mirror to present-day challenges. 
Light from Uncommon Stars by Ryka Aoki
Charlie Jane calls this read "a beautiful story of friendship and love … I didn't even realize how desperately I needed this story." This hopeful sci-fi novel tells the story of a runaway, queer, transgender violinist, her satanic teacher, and a queer alien courtship over freshly made donuts. Read an excerpt on the publisher's website.
Letters to a Young Poet by Rainer Maria Rilke
Wanuri suggests the classic Letters to a Young Poet by Rainer Maria Rilke — reading it can help you find your voice, identify your purpose and better understand yourself to grow as an artist and a human. Read Rilke's first letter in the series on Poets.org.
Music to move body and mind 
"Dirty Computer" – Janelle Monáe
Janelle Monáe explores limitless possibilities and life without boundaries in her futuristic album, which is a favorite of both Wanuri and Charlie Jane. Learn more in this WBUR music review and watch "Dirty Computer [Emotion Picture]," a narrative film accompanying the album.
"Headhunters" – Herbie Hancock
Charlie Jane always feels inspired when listening to this gorgeous jazz-funk album. Listen to one of the tracks, "Chameleon," in this jukebox on the Herbie Hancock website, and enjoy where it takes you.
"Captain Rugged" – Keziah Jones
Keziah Jones is a wonderfully playful and goofy musician but with a serious core, and Charlie Jane loves this album. Check out this short review from The Guardian and watch the official video for "Afronewave," the album's opening track, here.
"Huff + Puff" – Just a Band
"Huff + Puff", a song suggested by Wanuri from "82," Just a Band's second studio album, offers a vision of a new type of music, play and Kenya. Have fun watching the music video on the production company's website.
"Remonta" – Liniker e os Caramelows
Charlie Jane is a fan of this album featuring a beautiful Brazilian fusion of jazz, funk and soul. This band has been a trailblazer in "música preta Brasileira" (Black Brazilian music) as well as the Black trans music scene. You can watch a performance of several songs from "Remonta" by Liniker e os Caramelows as one of NPR's Tiny Desk Concerts. 
Your inspiration doesn't have to stop here! Sign up for Wanuri and Charlie Jane's TED Course to dive into a learning experience that will guide you to grow your imagination. And while you're at it, check out our other TED Courses — all taught by TED speakers and aimed at expanding your mind and gaining wisdom in different ways — from "How to connect in a divided world" with podcast host Dylan Marron to "How to master life transitions" with writer Bruce Feiler.
Watch Wanuri Kahiu's TED Talk here: 
Watch Charlie Jane Anders's TED Talk here: