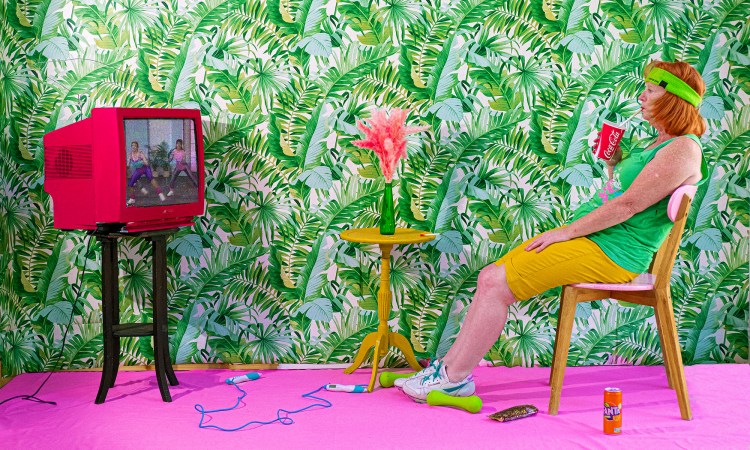 When the COVID-19 pandemic swept the globe in 2020, people worldwide went into lockdown — and Ireland-based street photographer Enda Burke, who normally draws inspiration from crowds, suddenly found himself without a vocation and without subjects. Instead of strolling around in public with his camera in hand, he was sheltering at home with his parents. 
Yet, in isolation, Burke's imagination was flooded with dramatic patterns and vibrant colors. So he convinced his parents, Michael and Denise Burke, to become his models. His parents weren't just props, either — they became his muses.  
Surrounding Burke's parents in each of these photographs are motifs and scenes straight from the 1990s. Why the 1990s? Burke was inspired by an article he read about nostalgia being on the rise during lockdowns. He was captivated by the idea that one way people choose to escape reality is by revisiting an idealized version of the past. He used color — backdrops of swirling neon aquamarine, green, magenta, animal print and more — to create a stark contrast to the darkness of the pandemic. 
Burke spent countless hours gathering and crafting his props. When he wasn't browsing online vintage stores, he was slathering multiple layers of paint onto everyday objects, from fan blades and side tables.
Setting up each scene took roughly four to five days, with the first three days dedicated to test shots of the empty scene followed by shots of Burke's parents in the scene but out of costume. Once he was satisfied with the overall picture, Burke would spend the next day arranging and photographing his parents in full makeup and costume. The resulting series offers a comic and surreal take on living at home with one's parents during lockdown. 
---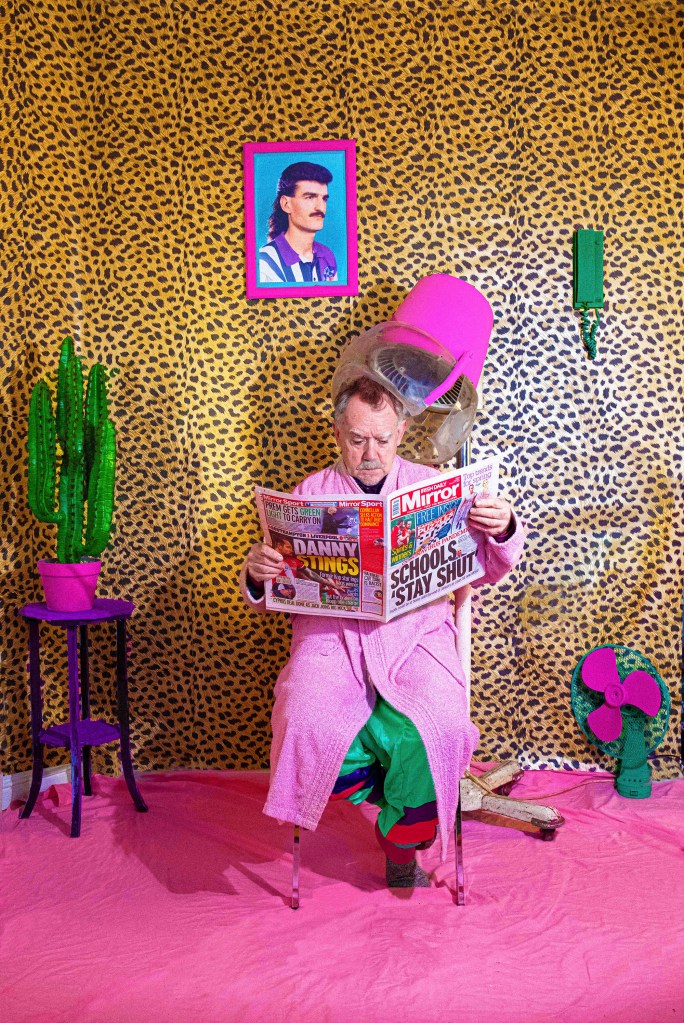 In his photos, Burke shows his subjects continuing to live their normal lives, but if you look closely, there are haunting details of the world outside. Here we see Burke's father casually drying his hair, yet his magazine reveals there are continued school closures.
---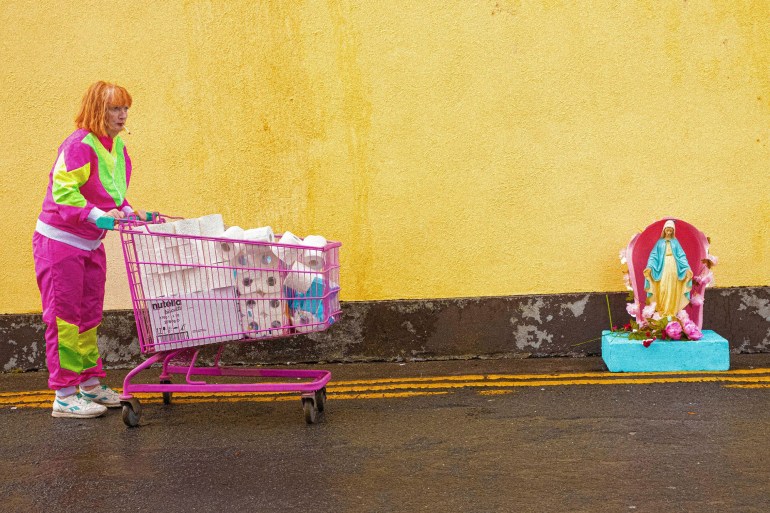 Out of all the photos from the series, this is the only one taken outside and the one with the most glaring reference to the pandemic — a shopping cart full of toilet paper. Next to this cart of "panic purchases" is the Virgin Mary.
More often than not, Burke's collection of photos includes prominent religious symbols. "Growing up in Ireland, all [religious] icons and iconography are just displayed everywhere. I always found them fun and mesmerizing and beautiful." As an example of the odd but awe-inspiring figures of his childhood, Burke recalls one painting of Saint Patrick at a cliff's edge, banishing all the snakes from Ireland. While the icons initially appear out of place in the photos, they harken back to a time even before the 90s full of hope and devotion. 
---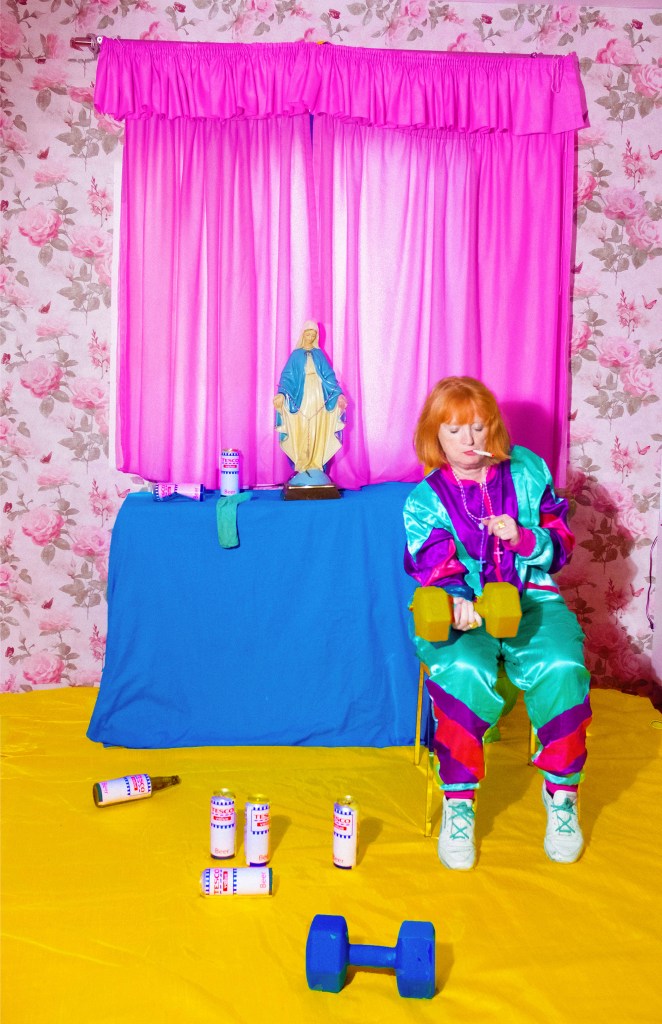 Burke spent a lot of time scrolling through online 1990s vintage shops to find props for his photos, but when searching for workout gear, he struggled to find stores with weights in stock. It dawned on him that people saw lockdown as an opportunity to exercise, which gave him a chuckle and a new idea.
Back in his home-turned-studio, Burke sprinkled weights and alcohol around the room and handed his mother a cigarette. This photo illustrates the paradox of someone simultaneously improving and harming their health. It invites the audience to smile at the irony of the self-defeating behavior, while encouraging them to consider how it holds true in their own lives.
---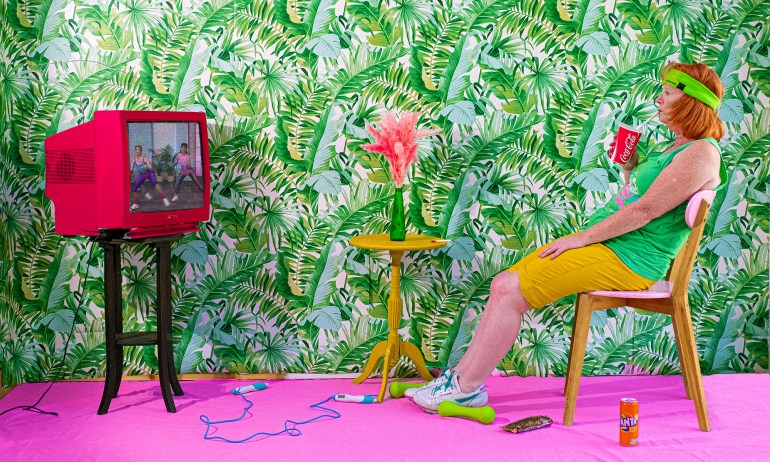 Shooting subjects on the street — which is what Burke usually did, pre-pandemic — is all about the unpredictable, moment-by-moment changes, while studio photography allowed Burke to have control over nearly every detail. This turned out to be a welcome change because it gave him time to find beauty and depth in the scenes he was crafting.
"I just like to control all the people, pick everything, every minute detail," he says. "I could pick wallpaper, I could take props, [and] I could also kind of write a short script of what was going on."
---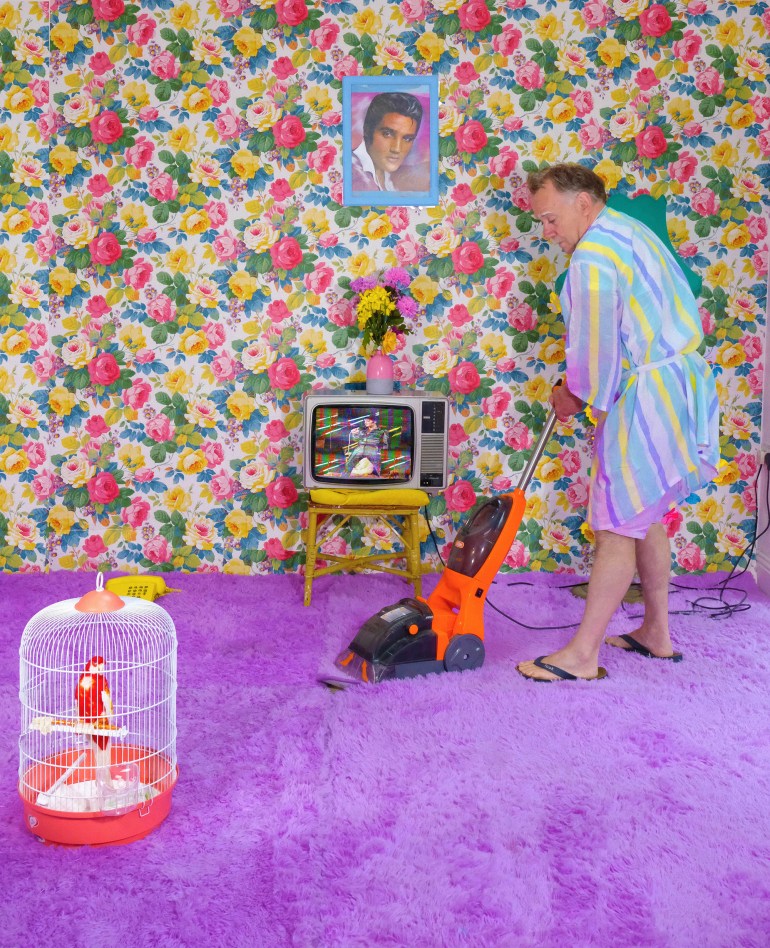 Whether they're drinking soda, smoking cigarettes, reading a magazine or vacuuming, there is not a single scene where Burke's mother or father have their hands free. On the surface level, Burke says it's more interesting to look at a subject that is doing something. But after a moment of reflection, he admits that distractions felt essential during lockdown in order to distract them from the world outside. 
---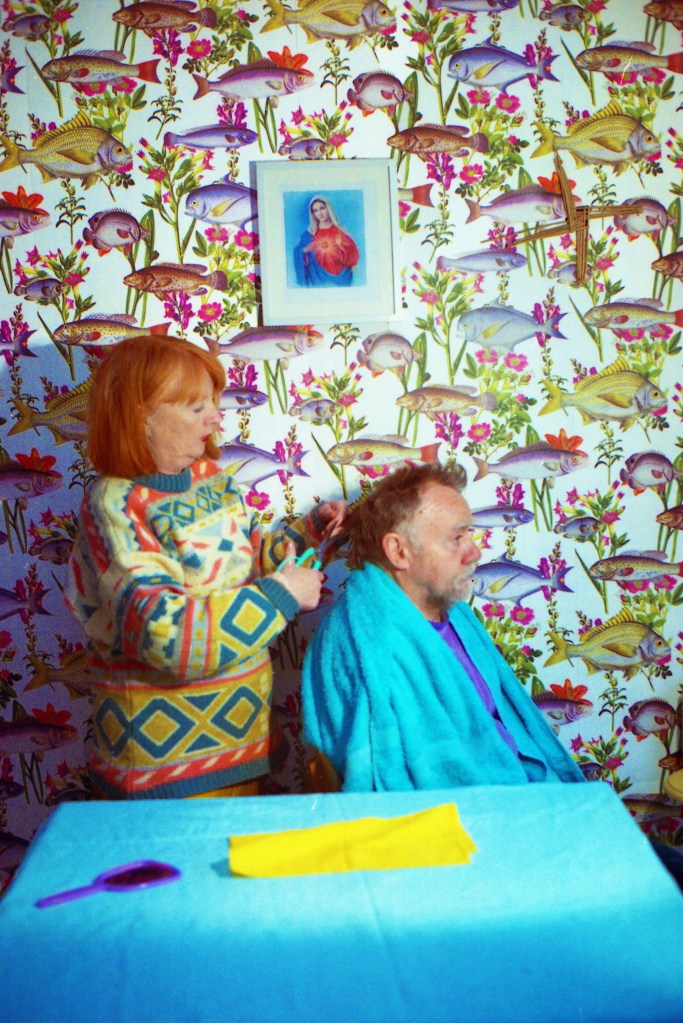 As Burke turned his childhood home into a studio, he also turned his parents into models. They always encouraged Burke's artistic endeavors, but they were understandably hesitant when he asked them to be the focus of his next series.
As some of the photos started gaining traction online, Burke's parents warmed up to their new roles. "When [the project] started getting momentum  [my parents] became more and more supportive. It was to the point where my mom would send me wallpapers online." Burke was always grateful for the inspiration, and slowly he came to see his parents as not just models but also as his muses.  
---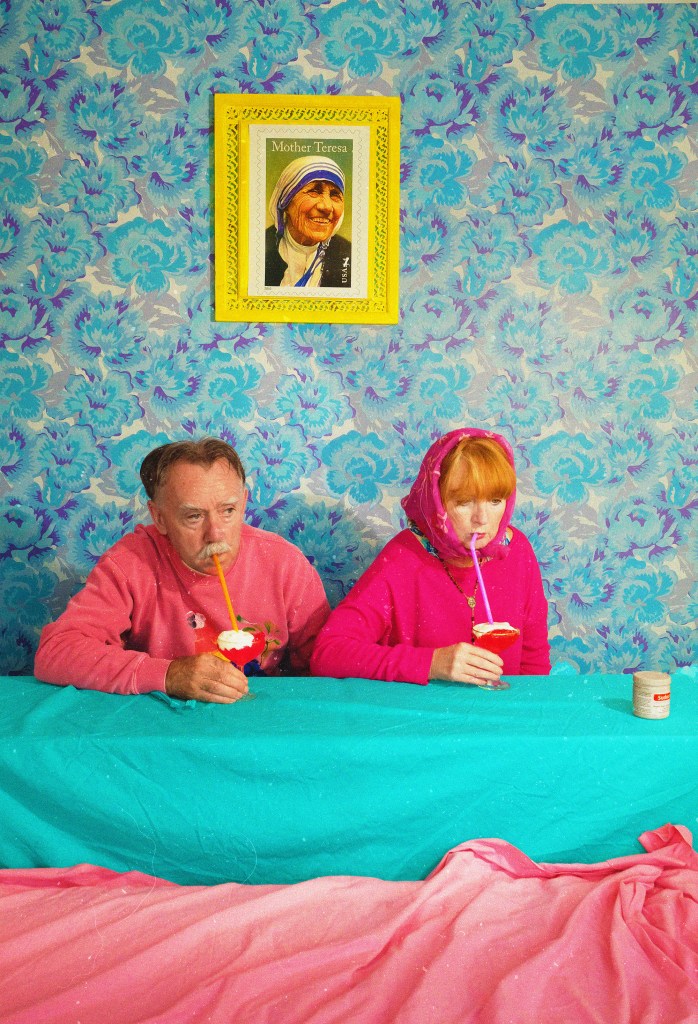 By the time Burke was wrapping up his photography series, he realized that the story had become a reflection of his mother and father, their personalities and their interests. "My dad loves short stories. My dad even writes poetry and takes photos. Then my mom loves color. My mom loves interior design," he explains."My dad is the story side and my mom is the colors on the set."
Woven into the irony of the photos is Burke's father's humor, emphasized and deftly complimented by his mother's sense of style. Ultimately, this project is a product of Burke's creativity, but it wouldn't have been possible without his parents or the pandemic that brought him back under their roof.
After he posted his photographs on social media, Burke received comments filled with laughing face emojis. "Art should be playful and fun," he says. "If people get a laugh or kick out of the series, that makes me happy."
---
Watch Enda Burke's TEDxGalway Talk: