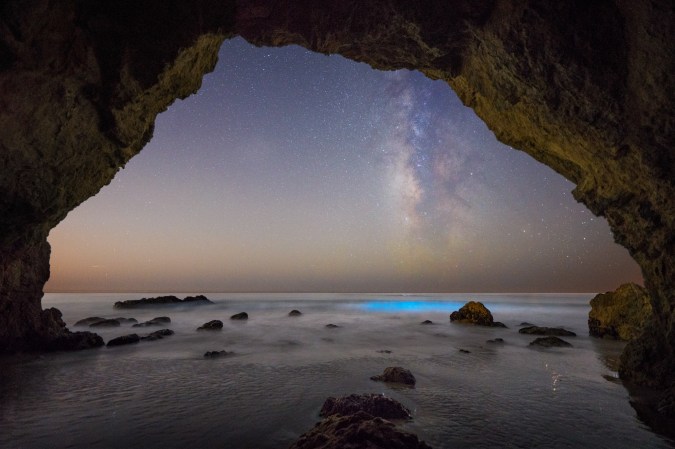 Professional astrophotographer Jack Fusco has traveled North America to capture the most unforgettable evening vistas with his camera. Two distinct occupational hazards of his work are sleepless nights and months of determination — all to get that perfect shot.
"I'll have ideas for photos that I can't take for another four or five months, and I'm trying to work out a way to get there," explains Fusco, who is based in Pennsylvania. While his work frequently requires him to travel hours away from big-city light pollution, he says that part of the joy is finding unexpected views and new locations.
Fusco uses an assortment of gear, but his main camera is the Sony A7RII, along with a host of lenses. But he believes you don't need a lot of fancy photo equipment to dabble in astrophotography. With constant improvements in mobile technology, these dark-sky locations are becoming easier and easier to find and capture from your phone. 
"I think one of the coolest things now is that it's just so much more accessible than when I first started," he says. "Earthsky.org has been a great resource on the astronomy side of things. I'd read about astronomical events on their site and then head [out] to try and photograph them," he says, adding that he also uses a variety of apps like PhotoPills to plan his shots or track astronomical phenomena.
If you're interested in experimenting in night-sky photography, Fusco recommends starting with the next new moon. "When there's no moon in the sky, that will ensure that it's not washing out any of the stars," he explains. "But then do your best to get away from light pollution. That might mean hopping in the car to drive. Sometimes it could be as little as an hour, and that can make a huge difference in the amount of stars that you're able to see."
---
Inyo National Forest, California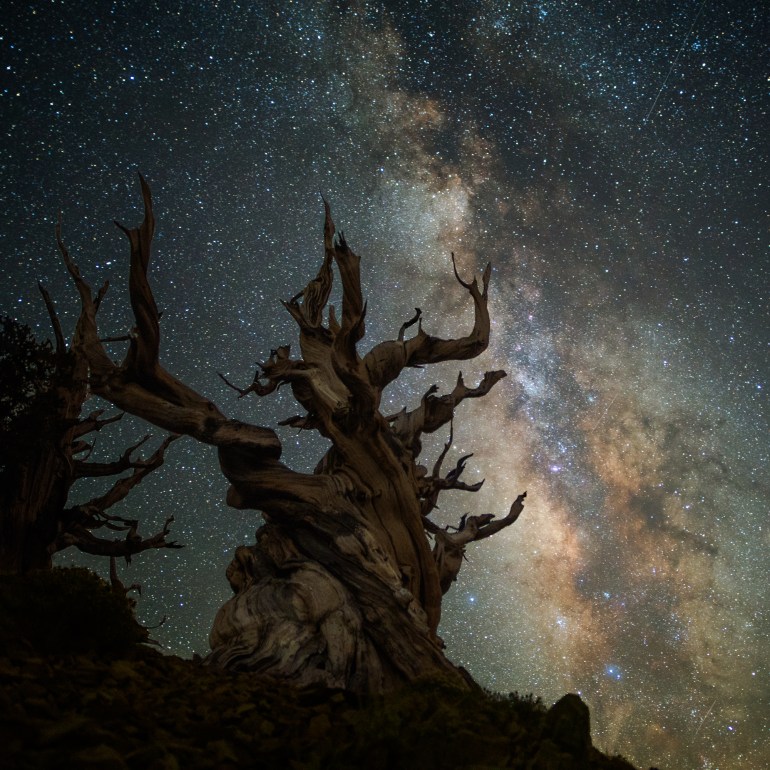 Fusco took this image of the Milky Way from underneath a bristlecone pine tree, rooted in the Inyo National Forest in California's Eastern Sierra in 2016. 
These trees are the oldest living non-clonal organisms on the planet and can only be found growing between 9,000 and 11,000 feet above sea level, Fusco says. Non-clonal organisms, like the trees that reside in this Ancient Bristlecone Pine Forest, are not genetic duplicates of a parent organism but rather original organisms.
"The night sky there is incredible," Fusco says. "Standing beneath these trees is also a really kind of incredible feeling, just knowing that it's been there for almost 5,000 years."
---
Jasper National Park, Alberta, Canada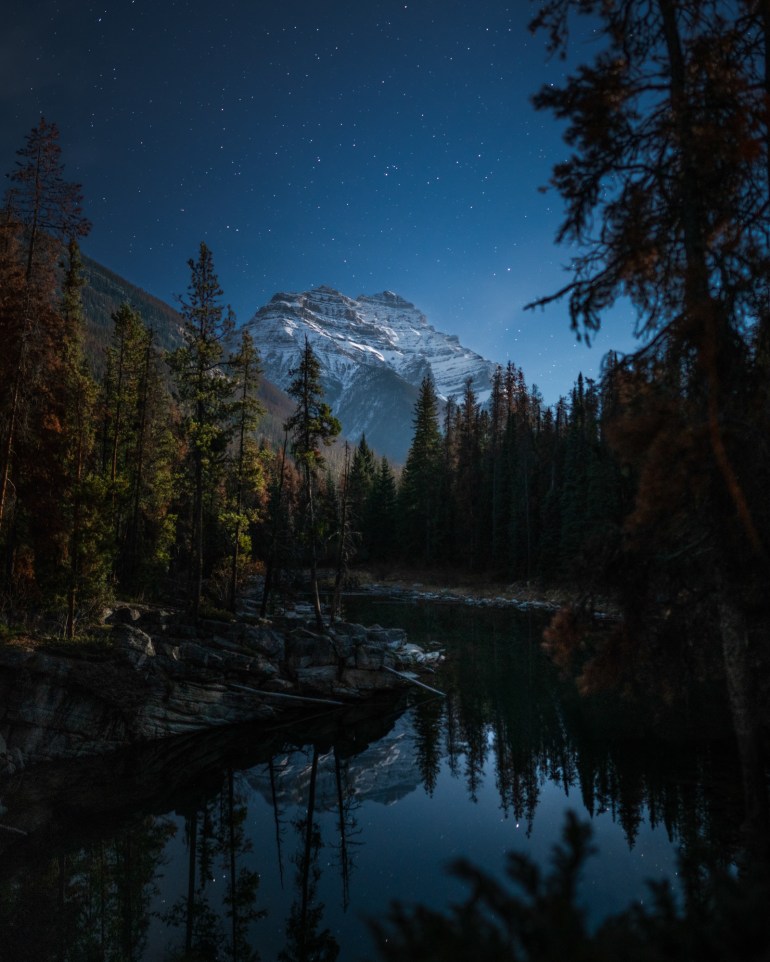 Jasper National Park in Alberta, Canada, was designated a Dark-Sky Preserve in 2011, meaning that it regulates light pollution to allow for optimal views of the night sky. In fact, the park hosts an annual Jasper Dark Sky Festival in October, featuring a variety of events and speakers on stargazing, astronomy and art. 
"It's really exciting because it's such a mix of people that like to do this all the time, and then each year there's new people that come into it," says Fusco, referring to the Jasper Dark Sky Festivals annual visitors and novice stargazers. "And everyone's excited to be out under the stars."
"This is another photo that took a couple years to take because I go to the festival every October, and this was just one that I didn't have great luck with," says Fusco. "Every time I went to that spot, it was just cloudy in that specific direction."
"It's lit up purely by moonlight and the long exposure from the camera," he adds. In photography, exposure refers to the amount of light that reaches your camera's sensor. A long exposure is achieved by leaving your camera shutter open for a greater amount of time to allow more light in the photo. "So it's three eight-second exposures that were stitched together in post-processing to create the panoramic and then just kind of cropped to a normal aspect ratio."
---
Leo Carrillo State Park, California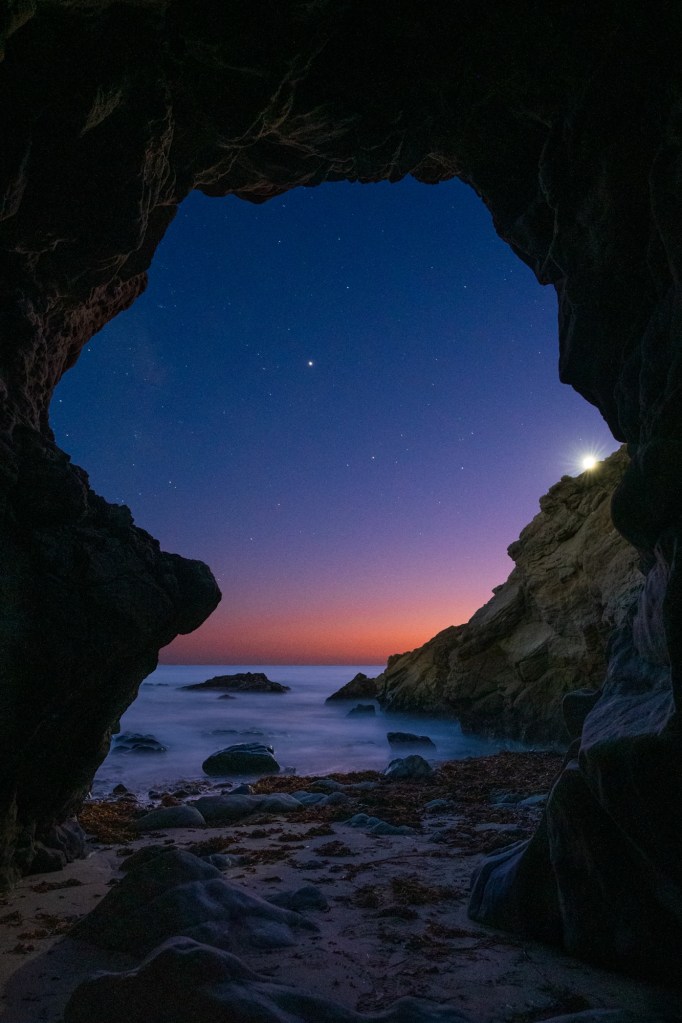 Fusco timed this shot of Leo Carrillo State Park based on the position of the moon. "That bright light on the side of the image is just the moon kind of slowly setting behind the edge of the cave and just that last bit of the sunset fading into twilight," he says. 
He took this picture during the "blue hour." As its name suggests, this occurs when the sun is deep enough below the horizon that it produces a rich shade of blue light.
"It's that transitional time where it's not quite dark, but it's not really light out," Fusco explains. "It's a magical time, right? You just kind of start watching with stars appear one by one and then all of a sudden, just tons of stars."
---
Leo Carrillo State Park, California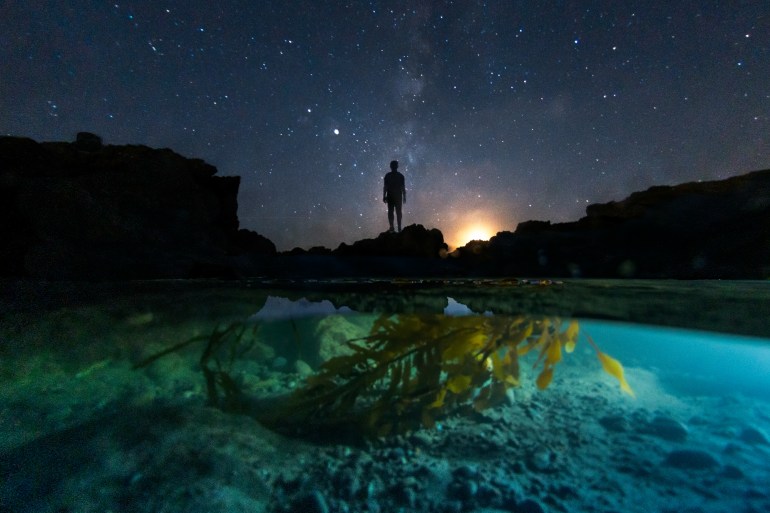 In order to create this dreamy image, also taken at Malibu's Leo Carrillo State Park, Fusco took one photo with his camera positioned half underwater and half out while tethered to an anchored tripod. Then he used a timer to take another photo of himself while standing on the rocks. He layered these photos together to make the final image. leading to a final image that layers the shots. "That bright light is actually the moon setting again, and a little bit of the Milky Way," he says.
---
Monhegan Lighthouse, Maine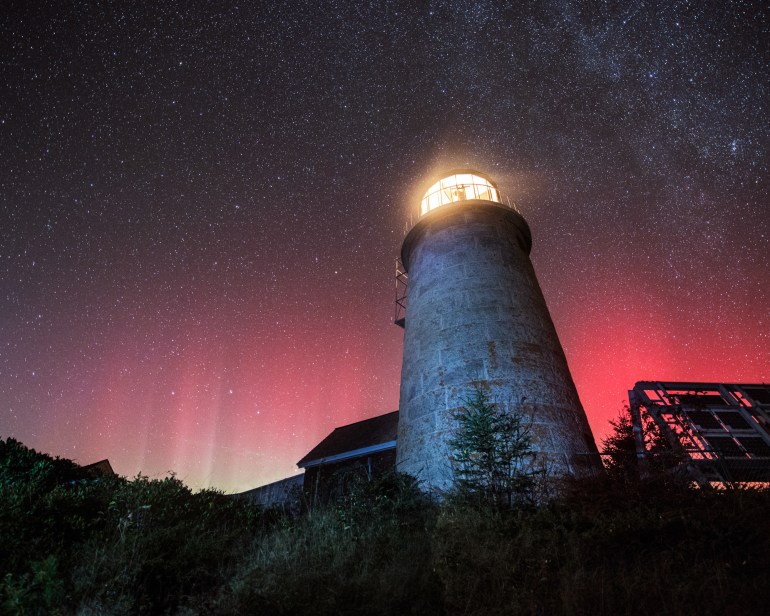 Monhegan is a small rocky island just over 10 miles off the coast of Maine, accessible only by boat. "The island doesn't have too many people on it," Fusco said of the island, which reported only 64 residents in the 2020 decennial census. Fusco was on the island to photograph the night sky but was lucky enough to encounter the northern lights as well. "[I was] sprinting all the way across the island with a camera on my tripod," he recalls.
While the northern lights commonly appear green, they also can appear pink, red, yellow or blue. "The color that's visible is dependent on the altitude that the solar particles are colliding with different gasses in our atmosphere," Fusco explains. "People often don't see a lot of color with the Northern Lights when you're that much further south." They only lasted for around 10 minutes, but it was enough time to grab this shot of the Monhegan Lighthouse, built in 1850.
---
Jasper National Park, 
Alberta, Canada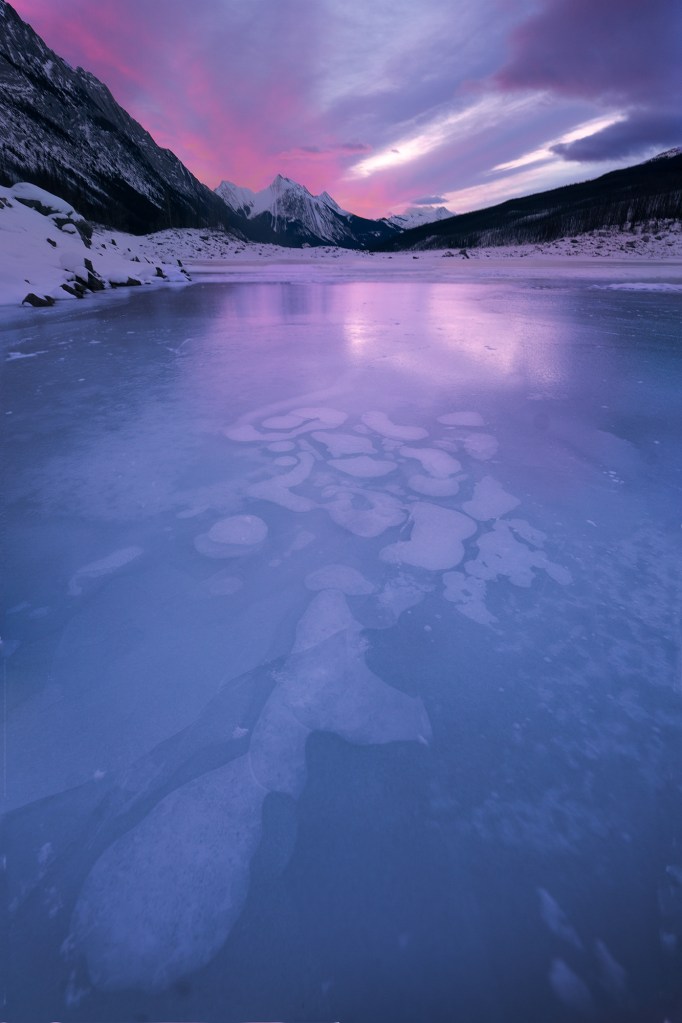 In the middle of a two-week night sky timelapse project at Jasper National Park, Fusco found himself at Medicine Lake, which drains and freezes in the winter to create a drastically different landscape compared to the warmer seasons. The project entailed visiting six different dark sky parks in Alberta to shoot timelapses in each with his friend and fellow photographer Jeff Bartlett.
"We were driving to a different location, and all of a sudden, the color started popping," he says of this photo, taken at sunrise. "So we ran down to the ice, tried not to fall. I don't often take daytime photos, but this is kind of one of those pretty enough where I didn't really have much of a choice."
---
Anza-Borrego Desert State Park, California

At Anza-Borrego Desert State Park, about a 90-minute drive from San Diego, California, Fusco captured the sky using a device called a star tracker. "So these devices, in their simplest terms, very slowly rotate to the left" to compensate for the rotation of the earth, he explains. 
He had a friend climb the cliffside and took the first photo. But since the Milky Way continues to move across the sky, for the next 20 minutes, he took several different photos and then stacked them together in post-processing to bring out the details.
---
Solana Beach, California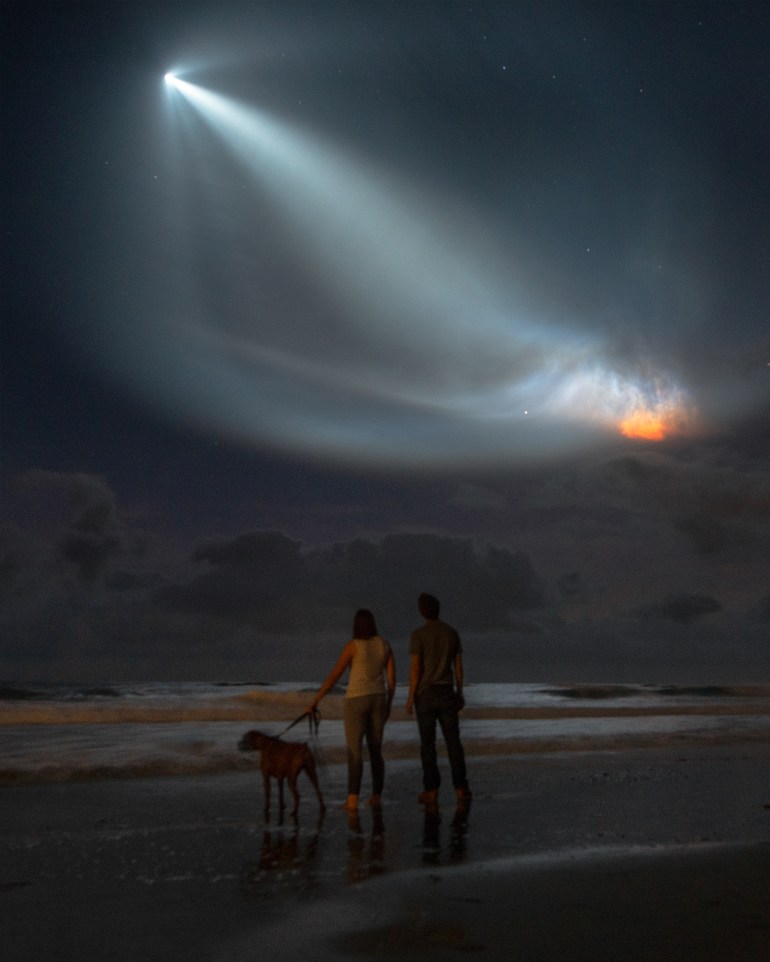 On Solana Beach, a coastal city in Southern California, Fusco took a self-timed family portrait to coincide with a Space X Falcon 9 rocket launch from Vandenberg Space Force Base on October 7, 2018. He is with his wife, Rachel, and dog, Kona. "He does a surprisingly good job of staying still for a very energetic boxer," he adds.
"They happen pretty frequently," says Fusco of the rocket launches, which he tracks by following the base social media channels. "But because it was a little bit after sunset, there's still enough residual sunlight that will kind of light up the plume from the different stages of the launch."
---
Yellowknife, Northwest Territories, Canada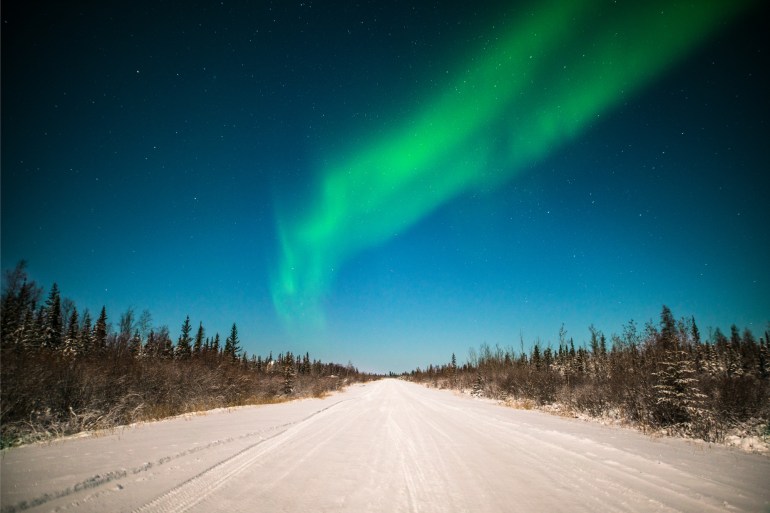 "I think it was like negative 37 [degrees] when I was shooting this," says Fusco, who captured this moonlit image in Yellowknife, Canada. "At a certain point, your gear does need to be warmed up …  I was rotating one camera in the car and bringing it out, and when that one would stop working, just kind of swapping back and forth."
Yellowknife is one of the best places in the world to see the northern lights, Fusco says. "After all the planning that goes into it, you kind of have this adrenaline when you first start to take [a photo] and it's kind of all coming together," he adds. "You forget about the cold a little bit until you finally slow down and you're like, oh, wow, my fingers are starting to go numb."
---
Mount Laguna, California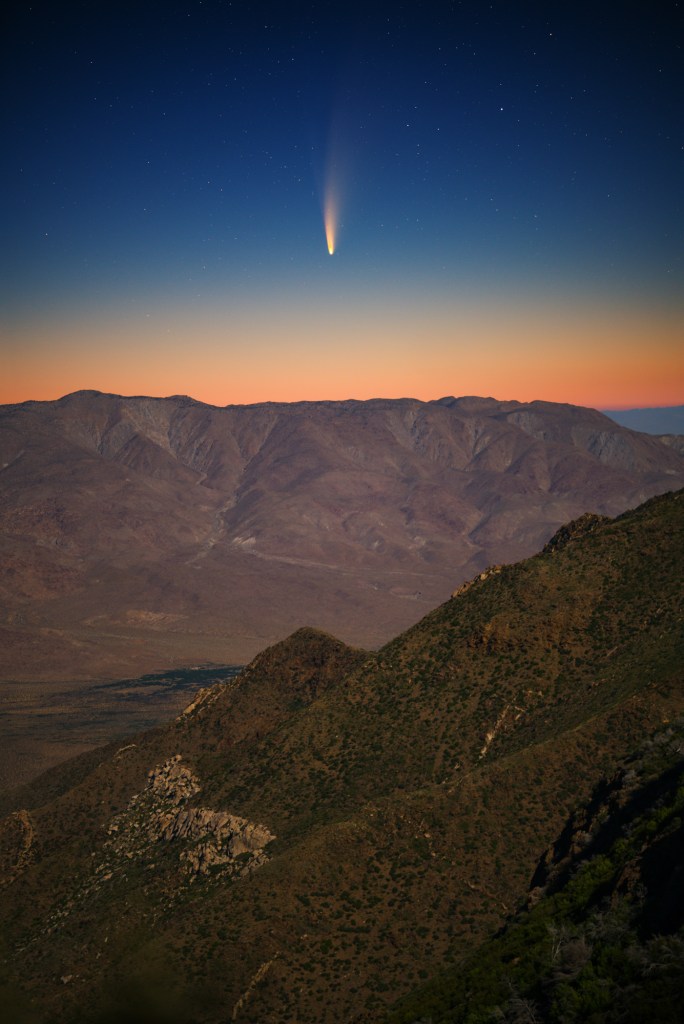 Comet NEOWISE, pictured here, was visible for a few weeks in 2020. "Comets are super unpredictable," says Fusco, who took this shot of the comet over Mount Laguna in Southern California at sunrise. "As they get closer to the sun, there's a chance that they'll either survive and brighten, or very often will kind of just break to pieces and fizzle out."
This photo, about an hour from downtown San Diego, shows that night sky photography doesn't always require sprinting across cliffs or hunkering down in sub-zero temperatures. 
---
El Matador Beach, California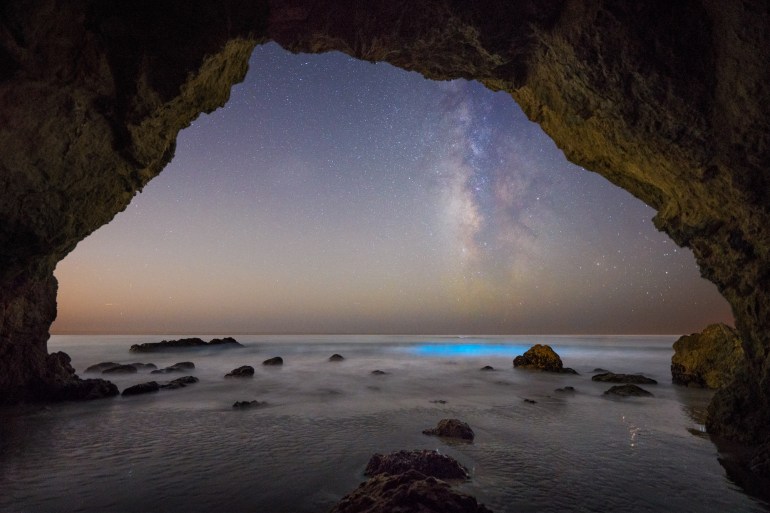 Fusco captured this shot of the Milky Way on El Matador Beach in July 2018 – a photo that took two years to get just right. "Malibu [has] a really beautiful coastline and just tons of the sea caves," Fusco says. "One of my favorite things about it was, it's so close to Los Angeles, and yet you still have a pretty awesome view of stars despite Los Angeles having a huge population and having a terrible amount of light pollution."
That meant meticulous planning to know exactly the right time of year when the galactic core would rise over the east-southeast horizon. "If you look in the bottom-left part of that photo, there's a little bit of a yellowish haze," he says. "That's a little bit of that light pollution bleeding into that part of the sky." In addition to following the movements of the stars, the weather is another tricky piece of the equation. For example, Fusco has to time the shot a low tide or risk getting stranded in a sea cave. The blue bioluminescence (the release of light by living organisms) was simply a nice bonus.
Ultimately, one of Fusco's goals is to get people out to see some of this dark sky majesty themselves. "I'm hoping I can find different ways of getting people interested in stargazing or even taking their own night sky photos," Fusco says. In addition to giving workshops, he provides tips and guidance, reviews gear, and shares his process on his website and social channels. "I think it really has to do with how I feel when I get to stare up at a sky full of stars. It's not something that's easy to describe, but that moment is full of peacefulness and wonder. I think that's what I hope other people can feel."
---
Watch Jack Fusco's full TEDxUIUC Talk now: