Designer Ayse Birsel shares the everyday objects she loves.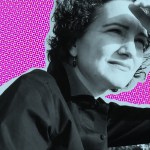 Since 2002, product designer Ayse Birsel has worked side-by-side with her husband Bibi Seck. Together they have refined a design process they call "Deconstruction:Reconstruction." The process of deconstructing a product into the human needs it must fill  — before leaping to design solutions — helps them see new opportunities while unencumbered by preconceptions.
Today, design studio Birsel + Seck can take credit for a number of designs that people use everyday — from Herman Miller's Resolve and Teneo product lines, to kitchen utensils for Target and JC Penney, to packaging for Johnson and Johnson. Below, Birsel shares five things she loves.
Books
"I love books — physical books with pages that I can write on. I read an article recently about how writing by hand is cognitively different than writing on a computer. There is a connection between the hands and the brain. I'd be interested in any neuroscience research about the differences between reading a physical book and reading a book on your Kindle. In any case, having a physical trail of what I've read and what resonated is important to me."
"Also, call me old-fashioned, but when I was growing up you could see your parents reading a book or the newspaper, writing a letter, or talking on the phone, and these were each clearly different activities. Everything seems to have converged into one tool, and I find it's so difficult to show my kids, by example, the different activities that you could do around learning."
Teacups
"I start every day with a cup of tea. My Herrend Porcelain teacup was a gift from a dear friend. They are beautiful teacups with birds and flowers and jewelry. I'm usually not that attached to physical things, but I've broken a few and that makes them more precious."
"But also, when I was young, a family friend came to tea and asked me, "What do you want to do?" I told him that I wanted to be an architect. He said, "What about industrial design? Do you know what that is?" And he started talking about his teacup, and how curve of the rim made it easy to drink from, and how you need the handle because the bowl of the cup is hot. I'm just thankful for that afternoon tea. It made me fall in love with the human scale of design."
Bougainvillea
"You can make a building beautiful if you plant a bougainvillea in front of it. I identify the flower, its violet and purple flowers, and the architecture with the Mediterranean and my childhood. There's a happiness to them."
Noguchi Akari lamp
"Years ago I spent a year in Japan. I was going to be living in TOTO's company housing, but I wanted to bring one thing with me from home, so I brought the Akari lamp. Noguchi is one of my heroes. His work has always resonated with me. His sense of form and volume — everything about his work inspires me. Often when I start a project I will leaf through one of his books, just to see through his lens."
Issey Miyake Pleats Please Dress
"I'm addicted to Pleats Please. I call them my pajamas. They are so comfortable, but they don't look like pajamas. I love the design of them, but also the practicality. You can travel with them — they are light and need no ironing. It's as if Issey Miyake took wrinkles, a constraint, something that you can't avoid, and turned them into an opportunity."
Photo illustrations by Kelly Rakowski for TED. The original image of the Issey Miyaki Pleats Please dress comes from The Rosenrot, by Gracia Ventus