When Andrés Ruzo was just a small boy, his grandfather in Peru told him a story with an odd detail: There is a river, deep in the Amazon, that boils. 12 years later, at a family dinner, Ruzo — now a geoscientist — heard his aunt mention that she herself had visited this strange river. So he resolved to find it — and find out what's going on — and headed to the jungle.
Fancy a dip?
After years of questions, doubts, literature reviews, dead ends and frustrations, Ruzo finally found his Boiling River which, truth be known, isn't quite boiling, with water temperatures varying along the river's path. What starts as a small, cold stream is supercharged in both volume and temperature along the way. In some parts of the river, the water temperatures plot at around 97 degrees Celsius (207 degrees Fahrenheit). "Dipping my hand into the river would give me third-degree burns in less than half a second," says Ruzo of the section of the river shown here. "Falling in could easily kill me." Photo: Devlin Gandy.
---
Watch your step
Steep cliffs bound parts of the Boiling River. Together with thick jungle, the terrain can make field work a challenge. The environment demands that every step be intentional and well calculated. (Water temperatures in this spot were around 170 degrees Fahrenheit. Ruzo, who's also a National Geographic Explorer, has visited the Boiling River every year since 2011, using his findings as work towards his PhD in geophysics. Photo: Devlin Gandy.
---
Boiled Alive
This frog did not survive its encounter with the Boiling River. Even where temperatures "only" reach around 80 degrees Celsius (176 degrees Fahrenheit), animals have little chance of surviving a fall into the water. Photo: Andrés Ruzo.
---
Sampling the boiling river
"Though steamer's gloves temporarily protect my hands from the intense temperatures, I stay low to the ground," says Ruzo of his technique for collecting water samples at this, one of the hotter parts of the river. Shorts and flip flops are not recommended clothing near a geothermal system, but locals taught Ruzo to "use his feet like eyes," to feel the heat of the River and the jungle. To date, he hasn't been burned at the Boiling River. Photo: Devlin Gandy.
---
Where science meets spirit
"At a time when everything seems mapped, measured and understood, this river challenges what we think we know," says Ruzo. "It has forced me to question the line between known and unknown, ancient and modern, scientific and spiritual. It is a reminder that there are still great wonders to be discovered." Shown here, Maestro Juan, an Asháninka healer and the long-time protector of the river. He uses medicinal plants and thermal waters, which the healers view as sacred, to pursue his mission of healing humanity. Photo: Sofía Ruzo.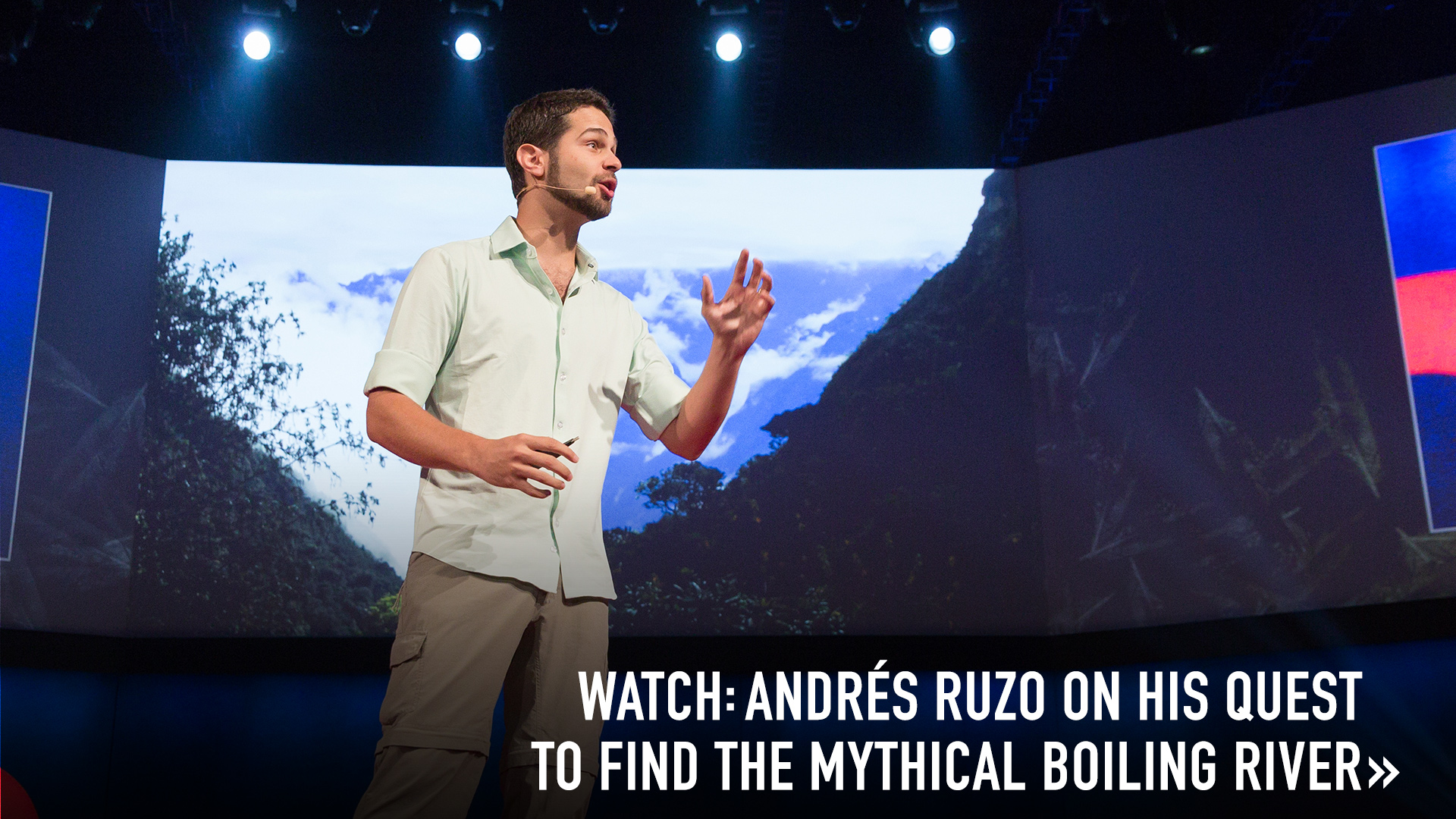 The Boiling River: Adventure and Discovery in the Amazon by Andrés Ruzo is published by TED Books/Simon & Schuster.