Every ten years, the US government takes a national census to find out who lives where, what they do for work, the languages they speak and more. It's good, important stuff, but it doesn't necessarily tell Americans who they are — the dreams and goals of ordinary people, how we describe ourselves. So in 2010, when the most recent census came out, artist R. Luke DuBois (TED Talk: Insightful human portraits made from data) decided to make his own survey of the country.
DuBois gathered his data by creating profiles on 21 different online dating services, across every zip code in America. This allowed him to browse some 19 million people's dating profiles. Why? To analyze the words they used to describe themselves.
DuBois used a technique called term frequency-inverse document frequency, or tf-idf, to measure how frequently a unique word appears in a specific zip code, while discounting words used often across many zip codes. Common words like "love" and "sex" fall off the list, leaving behind only the most place-specific words. (People's names weren't included, either.) DuBois then replaced the name of every city in the United States with these words, and his project, called "A More Perfect Union," was born.
DuBois talks us through the renamed country and shows why the keywords he uncovered constitute no less than the map of a population's soul.

Washington: Heartbreak Headquarters
DuBois: One of Seattle's biggest words is obvious — "sound," as in Puget Sound.  But around the city you also get words like "pretty," "heartbreak," "gig" and "cigarette." That's what dating someone from Seattle is like — they play in a band, they smoke, and you end up heartbroken. The city of Redmond, Washington, where Microsoft is based, has a less lyrical word: "email."
---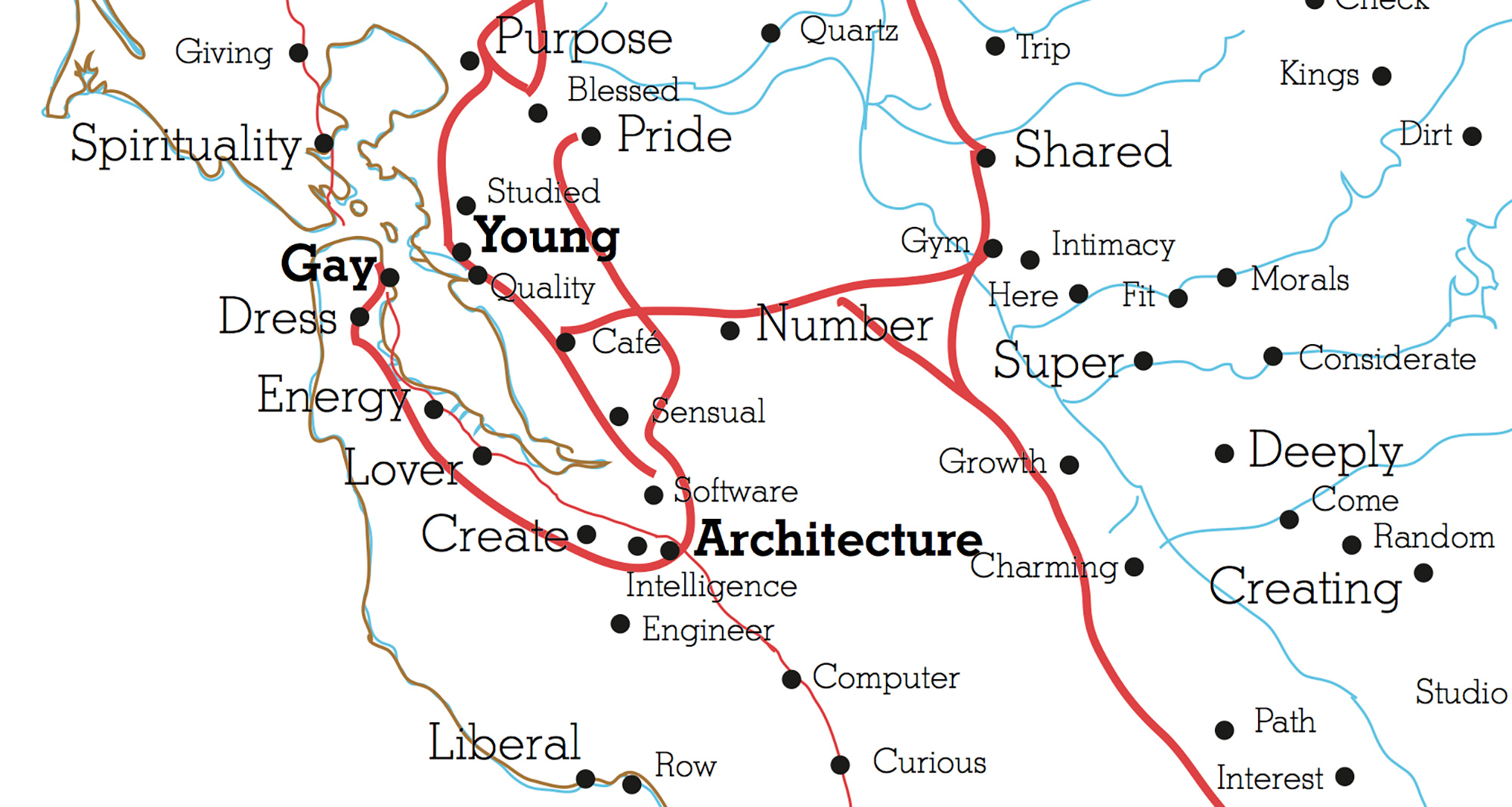 Bay Area: Positive Charge
DuBois: This project was an interesting way to create a psychogeography for different parts of the US. This text map of the Bay Area, for instance, has the most positive buzzwords, like "spirituality," "create" and "purpose." It also includes some pretty obvious ones like "gay" in San Francisco, "liberal" in Santa Cruz and "young" in Oakland. You can see how each part of the country has evolved.
---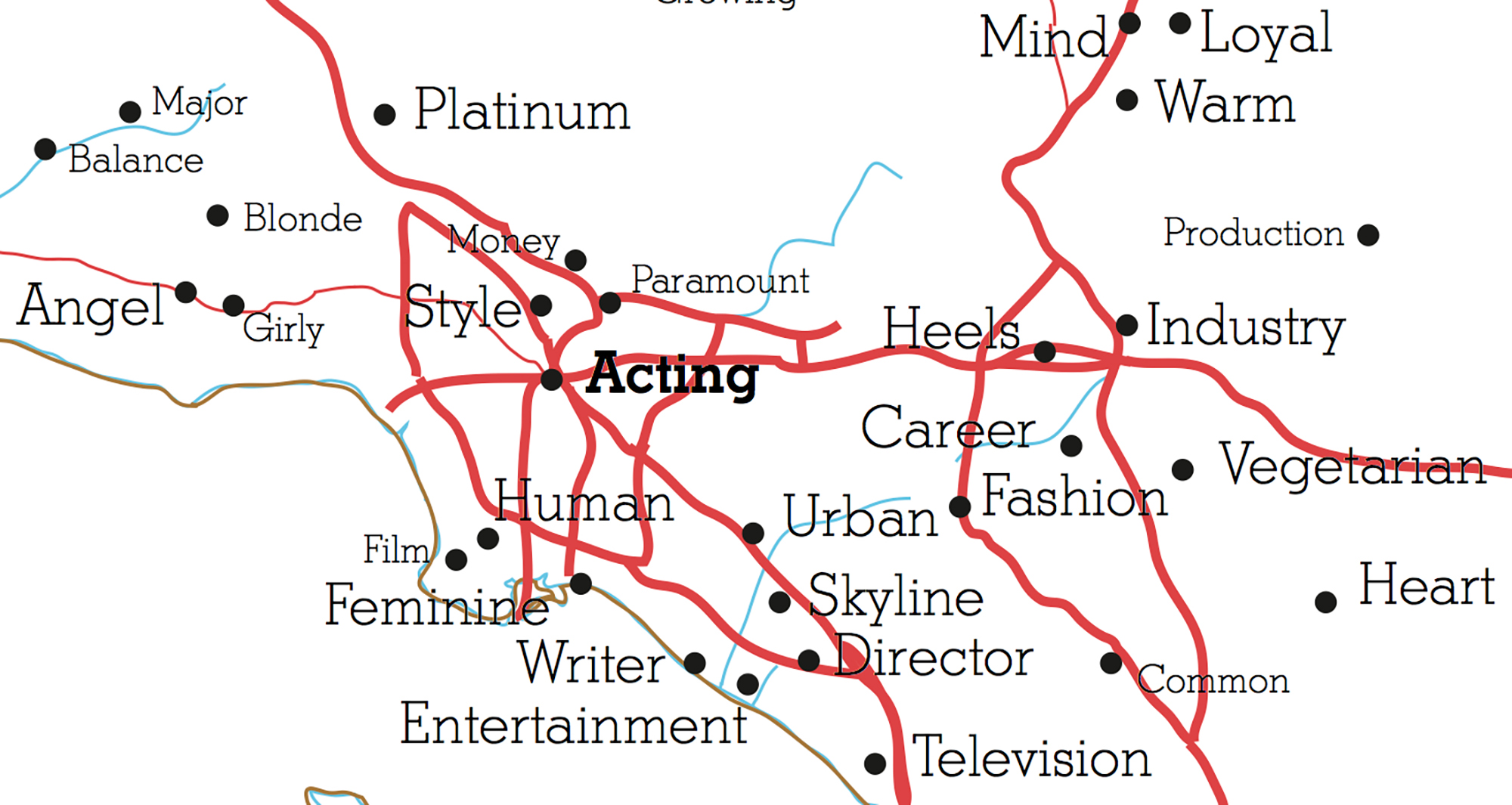 Hollywood: Not So Confidential
DuBois: With some of the maps, the words are so obvious they're almost painful. Los Angeles' word is "acting." And all around the area, you've got all these Hollywood words like "director," "film," "blonde" and "career."
---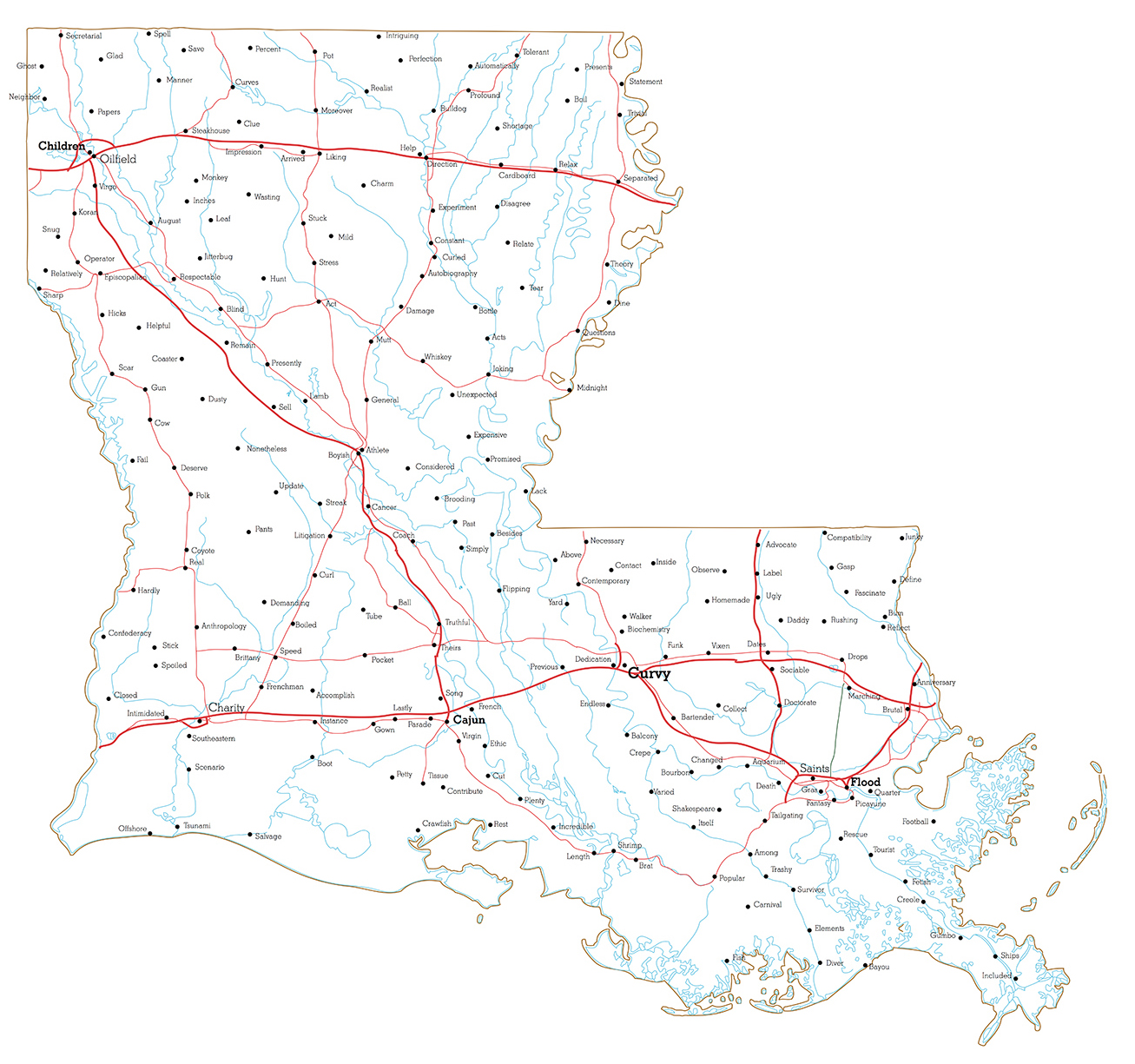 Louisiana: Water World
DuBois: In Louisiana, folks in Baton Rouge say they're "curvy."  In New Orleans, the effects of Hurricane Katrina are still front and center. Years later, people still talked about "the flood."
---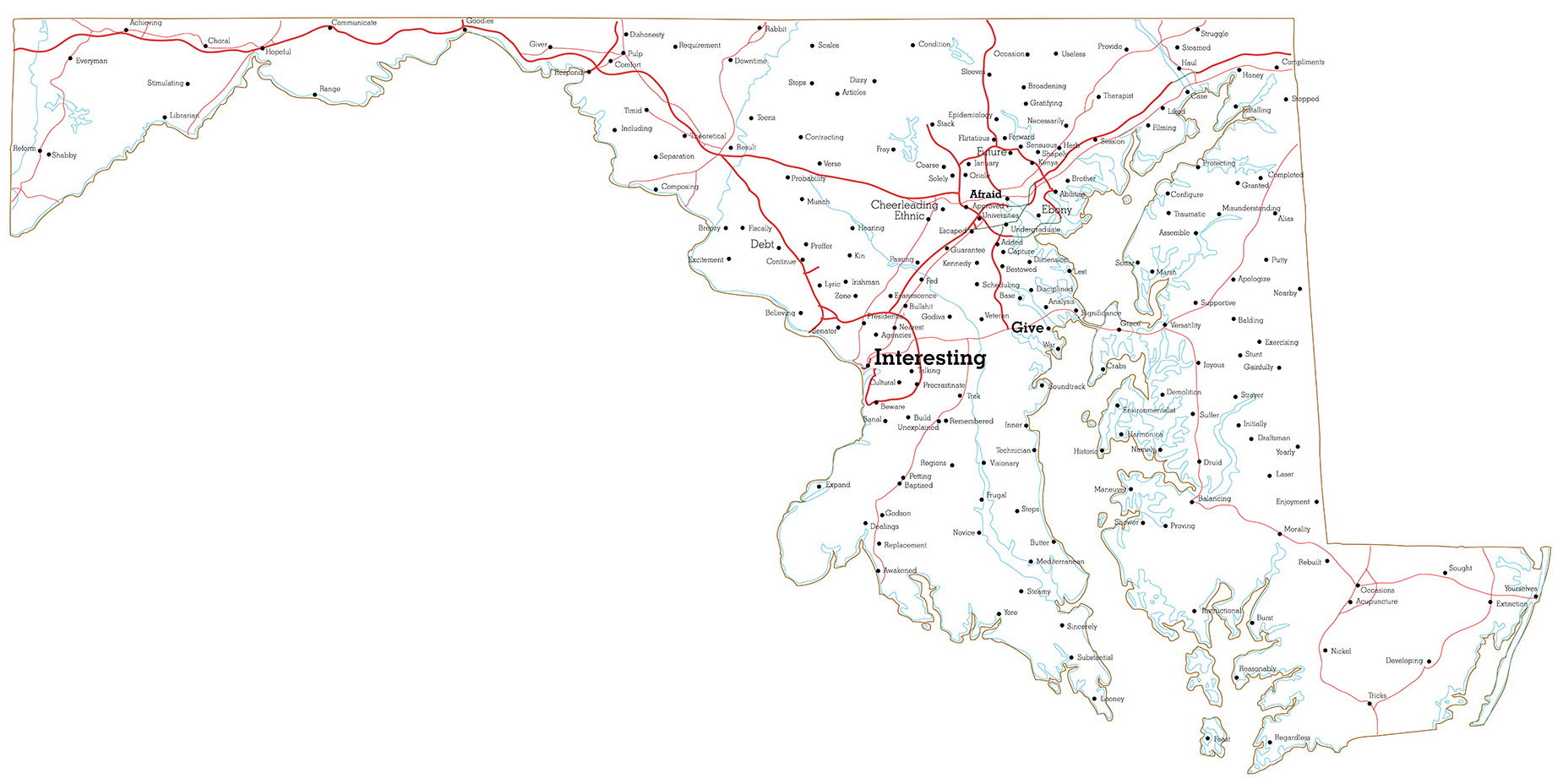 Washington, DC: Capitol Gains
DuBois: People in the US capital say they're "interesting." People in Baltimore, Maryland, say they're "afraid."
---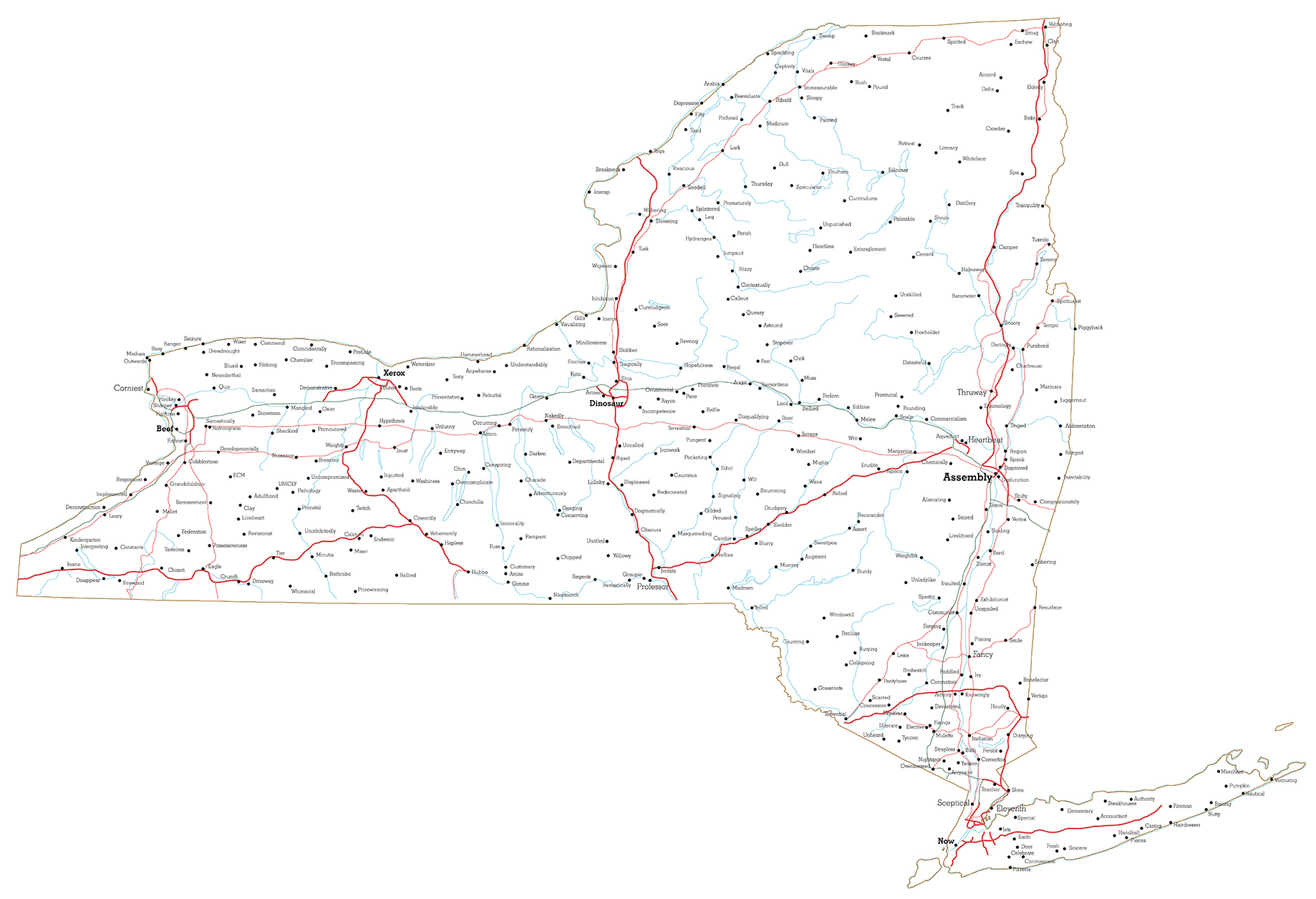 New York: The State of Empire
DuBois: New York City's word is "now." That's not only impatience — it's also, "Now, I'm working as a waiter, but really I'm an actor." Albany is "assembly," and Rochester is "Xerox," one of the companies that dominated the area for years. Sometimes the words are a bit more fun — Syracuse is "dinosaur," because the best restaurant in Syracuse is Dinosaur Bar-B-Que. That happens a lot. The words aren't necessarily descriptive. They're the names of clubs or bars — places you like to go or things you like to do.
---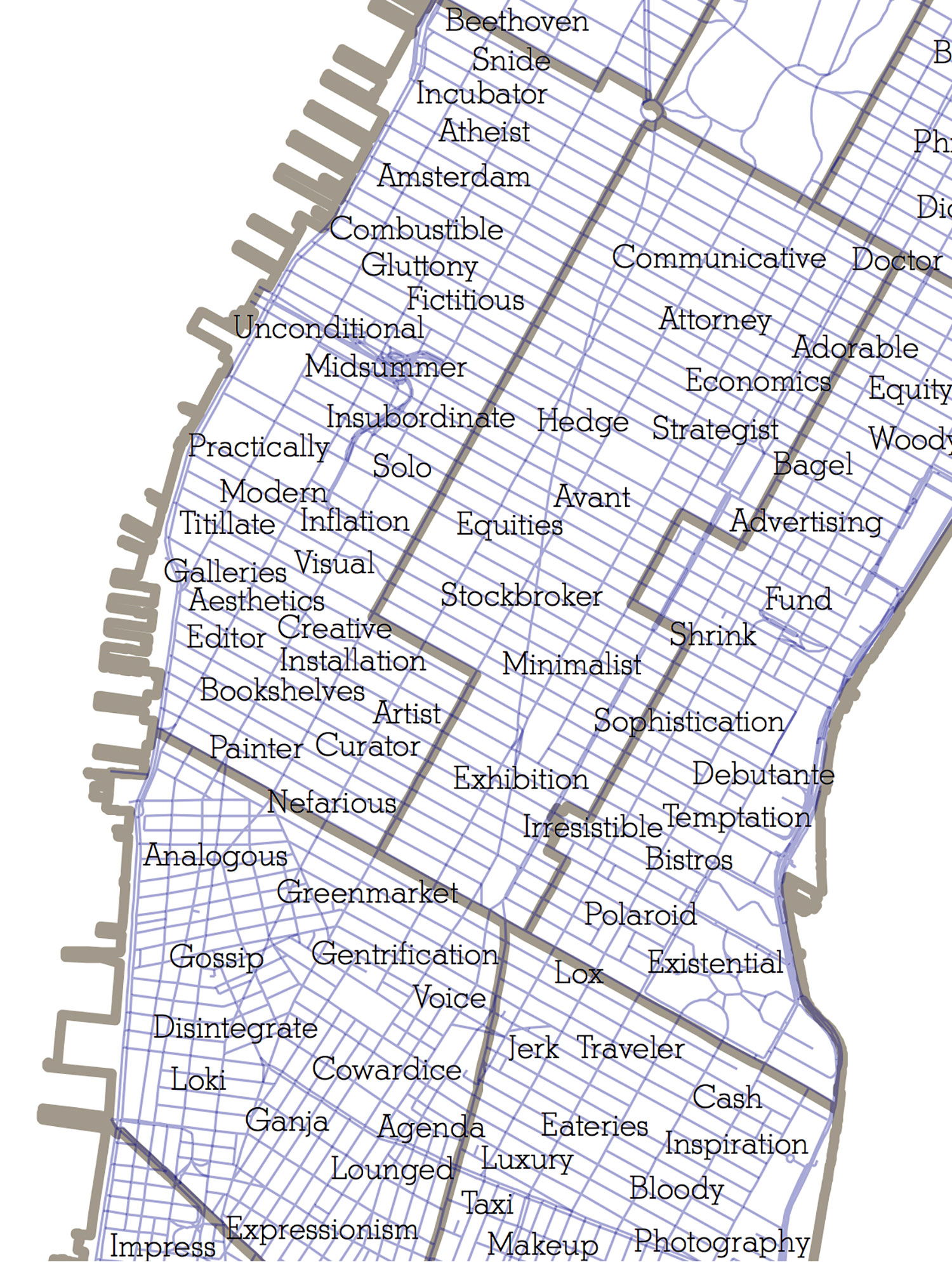 Manhattan: Urban Urbanity
DuBois: In Chelsea, in Midtown Manhattan, the words are "modern," "creatives" and "aesthetics," because that's where a lot of art galleries are. If you look downtown near Washington Square Park, you've got "voice" — as in "Village Voice." Sometimes, though, the words don't really make sense. You've got words like "cowardice," "combustible" and "insubordinate" — they just pop up because more than one person in that zip code used that word in their profile.
---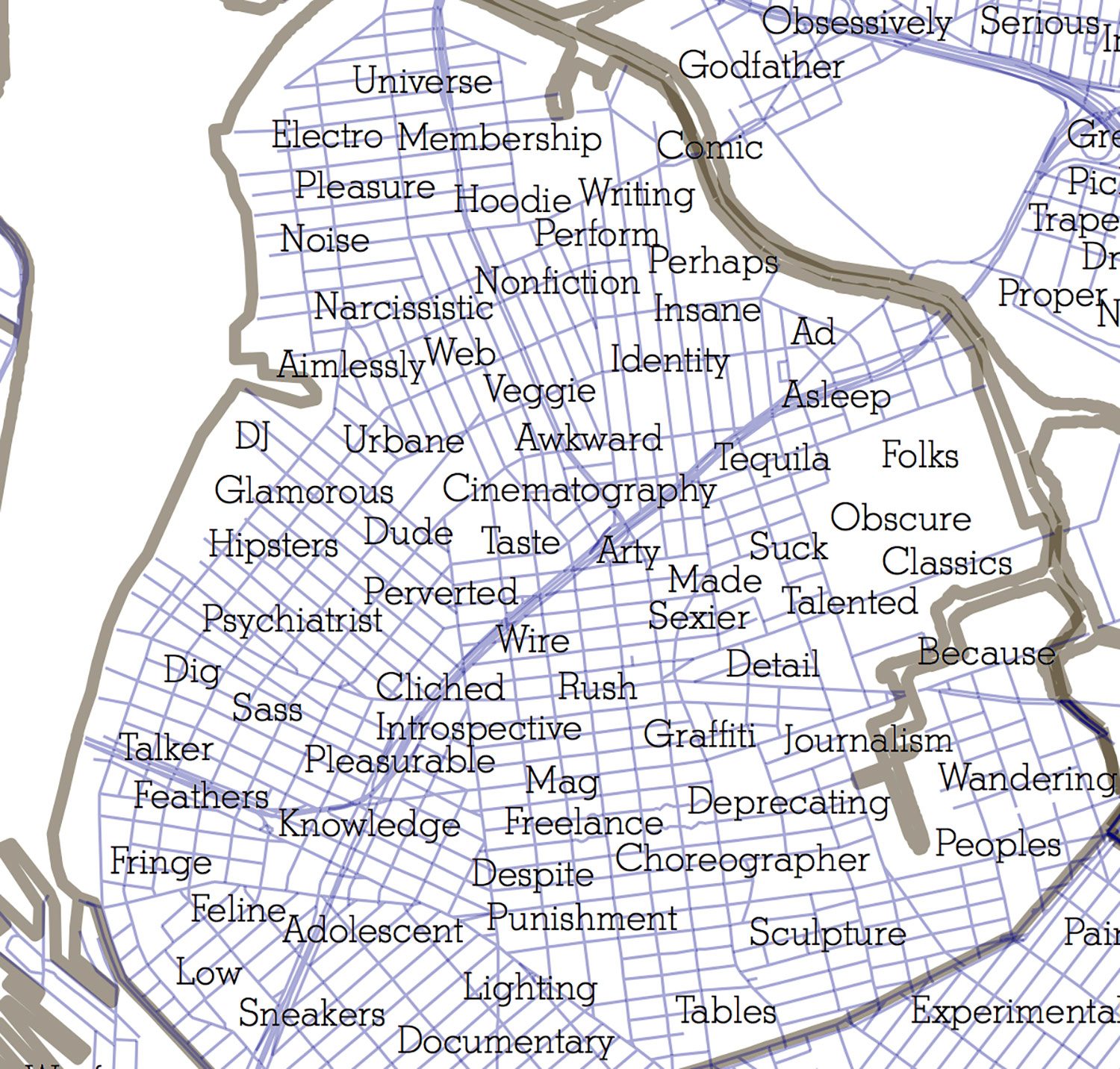 Brooklyn: Hipster Keywords
DuBois: North Brooklyn is one of the more interesting maps, because it really illustrates the culture that's taken root there. You've got "DJ," "glamorous," "writing," "hoodie," "hipsters" and "psychiatrist." You've also got a lot of music genres like "electro" and "noise."
---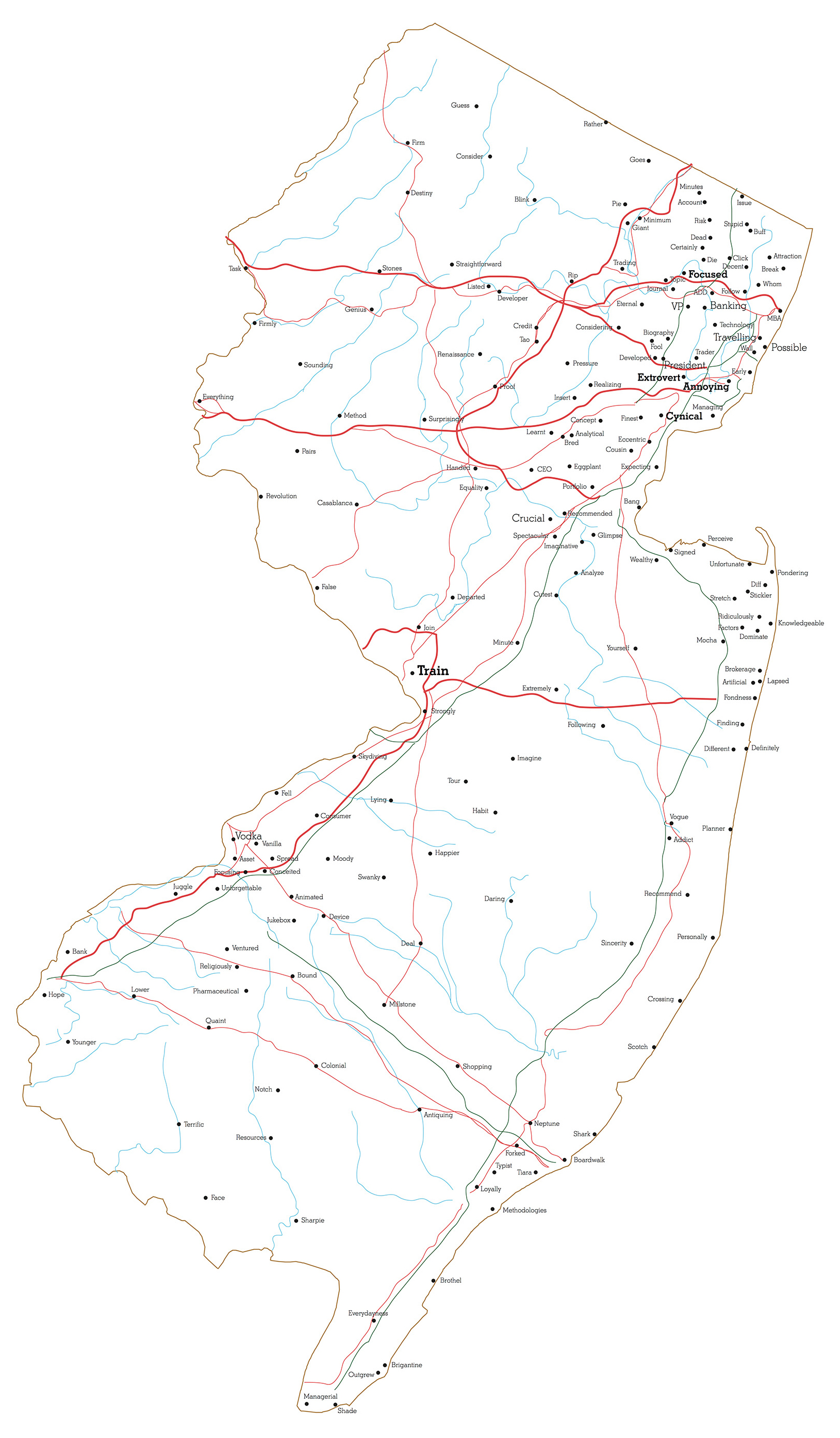 New Jersey: On Track
DuBois: In New Jersey, some of them make complete sense. Atlantic City is "boardwalk," and Trenton is "train." Anyone could've figured those out. Then some of them are a lot harder to decipher.
In the end, I didn't really do the project for people to find their renamed hometown. The point is to think about the rhetoric of how we talk about ourselves when we try to get somebody to be interested in us.