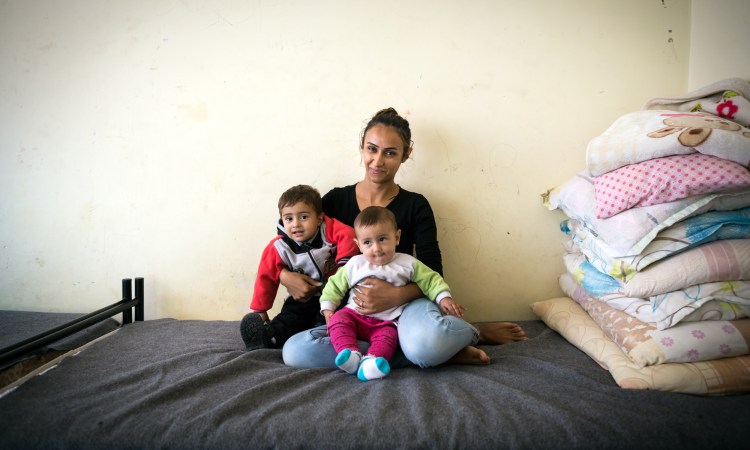 Melissa Fleming of the UN's Refugee Agency shares some ways to help refugees right now.
When a million refugees showed up in Europe this past year, the world began to take notice of a problem that has been steadily growing before our eyes. Ten years ago, 38 million people had been driven from their homes because of war or persecution; right now that number stands at over 65 million. That's equivalent to the population of France … drifting, stranded, with little hope of returning home, and few chances to thrive in neighboring countries.
In Europe, the lack of a unified system to manage the influx of refugees and migrants is exacerbating the problem. People are either welcomed or shunned. They can face fences of barbed wire or cheering locals. Around 50,000 people are stranded in Greece, waiting to be relocated to other European countries or sent back home.
On the streets of European cities, I have seen both remarkable generosity and irrational fear. People carry signs with the slogan "Refugees Welcome"; others set asylum homes on fire. While many push for values of tolerance and openness, others are full of fear, afraid of the arrival of so many people from a different continent, with different religions and cultures. Opportunistic right-wing politicians exploit these fears to make gains in elections.
People often ask me what they can do to help. It's certainly possible to do small, practical but meaningful things to combat the feeling of helplessness that can all too easily become paralyzing. Already, I've been struck by the overwhelming outpouring of meaningful acts of kindness by individuals, local charities, religious groups and students who have made their way to borders and train stations to help arriving refugees and migrants (check out the inspiring work done by a team on Lesbos to coordinate efforts to greet the 5,000 refugees arriving on the Greek island every day). Their message is clear: they stand for a Europe that offers refuge to victims of war and compassion for those who are seeking a better life.
But of course you don't have to volunteer in person. Here are eight other equally meaningful ways you can help:
1. Host refugees and asylum seekers in your home.
Help refugees where you are. A friend of mine is offering a vacant room in his home to a family of Palestinian Syrian asylum seekers. Hekla Stefansdottir was part of the inspiring move within Iceland to offer homes to Syrian refugees. The Refugees Welcome initiative began in Germany as a way to match those with a spare room with refugees in need; it now has chapters working in 20 countries. Open Homes, an Airbnb project, allows volunteer hosts to open their homes to refugees and displaced people without charge. Local religious groups can offer a way to be connected with refugees who could use your spare room; if you want to be involved, ask for a recommendation. My organization, the UN Refugee Agency or UNHCR, recently published an inspiring series of stories profiling Europeans who have taken refugees into their homes.
---
2. Volunteer your specific skill.
One young university student l know teaches German to asylum seekers in Austria during their long wait for their refugee status to be determined. Angered by growing racism, a football coach in Italy started a team for refugees and migrants. A Swedish team developed the Sync Accelerator, an employment matchmaking program that helps newly arrived engineers and programmers to get a qualified job at a Swedish company. The What Design Can Do Refugee Challenge in Amsterdam invited designers to create new solutions for people on the move. In Germany, one professor built an online network to keep refugee scientists active in their field by linking them with German academics.
---
3. Help refugees to integrate into a new culture.
The movie The Good Lie did a great job of portraying the feelings of isolation that refugees can feel when they are relocated to a new country and then try to get over their trauma and restart their lives. Even small gestures of friendship can mean a great deal, so see if you can volunteer with an organization in your community that's working with refugees. (Religious groups and local nonprofits like Access California Services or US Together in Ohio often have refugee programs; a quick Google search can show you what's active in your area.) In Canada, private individuals or groups can apply to sponsor refugees to come to Canada and help them integrate. A European organization called United Invitations invites people to welcome refugees to dinner or to accept an invitation to dinner at the home of a refugee.
---
4. Encourage your university to offer refugee scholarships.
For refugee students, losing the chance to pursue their studies is devastating. Since 1992, the DAFI program from the UNHCR and the German government has offered scholarships to refugees worldwide. The University of Canberra in Australia offers scholarships to refugees; a program at the World University Service Canada gives student refugees a chance to enroll at a Canadian university or college as a permanent resident. In the US, Southern New Hampshire University has launched a major $10 million initiative to bring university degrees to refugees at home and abroad, allowing it to educate up to 50,000 refugees a year by 2022. Students at Oxford University in the UK recently raised more than $300,000 to fund scholarships for refugees. Encourage your local university or college to support refugees too.
---
5. Employ refugees.
In some overwhelmed countries, refugees are seen as guests and are not permitted to work. But in others, they can. Hamdi Ulukaya, the CEO of the American yogurt company Chobani, is not only giving away half of his wealth to aid refugees, he employs 300 refugee workers at his factories. In January 2017, Starbucks pledged to hire 10,000 refugees globally. The website Natakallam.com gives refugees the opportunity to teach Arabic. Refugees in Berlin are working as tour guides in museums showing tourists cultural riches from home. Could your company hire refugees? Where are you circulating job advertisements? Find a local resettlement center in your community and see if workers there can connect you with qualified talent.
---
6. Offer opportunities for refugees to volunteer.
In places where refugees can't work legally, volunteering can lend the days more purpose. In Kotka, Finland, some refugees have found a sense of community by volunteering at a local retirement home. In Denmark, 12 former journalists were given the opportunity to edit the daily newspaper for a day, producing a 48-page special issue showing the refugee crisis from the perspective of those experiencing it. A farm in the UK allows refugees and asylum seekers the opportunity to learn different skills such as painting, weaving, ceramics, cooking and agriculture.
---
7. Hold awareness and fundraising events.
Do this wherever you are, in your communities, schools or workplace. Run a half marathon, do a sponsored swim, put on a raffle or a yard sale. Online websites make it easy for your supporters to donate — just register your event, spread the word, and your friends, family and colleagues can all donate securely online. If you'd like to use UN Refugee Agency materials and resources such as banners, T-shirts or posters, contact your local UNHCR office.
---
8. Donate.
There's always money. UNHCR has launched a campaign called Nobody Left Outside to provide shelter to two million refugees. If you prefer to support refugees living in poverty in Jordan, this cash assistance program helps individual families make ends meet. Or, in the US, you can make a tax-free donation to USA for UNHCR. Seriously, every dollar helps.
---
This piece was originally published in November 2015; it was updated with new information in September 2017. Photo © UNHCR/Gordon Welters.