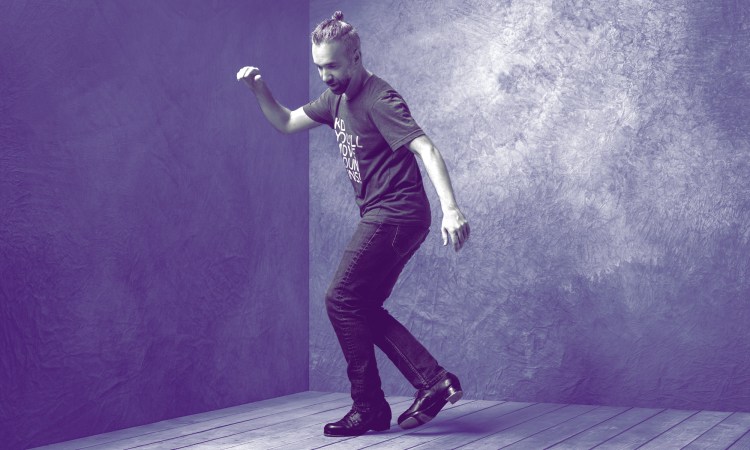 How one dancer is bringing tap dance back.
Think about tap dance and what comes to mind? Perhaps the virtuosity, precision and glamour of Hollywood film stars like Fred Astaire and Ginger Rogers … or maybe the fluid ease of dance-world icons such as Buster Brown or Jimmy Slyde? More than likely, you'd think of old legends from a bygone era. How can an art form so entrenched in American history maintain relevance in the 21st century? Andrew Nemr has been thinking about what's next in the trajectory of a dance style that was first taught and shared on the street. Here's how the dancer, teacher and — as founder of the Tap Legacy Foundation — dance historian is trying to make tap relevant again. First, the backstory:
Tap dance is part of America's social fabric. A unique form of percussive dance born in America out of African and European traditions, tap evolved alongside the American music that would become known as jazz. "It's the one percussive dance born in America that was adopted by the popular media of the country very early on in its development," says Nemr. Tap dance quickly made the jump into formal entertainment in the earliest days of American theater, evolving in style and technique through the days of minstrelsy and vaudeville, and eventually becoming a staple of the American musical on stage and in film.
Forget breakdancing. Tap dance is the original street dance. In the 1930s, tap dancers would gather on city street corners to trade steps and challenge one another, in a precursor to the B-boy battles of later decades. Philadelphia had a particularly vibrant dance culture. "Different corners had reputations for their respective skill level," says Nemr. "For example, if you were just starting out, you would go to one corner to dance with other beginner tap dancers. When you thought you were ready, you could move to another corner and see if you could hang with more experienced dancers. And any time you wanted, you could also walk a couple blocks down and watch the pros really dance!"
Tap dance helped dancers survive during leaner times. "There was a big tree on 7th Avenue in Harlem in New York City, called the Tree of Hope," says Nemr. "The dancers who weren't working used to hang out under this tree because it cast shade. In the 1920s, producers would come down to the tree and book dancers for gigs." What made this possible: the dancers — who may or may not have ever danced together — all knew certain standard dance routines, such as the BS Chorus or the Shim Sham. "With these dances as a starting point, they could add a few elements like a soft shoe or a slow dance to quickly put together a four-minute act — the average back then," says Nemr.
Traditional tap dances promote community. Sadly, the tap dance street corner recruiting ground no longer exists, and tap's popularity waned through the latter half of the 20th century. It's now taught within the confines of dance schools, where the emphasis is on building virtuosity and artistic vision. Yet those standard dances from the traditional repertoire have survived. "They were throwaway dances back in the day, but they've stuck because everybody used them, and now they form the basis of the dance language," says Nemr.
Last August, he used this language to assemble a nearly spontaneous performance at the TED Fellows Retreat in Pacific Grove, California. Nemr brought five members of his New York company, Cats Paying Dues, and he put out a call for nine local dancers to join them. The combined group rehearsed once at their first meeting, choreographing a piece using elements of the Shim Sham and BS Chorus. The result? A performance showcasing the rich history of tap dance while an elated group of dancers performed a freshly minted routine, flawlessly.
[vimeo 146860157 w=500 h=281]
You don't have to be a professional to join in. Inspired by the relationships and experiences he's enjoyed through his collaborations, Nemr is now hoping to share the love. How? By building easier entry points for anyone interested in tap dance. "We're going to publish a piece on YouTube that the entire community can learn, perform with us and have a new shared experience," he says. "And at every event I'm a part of, I offer to teach the audience a tap dance step. At some events, entire rooms will stand up with me and try to learn."
The real purpose of tap dance? To spread joy. Nemr is leading tap full circle back to its roots of community and shared experience. "Jimmy Slyde, one of the old guys, and one of my mentors, used to say, 'Your job as a tap dancer is to spread joy. That's what you do.' When I'm working with a group, I always say: 'We get to do this thing that other dancers don't. We get to share the tradition and art of tap with people — and have a smile on our faces because we're having fun.' The whole thing becomes a play date. We all want to be kids again, to a certain degree, and if I can make those moments happen, that's a huge gift."
Photo of Andrew Nemr by Bret Hartman for TED.