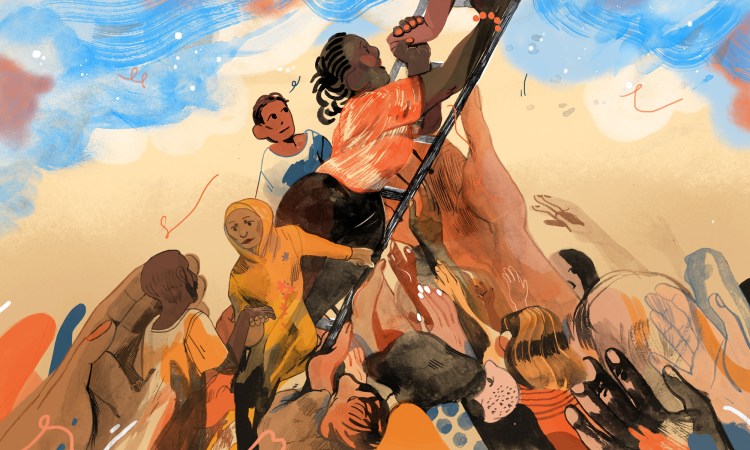 Many people want to help in the ongoing struggle for equality and equity, but they don't know what to do. Activist DeRay Mckesson explains how we can all show up and stand up.
1. Own your privilege.
"Acknowledge that there is a privilege you have [if you're white], and use the privilege to disrupt that privilege itself. I've had people say to me, 'Well, I didn't benefit from white privilege.' [You need to realize] every Band-Aid in this country looks like your skin and not mine, baby dolls look like you, and the color 'nude' is your skin color. That's what the privilege of whiteness looks like — it's not about what you've done; it's about what society does when it treats white as normal. It's about you saying, 'I have privilege, I have power, and I will seek out how I can use that privilege and those resources. I'll ask marginalized people, 'What is the help you need?', as opposed to just saying, 'I think this is what you should do'."
2. Talk about what's uncomfortable and what's important.
"There's no winning in silence. If we allow white supremacist ideology to spread without being challenged, people continue to replicate it. And the question is: what do you do? You need to talk about it — you can't change what you don't talk about. And while we've had a great conversation [in the last year] about the symbols and about Confederate monuments, there is still so much work to be done that we actually don't talk about — like what to do about police violence, or bail, or rehabilitation for people who are coming out of prison, or the opioid crisis. You don't always see the trauma — it doesn't show up in the same way as a man running a car through a crowd of people — but the impact on people's lives is as disastrous as anything else."
3. Be strategic in what you say and how you say it.
"People don't respond well to being shouted down at the dining room table. If your goal is to change somebody's mind, that isn't the most effective strategy; if your goal is to make a point, then that isn't an effective strategy. Try to show people what you mean, as opposed to just saying, 'I'm right.' It's a long-game solution. Rarely do people come out of one conversation and say, 'You know, my whole worldview has changed.' It's about setting a foundation, so that people over time can change. This isn't everybody's work — some people are much better at having conversations than other people."
4. Activism isn't just about protests and marches — it means voting, too.
"Many of the things that will change people's lives are structural, so it's about voting where you are and pushing for or against legislation in your city and town. Use your institutional power to change structures and systems. Who shows up to the hearings about police violence? Who is working on welfare reform? Who is working on bail reform? Are you willing to come out for three weeks of hearings, sit, and say, 'This is an issue that is important to me, too'? Even when it may not be convenient? That's what it means to show up."
5. Figure out where and how you can do the most good.
"I think there's a role for everybody. The things I care about might not be the things you care about, and vice versa, which doesn't mean they aren't all important. For some people, their space is being on Twitter and on Facebook and pushing out messages. There are some people who are better in the street than I am, and some people who need to skip the street because they can just go to the governor's mansion. If the governor is your friend and you can talk to him in his dining room, do that. We don't all need to play the same role. The cacophony of all of us doing work together will actually lead to systemic change."
6. Start where you are.
"Harriet Tubman knew that something could be done. She started where she was and started small, and it turned into the Underground Railroad. It can often start with you and another person, or you and two people, having a conversation about what the world can be and here are the steps you can take. You need to take concrete steps — small ones, like steps on a ladder — to get to systemic change. Ask people what they need, stand in concert with those who've been doing the work longer than you, listen, ask more questions than talk. Those are all the hallmarks of the people I've seen who are the most effective."
7. Ask yourself: what do I want the future to look like?
"When we think about resistance, we focus almost exclusively on the absence of oppression. We think: How do we end mass incarceration? How do we stop the disparities with regard to police killings? How do we stop police killings altogether? But when we tear down these repressive, oppressive systems and structures, something has to replace them, something that's better. For example, we know there will always be rules, there will always be people who break the rules, and there will always need to be consequences. Do the people who enforce those consequences have to be the police? No. Does that enforcement have to mean prison? Absolutely not. We need to spend more time now talking about potential solutions. How do we help people imagine a conception of safety that doesn't center on the police? How do we help them imagine a world where every adult can read? How do you help people dream in a big way that will actually change lives? It's hard because we haven't lived in that world before. But it doesn't mean that world's not possible."
8. Feel the fear — and act anyway.
"Martin Luther King said, 'The arc of the moral universe is long, but it bends toward justice.' It bends, because people bend it. There are so many people who understand the power they have. They're standing up across the country when the odds look like they're against them, and they've learned to make sure fear doesn't overpower everything else even if fear is still present. There are just so many incredible people who are willing to put something on the line to make the world a different place. That gives me hope."
These remarks were taken from a Facebook Live conversation conducted with DeRay Mckesson at TED headquarters in New York City. To learn more, watch the video.