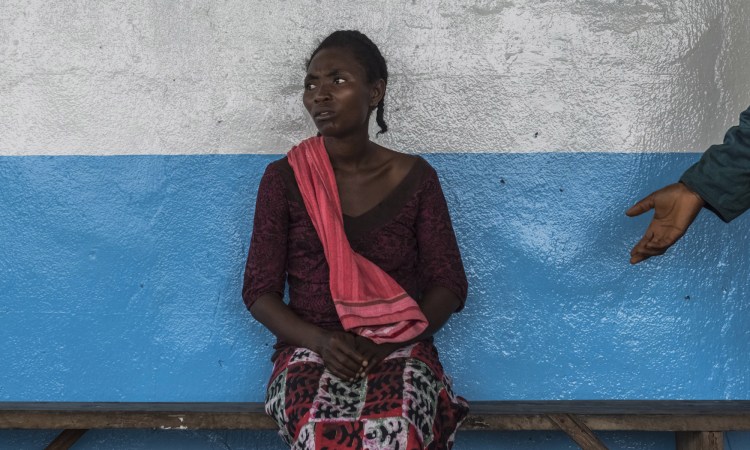 Catharine Young describes a visit to Liberia, where Ebola may be contained but the public health story has only just begun.
Traveling through the streets of Monrovia, Liberia, I am struck by the city's contrasts. Bursts of color highlight the fragile shells of businesses and houses. The summer air is soft, but the faces of the local people are somber. It's hard to believe that this gentle place was the scene of a hard fight against one of most contagious and deadliest viruses ever seen in Western Africa.
Through an extraordinary national and international effort, the virus was contained here in Liberia. Now, the international response has begun to wind down, transitioning from response to recovery. But the healing of the invisible wounds that remain with the survivors has only just begun.
I visited Liberia in early December with a group from the United States government to assess what the country now needs to emerge from the Ebola crisis. Being there brought the devastation home to me. I learned that, in a way, all Liberians are considered survivors of Ebola: the people who were infected and physically overcame the disease; the people whose loved ones and family members had the virus; the people who worked on the frontline as healthcare workers; and most sobering, the children who are now orphaned. At the height of the outbreak in Liberia, 10,675 patients were diagnosed with the virus, and 4,809 died. To put this in perspective, the population of Liberia is only around 4 million, which means that 1 in 375 people had the virus, and 1 in 840 citizens died of it.
The Ebola virus preyed on universal human feelings like denial, fear — and even love.
The reasons for Ebola's rampant spread are complex. In part, it can be attributed to physical causes, such as dismal hospital supplies and weak telecommunication systems. But much of the spread can be attributed to human nature. The Ebola virus preyed on universal human feelings like denial, fear — and even love.
At first, many citizens were in denial about the virus and the impact it could have. As it spread, people grew fearful of sending family members to overcrowded, under-resourced hospitals. Family members compassionately — and desperately — tried to take care of their loved ones at home, because hospitals came to be viewed as places of contagion and death.
And the most intense spreading of the virus, it's now believed, sprang from deeply rooted cultural beliefs around burial rituals and funeral practices, which include kissing, washing and lying with the deceased for hours.
Human nature is also to blame for how survivors are now being treated. Those who were infected, their family members and health care and burial workers are being shunned by their communities, due to misconceptions about the virus and fear of the unknown. Many believe that once infected, victims can still transmit the disease — despite the fact that Ebola is very difficult to spread and can only be done so when there is direct contact with bodily fluid with a symptomatic patient.  
20% of employed Liberians have stopped working since the Ebola crisis.
As a result, instead of receiving support and care at a time they need it the most, Ebola survivors are having difficulty finding jobs, having their drinking water turned off, being evicted from housing, and facing stigmatization from their communities. No surprise, then, that many are now suffering from an array of psychological problems including depression, post-traumatic stress disorder (PTSD) and social exclusion. Post-Ebola patients also suffer from complications such as headaches, extreme fatigue and even loss of vision. The term "Post-Ebola Syndrome" is becoming commonplace to describe symptoms of weakness and pain in joints, muscles and chests. For many, these ailments are so severe that they are unable to return to work. 20% of employed Liberians have stopped working since the Ebola crisis.
While news about Ebola dies down in global headlines, there's a new health crisis being fought in Western Africa. Survivors need psychological as well as physical care, as part of a comprehensive medical follow-up that tackles both the effects of grief and the traditional belief systems that may leave them ostracized. Post-Ebola patients also need legal protection to prevent landlords from unlawful eviction. In fact, we need to re-educate communities about Ebola: to spread knowledge, rectify misconceptions, facilitate dialogue, alleviate fear, and most importantly, empower its survivors.
We've learned many lessons from this catastrophic and historic event — and it's not a question of if the next outbreak will occur, but when. While communities slowly start to put the pieces back together, let's focus on those who remain among the living.
Photo: Daniel Berehulak/Getty Images.