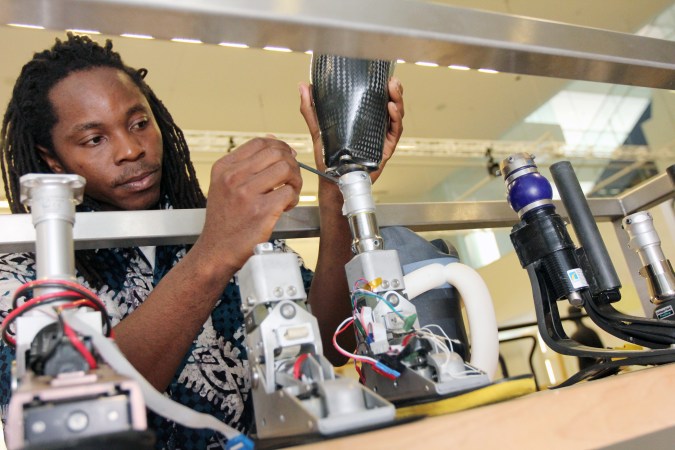 A persistent sight in David Sengeh's childhood, growing up in Sierra Leone: amputees. Losing a limb was an all-too-common fact in the civil-war-torn region. But the aftermath was almost worse, Sengeh saw, as he watched family members and friends struggle with ill-fitting, uncomfortable prosthetics that hurt too much to wear.
Here, the 2014 TED Fellow, now studying at the MIT Media Lab, talks about his idea of redesigning the socket that connects an artificial limb to a human body — and his dream of creating custom-designed, low-cost, comfortable sockets that 3D printing technology could make accessible to anyone, anywhere. An edited transcript of our conversation follows.
You've chosen to work on one of the major after-effects of war and help those who have lost limbs regain some quality of life. Why?
I wanted to be part of a generation that solved problems instead of creating them; a generation that created products, services and opportunities for our own children; a generation of action-oriented youth who could correct some of the wrongs from the generations before us.
What was your initial goal?
Originally, my dream was to build a prosthetic bank in Sierra Leone, a place where people, especially growing children, could bring in broken prosthetics and get a new one. But I had also observed that many of the amputees in Sierra Leone would not use their prostheses even though they had received them for free. The reason? They were uncomfortable. At the end of day, it doesn't matter how powerful your prosthetic leg is, if the socket is poorly designed and uncomfortable, you won't wear your leg.
Is that a common issue?
When I talk to my friends with amputations either back home or in the United States, it is obvious how debilitating current design approaches are. Patients are often left immobile because their discomfort is too high to use their legs. This takes away independence and that limits the ways in which they can create value in society.
What's going on? Why are current designs so inadequate?
Because prosthetic sockets are designed with plaster molds and casts, modified based on the prosthetist's experience, and dependent on the patient's limb on that single day, the final socket is almost never comfortable. There is uneven pressure over the entire limb, leading to pressure sores and deep tissue injury. This subsequently leads to secondary problems, including back pain. The current carbon fiber socket or polyurethane sockets are not conducive to a changing anatomy.
Where are you at with your thinking now?
In my last year at Harvard, I met Professor Hugh Herr of MIT's Media Lab – who works on the design of bionic products and is himself a double amputee. I told him about my prosthetic bank idea. His immediate response was that it would not work, because comfortable prosthetic sockets would need to be custom-made for each patient (two people cannot use the same socket) in a cost-effective, repeatable and reliable way.
Even Professor Herr himself faced the same problem: it takes on average three months, and often years, to get a comfortable prosthetic socket. But to me, forcing a patient to use a product that is not optimal is unacceptable in an age when we have advanced tools for imaging, design, modeling and manufacturing.
So how are you thinking about creating a new, more comfortable prosthetic?
We are using advances in medical imaging and computer-aided design and manufacturing to create custom prosthetic sockets that are more comfortable. I use MRI images to develop models for each patient — making it possible for patients to send in scans from anywhere in the world — and from those results develop a multi-material 3D-printed prosthetic socket. Because this socket could be printed anywhere, it could also be immediately delivered to the patient. The 3D printing process allows us to use flexible, rubber-based materials over specific anatomical landmarks where pressure should be relieved. These products are being tested by patients, including US veterans. In one of our trials, an active veteran who has been an amputee for over 20 years said of a socket: "It's so soft, it's like walking on pillows." Another noted: "It's effing sexy."
What's your hope for the design in the future?
Disability in this day and age should not prevent people from living meaningful lives that enable them to create value for society. In many cases where solutions exist, the products are developed for those who can afford the premium price. My hope and desire is that the tools and processes being created in our research group will bring low-cost and and highly functional prosthetic sockets to patients all over the world. For me, a place to begin repairing the bodies and souls of those affected by war and disease is by designing comfortable and affordable interfaces that will help them take the step that moves them from disabled to living a meaningful and productive life.
Karen Eng is a regular contributor to TED.