Wedding photographer Charleton Churchill is willing to hike the extra mile, plunge into the depths of caves, and scale the highest peaks (think: Everest) to highlight the splendors of nature — and ensure his images of couples are just as memorable as the ceremonies themselves.
A wedding performs many functions. It grants a new legal status to two people; it brings together their friends and family members to witness this momentous occasion; and, of course, it's a good excuse for a great party. It's also a time for a pair to share and showcase what they most deeply cherish. And, for some nature lovers, that's where Northern California-based wedding photographer Charleton Churchill (TEDxCSUS Talk: Exploring adventure wedding photography) comes in. In search of the most stunning natural backdrop, he is willing to hike the extra mile, plunge into the darkest and coldest caves, and scale the highest peaks (think: Everest) — and then take the couple with him so it can all be captured on film.
Churchill is a man of many passions — for photography, for travel, for the outdoors and rock climbing, and for people — and they've added up into his career as a very adventurous wedding photographer. While he continues to take his share of traditional shots, he specializes in placing his couples in landscapes that are much more Outside than Bride's. As he puts it, "I've made adventure a part of my life and a part of my business."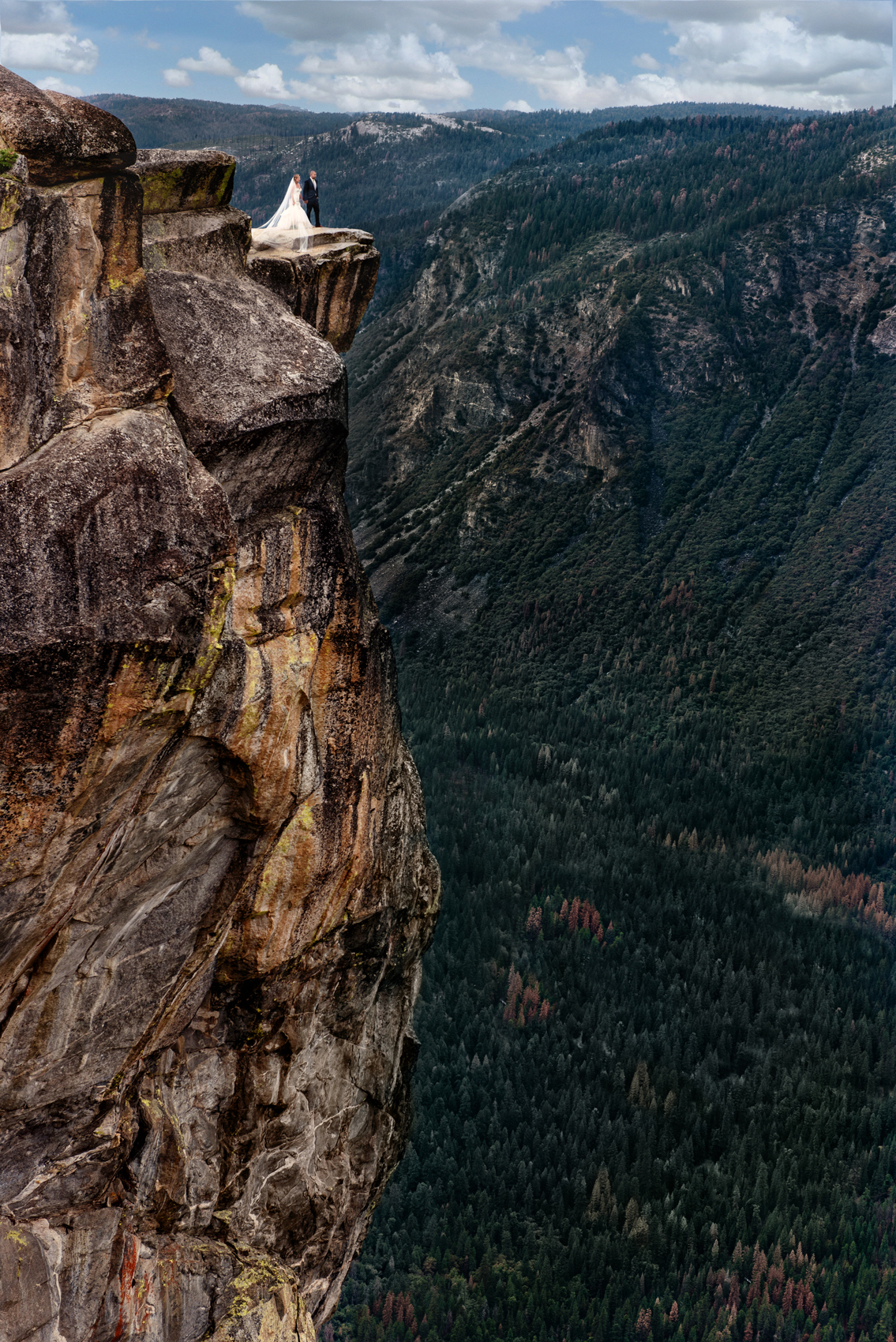 Tip #1: Always go the extra mile (or two, or more).
In 2015, a couple asked Churchill if he'd do a shoot with them at Yosemite National Park. Like him, they loved the park — and the idea of taking pictures in an off-the-beaten-track spot. "We discussed this cliff area, and we'd never seen photos taken there — so the day after their wedding in October, Arielle and Adam hiked several miles in their wedding dress and suit to that cliff," says Churchill. There, he joined them, along with a hair-and-makeup artist.
After posing the couple on the cliff, Churchill hiked 200 yards — or around two football fields — away to photograph them. "We communicated through radios. I tried to get them positioned so I could get the best view without it being dangerous; I'm all about safety. I asked how they were doing," he recalls. "They said, 'We feel great; a little nervous and scared.' I said, 'Can you go any further?' and Adam said, 'No, this is good.'"
"There were people near me using their phones to take pictures of us," Churchill recalls, "and everybody's laughing because they can hear our conversation on the radios." Shortly before sunset, he asked the makeup artist to throw back Arielle's veil. Then he snapped this image, which went on to be featured in photography magazines. Since then, his peers have gone to the cliff to capture the same shot with other couples.
It's worth putting in extra effort to find an unexpected location, he says; in fact, the extra effort can be the tip-off that a spot is worth considering. "If it's somewhere where you have to hike more miles than the typical tourist, I'm like, 'All right, let's do it,' because that's going to be something no one's ever done before."
---
Tip # 2: Embrace the unknown.
Unlike many of his other wedding shoots, this one came from Churchill himself. In November 2015, not long after he photographed the couple in Yosemite, he found himself craving a challenge. "I needed to shoot a personal project for me, to grow and stretch myself. I decided to fly to Alaska," he recalls. "I called my good friend Kevin, who lives there and who was a climbing partner, and asked him to scout a location for me."
Churchill is fine with not seeing a location beforehand; in fact, he prefers it that way. "I get a vision in my head first, and then I start googling things like 'best ice caves' or 'where can I go that nobody will go," he says. "That's the fun part of it. I want to see things as I go, I want to be surprised, and I want the couple to be surprised, too. It's like an adventure we're on together."
After Kevin scouted an ice cave that Churchill liked the sound of, he says, "I put the word out on Facebook seeking a couple to travel to Alaska with me on their own dime." Engaged California couple Kyle and Caitland signed on, and they met Churchill in Alaska. He says, "We hiked about five miles to a glacier. It was freezing cold. We were hiking with rocks slipping underneath us, and my couple was looking at me like 'Are we sure this is good?'" He admits, "There was doubt the whole way, but when we got there, we finally got the shot. It's all about persevering under trials and putting in the miles and effort for the shoot." As with many of his shoots, the adventure didn't end when the images were taken. Afterwards, they had to hike back five miles in the slippery darkness with headlamps on.
---
Tip #3: Keep shooting for the stars.
Of course, it's not necessary to hike five miles in the dark to an ice cave in order to take your wedding photos with a natural wonder. This couple couldn't spare the time for an adventure wedding shoot, so they planned their 2017 wedding to occur on the night of the Perseid meteor shower, in an open area near Auburn, California, where the shower would be clearly visible.
Photographing a couple against a meteor shower is like trying to shoot any moving target — really difficult. As Churchill says, "A meteor would happen behind us or to the side but never in the view of the couple. I was taking 10- to 20-second exposures hoping that one would come into the frame. I also had to tell them, 'Don't move; it will make the shot blurry.'" Finally, he told them to point to the sky, and lo and behold, the planets — er, meteors — aligned and he got this shot. One tip for photographers who want to capture a starry evening sky: Churchill says it's best to shoot on a night when there is no or little moon.
---
Tip # 4: Follow your vision.
Mt. Everest had been on Churchill's wedding-photo bucket list for years. He made his first attempt in 2015, but was thwarted by a catastrophic earthquake. Then, in 2016, a particularly adventurous couple connected with Churchill. They were thinking tropical location; he suggested Everest; and they said "yes."
This shoot required a whole other level of preparation. Churchill and the couple had to plan travel, purchase gear, and hire guides; they also took a year to train and get in the physical shape needed for the climb. After landing in Kathmandu, Nepal, in March 2017, they spent much of the trip fighting altitude sickness, food poisoning and the worst snowstorm of the year. At the same time, they had to climb five to eight hours a day for 10 days.
Churchill had originally planned to shoot them at around 18,500 feet — base camp is at 17,500 feet; the peak of Everest, at 29,700 — but he decided to stop at 18,000 feet due to safety concerns. "Everyone was on edge, and it was zero degrees Fahrenheit," he says. (Look closely, and you'll see that the groom is wearing gloves.) Churchill's camera had difficulty working in the extreme cold, and the shoot was over after 10 minutes. "This picture represents all the work we went through together to get this shot," he says. "It symbolizes that we're on top of the world and we're conquering this."
---
Tip #5: Make a plan — but don't be afraid to change it.
One result of Churchill's Everest wedding photos: more work. A German couple, Sondre and Jennifer, saw his photos and immediately thought of their own planned adventure wedding in Norway. Luckily, Norway was on Churchill's bucket list, too.
Churchill depends on nature to serve as the backdrop to his photos, but nature doesn't always comply. In October 2017, Churchill arrived in Bergen, in southwestern Norway, where he was welcomed by Sondre and Jennifer and a steady, icy rain. There was little visibility for photography, and the 22-mile hiking trail to their destination was buried under icy snow, making for treacherous hiking conditions. Fortunately, the couple had an alternate destination in mind: Tromsø, a mountainous region in the northern part of the country.
They flew there the next morning. They drove around looking for a mountain that Churchill had only seen online. They knew the name of the village, but that was it. "We asked for directions from locals, parked, and hiked up mountains and hills, not knowing exactly where we were going or the exact mountain I had seen in images," he says. They got lucky: "Not only did we find the mountain, but we had the perfect sunset."
---
Tip #6: Live on the edge.
This is the same couple on the last day of their shoot in Norway. The location is Preikestolen (Pulpit Rock), which had just reopened after being closed for the filming of Tom Cruise's Mission:Impossible — Fallout. While the couple appears as if they're all alone in the wilderness, that wasn't quite the case. "In this shot, I cut off all the other people who are standing there," he says, "about 25 tourists."
"I was rock climbing to get this shot," he recalls (he was perched above them, around 100 yards away). "I had to get help from the groom to get down. It was a shot that took a lot of work, but it was a shot that represented who they are they as a couple because they like adventure."
---
Tip #7: Try a different perspective.
Besides Googling for inspiration, Churchill also looks at National Geographic, Backpacker magazine and movies. But this image — of Adam and Arielle, the couple from the Yosemite wedding — shows a stand-out picture that didn't require an extreme location. Here, Churchill found two rocks along the water to frame the couple in this eye-catching reflection. "You can shoot anywhere. There are no excuses," he says, to settle for a so-so photo.
You can follow Churchill's work on Instagram and on his website, but don't expect to see him on TV, although he's been contacted by producers of one reality TV show. "Romance and adventure make the perfect concoction," he says, laughing, "but I said no to the dress."
All images courtesy of Charleton Churchill
Watch Charleton Churchill's TEDxCSUS Talk here: