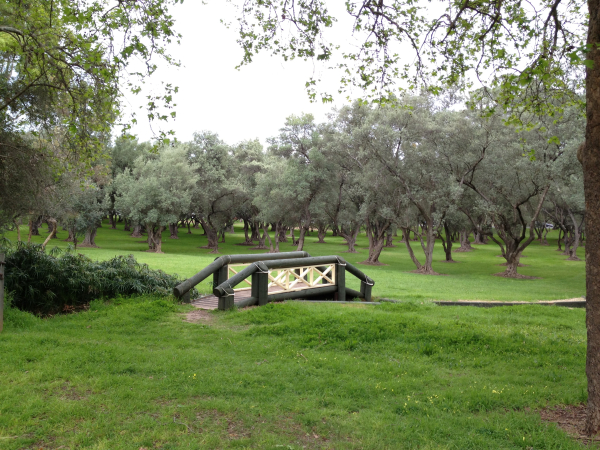 Musician and sound artist Jason Sweeney lives and works in Adelaide; he describes it as "a prototype for what a developed city in the western world could be like." Here, he tells Alison Prato about life in his city.
As a teenager, Jason Sweeney was bullied. It was the mid-1980s, and he was one of hundreds of students at the Urrbrae Agricultural High School in Adelaide, South Australia. He was a bright kid, who loved animals and wanted to become a veterinarian. Unfortunately, the school's own environment often turned violent.
"It was classic bad, bad, bullying," he remembers in a Skype conversation. "The physical aspect of being beaten up in high school and being pushed around is one thing — that's very tangible. But I think for me, the worst part was actually the verbal stuff, the way kids would speak to me, and the things they would say. The words they would use to attack is a kind of passive violence that kids inflict upon each other through sound and words."
Jason was "bullied incessantly" by two boys in particular for the entire five years of high school. "I was trapped and hounded in the boys' toilets and pushed against fences. I had stuff thrown at me in class, was set up for blame for things I didn't do, and was constantly hassled or taunted on the school bus. It was horrible really. My final day of high school was one of the most extraordinarily happy days of my life."
Not surprisingly, being bullied as a teen was an "incredibly traumatic experience" that had a monumental impact on Sweeney. It not only caused lifelong anxiety, and for him to "hate being around groups of people," but it also inspired him to seek quiet spaces in the world — a personal, day-to-day quest that he's segued into his current career as an interdisciplinary artist working primarily with sound and music. As he says, "The foundation of what I do is based in making music, and I work in different areas in interconnected ways."
As a composer of electronic music, he's released music with two bands, Panoptique Electrical and Pretty Boy Crossover, via the label Sensory Projects. He's created a number of interactive works for galleries, theaters and public spaces, and he has also delved into writing and directing low-budget, experimental surrealistic films, including The Dead Speak Back, about a woman who's a medium. (Warning: The trailer might give you nightmares.)
Adelaide has a reputation for gruesome and mysterious serial killings, which may be why Salman Rushdie, when he visited the city's Adelaide Festival, called it "the perfect setting for a Stephen King novel."
"I think he said that because of the strange quietness of the city," says Sweeney.
The "strange quietness" stirred something else in Sweeney, too: In 2013, he launched Stereopublic: Crowdsourcing the Quiet, a participatory art project and smartphone app that maps the quietest spaces within a city. His vision — to give people the opportunity to find and submit quiet places in any city, which are then geo-tagged and placed on a map — was given a prize as part of TED's City 2.0 project in 2012, and it has been growing in scope ever since.
"Decibel levels are slowly degrading our own hearing. We're all sort of slowly going deaf as we stand on the streets."
The idea came about when Sweeney was living in an underground storage room with no windows and no natural air in Melbourne in 2007. "Melbourne is definitely one of the most populated cities in Australia, and so this was an interesting place to live," he says. "I was in such an enclosed space in an incredibly congested, noisy city. My only opening to the world was actually this [surveillance-type] camera that you could tune into the television and see outside. But I think it was really the catalyst for me, wanting to not ever live in the heart of the city ever again. It brought up a lot of anxiety, realizing how in cities we're crowded by what surrounds us on a daily basis."
He lasted nine months in the bunker, and then left Melbourne to return to Adelaide, the capital of South Australia, a metro area with a population of 1.23 million. He originally designed the Stereopublic project to ask people how they felt in crowds (did they hate them as much as he did?) Then, it morphed into an exploration of the meaning of quiet. "When I came back to Adelaide, I literally had space. I felt the contrast between here and Melbourne. Adelaide is a prototype for what a developed city in the western world could be like if it maintained levels of quiet as a way of being, as a way to think about the future. I thought a lot about how the impact of movement in a city creates noise. There are noises that traffic and buildings make. Decibel levels are slowly degrading our own hearing. We're all sort of slowly going deaf as we stand on the streets."
Sweeney has ping-ponged between Adelaide and its outskirts, beaches and suburbs for his entire life. "I guess it's my hometown," he says. "It's a city that even if you leave it, you always return to it." In April 2013, he moved to live in the hills right outside of the city. But he visits the heart of the city regularly. "Adelaide is flat and the city is based on a grid system, so all roads lead to the middle of town," he says. The city is also surrounded by a greenbelt known as the Park Lands. Neatly nestled between the foothills and the ocean, it only takes a short car ride to be either at the water or in the trees.
To date, response to Sweeney's call for quiet has been overwhelming. "Originally, my team and I said, 'Let's hope for something like five cities,' and so far we're up to 18," he says. Those cities include Perth, London, Los Angeles, Vancouver, New York City and Shenzhen, with more than 800 pockets of peace, ranging from botanical gardens to underground car parks. He's constantly looking for new tucked-in spots, too. In Adelaide, which is known for its wine and Haigh's Chocolates (founded in 1915; free tours are given of its factory on Greenhill Road), his favorite spots include an elevator that travels up the Renaissance Tower in the Rundle Mall, not far from the University of South Australia. "It provides a sense of temporary seclusion," he says. Another spot is a tiny parklet behind the Adelaide City Council offices, near the center of town. "It's a beautifully hidden spot between buildings where workers often go and eat lunch or have a sneaky cigarette break," he says.
Call these spots a necessary respite for a guy who's moved around a lot: Sweeney was born in McLaren Vale in South Australia in 1971, but his family was extremely transient, and he lived in "about 50 different rental houses" all over South Australia throughout his youth. His mother was an education administrator and his father worked in accountancy. At 17, Sweeney started his first band, an experimental project that involved Casio keyboards and tape loops. He later got a job at a community radio station, Three D Radio, and discovered a kinship among the other musicians who gravitated there.
He still seeks out nerve centers of like-minded people, recently getting involved in Soundpond.net, an online radio station where he hosts a weekly ambient radio show called "Sound Introversion." "The show has become a natural extension of the quiet-seeking," he says. "I just love the energy there. It's another hub of DJs and electronic musicians — really diverse people I can actually relate to."
Sweeney's favorite sound in the world, however, is rain — something Adelaide seems to offer in spurts. "Adelaide has kind of a temperate climate," he says. "It's mostly dry, and sometimes a bit desert-like — warm days and crisp, chilly evenings."
The weather, lately, has soothed his soul. "There's been so much rain here recently, and it's very foggy as well, so it's an incredible sensorial experience waking up in this area. I was born in winter, when a storm was happening, and I've always really connected to rain. Any time a musician or a composer uses rain in a piece of music, I'm always like, 'Yep — now that's a sound I love.'"
[googlemaps https://maps.google.com/maps/ms?ie=UTF8&hl=en&oe=UTF8&msa=0&msid=203204314292117941975.0004e705dbb0da51ffbe1&t=m&ll=-34.92366,138.604031&spn=0.067559,0.109863&z=13&output=embed&w=640&h=480%5D
Check out all of Sweeney's favorite places in Adelaide in this handy annotated map. You can also experience them through photos by Kristin Alford and sounds recorded by Sweeney himself. This article was published as part of our "Questions Worth Asking" series. This week's teaser: "What makes a city feel like home?"
Alison Prato is a regular contributor to TED.