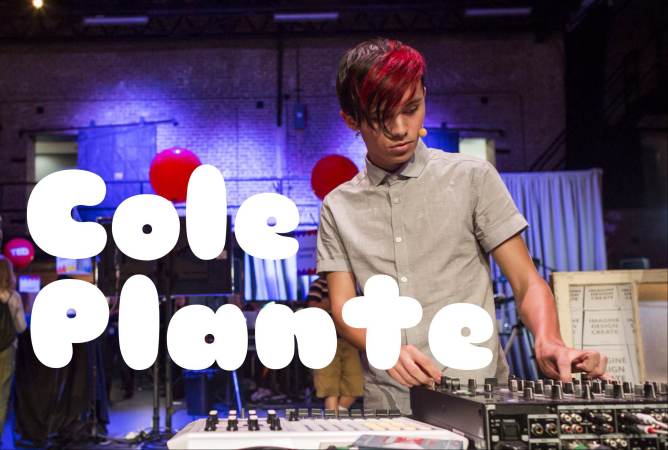 When Cole Plante starts to DJ, you'd never guess he's only 17. His hands move over the mixing board with the confidence of someone older, purposefully weaving over the knobs that adjust the sounds and beats. On some of the adjustments, his grip holds a few beats, while others are so fleeting his reflex gives the impression that the controls are burning hot. It's rhythmic, like a dance, and all the while, he narrates his movements as if he's an old pro.
Don't let his age fool you. Cole really is a pro: He has performed all across the United States, from Miami to San Francisco; he has a recording contract with Hollywood Records; and one week after he turned 16, he played the American Music Awards 40th anniversary pre-party. He's also the youngest DJ ever invited to play Lollapalooza, the prestigious music festival in Chicago.
Away from the mixing board, he seems like a sweet, excitable teenager. His bangs fall over his right eye, and his dark hair is streaked with cherry red. He has deep dimples when he smiles, and when he's listening intently, he chews on his lip a bit. When he spoke at TEDYouth last weekend, the kids in the audience adored him. They flocked to his corner in the exhibition tent where he was demonstrating how to DJ. One girl ran straight past Ashton Kutcher to ask, "Cole, can I take a photo with you?"
Despite his popularity, it's important to him that people know he's just a normal kid. And aside from the whole professional-recording-contract bit, he does seem pretty normal. He's a junior at his local Los Angeles high school, and he spends a lot of his time hanging out with friends, playing in his school's marching band, and running on the track team. When we talked, he'd just come from marching band practice, where they were preparing a Michael Jackson-themed field show. (In my head, I'm imagining this.)
Before he became a DJ, Cole thought he might become a marine biologist or a shamu trainer at Sea World. "I love orca whales and the ocean," he says. But music was in his blood, and once he had a taste, he wanted more. His dad is a music producer, and although Cole wasn't allowed to play with his equipment until he was 13, he'd sneak in to use it when his dad wasn't around. He'd test out sounds, alone when there was no pressure, and that taught him to experiment freely, as he does with his music now.
We talked about what he loves about music, what inspires his sound, and how his voice evolved. Below is an edited version of our conversation. My first question: How does the music you love shape the sound in your songs? Here's Cole —
My sound constantly evolves with the music I listen to. Now it's a mixture of older classic rock, dance, pop, film scores. I try to take inspiration from it all.
Can I hear a few examples of how your sound evolved?
Sure. Here's one from 2011 — this was my first attempt to remix a track, using one of my favorite artists, Deadmau5. He's still a huge influence on me.
[soundcloud url="https://api.soundcloud.com/tracks/11371216″ width="100%" height="166″ iframe="true" /]
This one was my first soundtrack — an original song I did for the animated series, TRON: Uprising. I was listening to a lot of Trent Reznor, and I was inspired by the film score he did for The Social Network. I wanted to incorporate cinematic strings fused with analog-sounding EDM synths. [Your writer here: the Internet tells me that this means 'electronic dance music that sounds a bit gritty.']
[soundcloud url="https://api.soundcloud.com/tracks/74191608″ width="100%" height="166″ iframe="true" /]
This last one is my latest single, which I did with the production/DJ duo Myon & Shane 54, and vocalist Koko LaRoo. It's my first Billboard top 20 dance chart single, which is a dream come true, and it represents my current sound.
[soundcloud url="https://api.soundcloud.com/tracks/103203872″ width="100%" height="166″ iframe="true" /]
So what are you listening to that's affecting your sound now?
Arcade Fire's new album, Reflektor. The Arctic Monkeys' new album, AM.
What do you like about those?
The Arcade Fire sound has so many layers in it. They're a huge band, and all their music is really intricately layered, which I try to do with my own music. With Arctic Monkeys, the guitar riffs are really nice, and I love the way they layer their melodies as well.
What do you hope to communicate through your music?
I really want people to understand that dance music can be just as complex as a film score; it can have just as many layers. And mostly, I just want them to feel what I feel [when I create the music].
What are you working on now?
I just finished up a new EP called Colectiv, which comes out in December. I'm also working on a song called "If I Fall." It's about eternal love, finding the one person you'd basically do anything for. I love that whole message, so I really felt the emotion when making the song, and hopefully people will feel that when they hear it.
Is there a song that brings back a particularly strong memory for you?
A song called "Something Good Can Work" by Two Door Cinema Club. I was with this person one day, and it was probably one of the best days I ever had. Every time I think of that song, I remember how happy I was at that moment. If I ever feel sad, I listen to that song.
And finally … what is one thing you know that you wish everyone knew?
That music is always there for you.
This article is part of a series on young voices, exploring the spirit and wisdom of youth. Read the full series here. 
Want more? See Cole's TED-Ed lesson here.