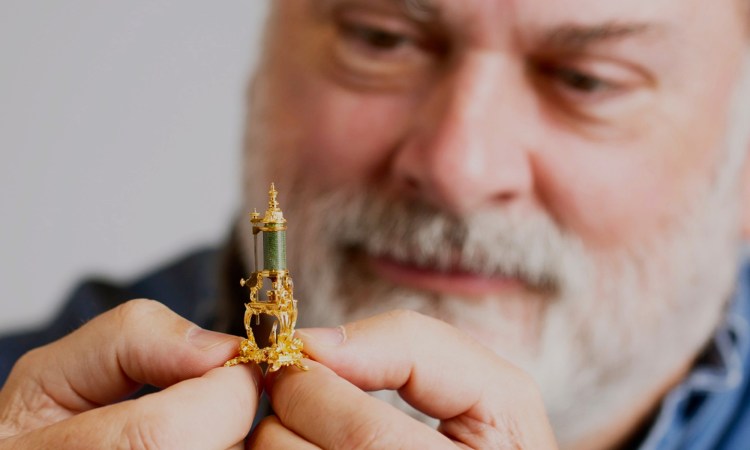 Micro-mechanician Bill Robertson builds sophisticated, fully working replicas of rare tools, gadgets and houses from the 17th and 18th centuries. His exquisite creations put history's hidden details in the palms of our hands.
Many of us have fond memories of playing with dollhouses, most of which were machine-made of plastic. But the first dollhouse that Bill Robertson (TEDxKC Talk: Details matter: A micro mechanician in the modern era) ever built contained genuine cherry hardwood floors held in place with pegs (a pre-19th-century installation technique). He also customized the depth of each room to match his niece's arm measurements, in case she decided to reach all the way to the back.
This kind of meticulous detailing has become Robertson's trademark when making, well, just about anything he wants. His creations range from the teeny-tiniest 18th-century brass surveyor's compass to twin miniature manors fitted with secret passageways. "What I do is about mechanics, engineering, art and science all rolled into one," he says. "If I don't like a piece, I won't build it. I've told a member of a Middle East royal family I wouldn't build something because I thought it was ugly."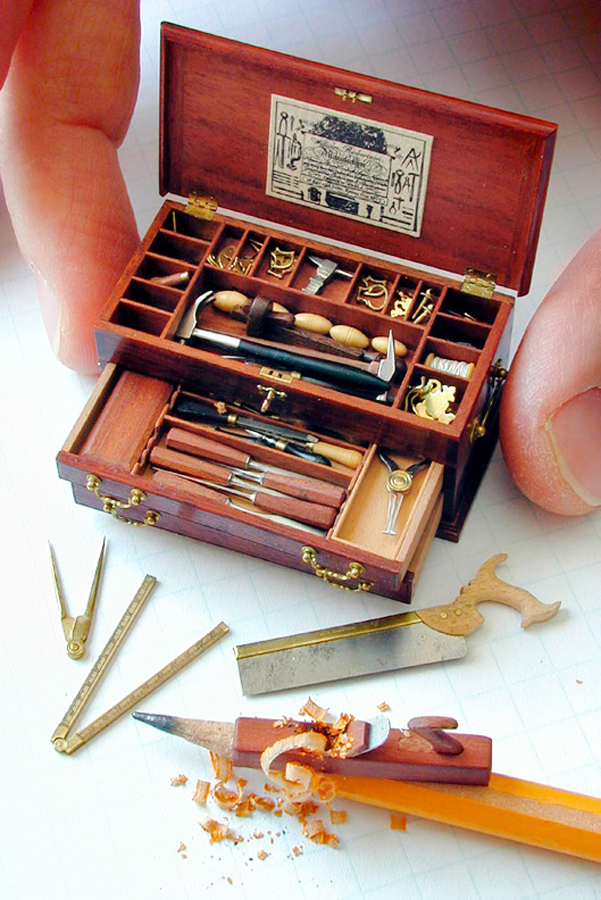 Robertson's interest in history and building began when he was a child growing up in Washington, DC. On Saturdays, he could be found wandering the rooms of the Smithsonian Institution searching for objects he'd never seen before. "The museum was my babysitter," he says. "My parents would drop me off, and I'd study everything I wanted to study."
He befriended a few of the institute's curators and gained access to the museum's reserves. As a budding builder of small planes, engines, cars and ships, Robertson found himself drawn to the rich woods and smooth lines of the museum's 17th- and 18th-century furniture, tools and paintings, the time period that still inspires most of his compact creations today.
"In a sense, miniature artists are control freaks," he says. "We can freeze time and control an environment."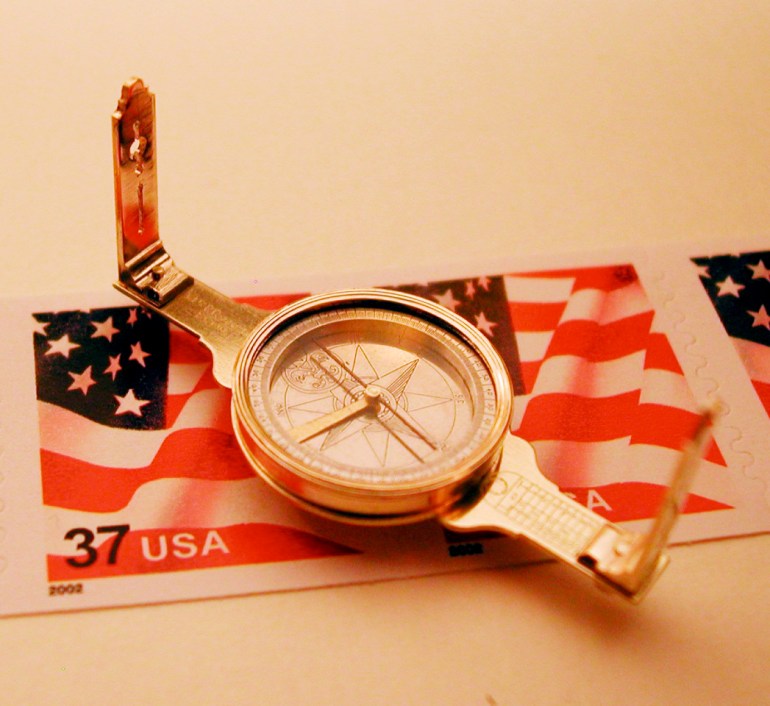 Outside the Smithsonian, Robertson excelled in his metal and woodshop classes at school. He held down odd jobs as a teen, from working in a hardware store (where he found most of his building material) to crafting race cars and assembling some of the electronic bugging equipment used in Watergate (yes, that Watergate). He dropped out of college because he didn't find his studies engaging and began building things. By his 20s, Robertson's workshop of tools, trinkets and collections had taken over his parents' basement, so his father gave him an ultimatum: build the dollhouse of his mother's dreams or clear out his stuff.
The classic rectangular house he made her had a living room, stair hall, dining room and kitchen on the first floor. The second had a study, a bathroom and bedroom, and in the attic he placed children's bedrooms and a playroom.
"In the process, I discovered there's a whole world of collectors buying miniatures and thought, 'Whoa, I can do that,'" says Robertson. "It brought together my love of small things, accuracy, building, history and detail. I went all in."
Robertson has been fashioning and selling historically accurate miniatures out of his workshop in Kansas City, Missouri, for the last 38 years. His pieces have been displayed at the National Geographic Society, The KSB Miniatures Collection, the Mini Time Machine Museum and even the Smithsonian. A large body of his work can be seen in the National Museum of Toys and Miniatures in Kansas City. He believes our fascination with tiny objects is all about the perspective they offer.
"When you look at a miniature, you can see so much more," he says. "You can see the whole thing with one eye. When you look at a little desk in your hand, it's all right there in front of your eyes. There's a fascination with seeing it all at once."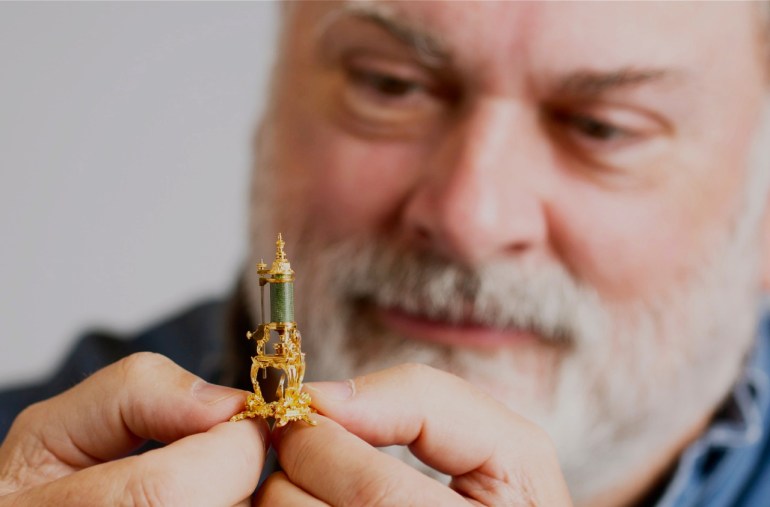 To give you a sense of the extremes to which Robertson goes, consider his reproduction of a microscope that had been made for King Louis XV. Robertson's version consists of 125 infinitesimally small parts of metal, wood and glass. To match the microscope's bronze shade, he melted Canadian gold coins and applied the metal to the frame. The original's barrel was wrapped in shagreen, or sharkskin, and Robertson knew that he needed baby-shark skin for it to be more to scale, so the nodules and grain would be the correct size. He found the sharkskin at a shop outside Paris that had been serving cabinet makers for five generations. In the original text about the microscope, the builder said to polish the metal with the tooth of a wolf; Robertson got creative and used a puppy tooth instead.
Oh, and this microscope is fully functional, something that is very important to Robertson. "To me that is part of the magic," he says. "The miniatures are amazing, but they're even more amazing when they work." Constructing one miniature piece can take him anywhere between 10 hours and 1,000 hours.
This kind of building requires a mix of math and intuition. You either have an eye for it or you don't, says Robertson. "You scale everything out. You take your calipers and measure the original, then you have to adjust the proportions and make it look right. You have to use your eyes like a camera lens. There's a real art to that," he says. "I happen to have that touch. I let my eye be the final judge for everything." Sometimes he finds himself making miniature tools in order to fashion his miniatures.
"The most common ones I make are small planes to get into tiny places to shave off minute pieces of wood. Full-sized tools wouldn't fit into these places," he says. Robertson likes to joke that he's a woodworker who never harms trees — each year, he uses only two feet of new and antique wood for his creations.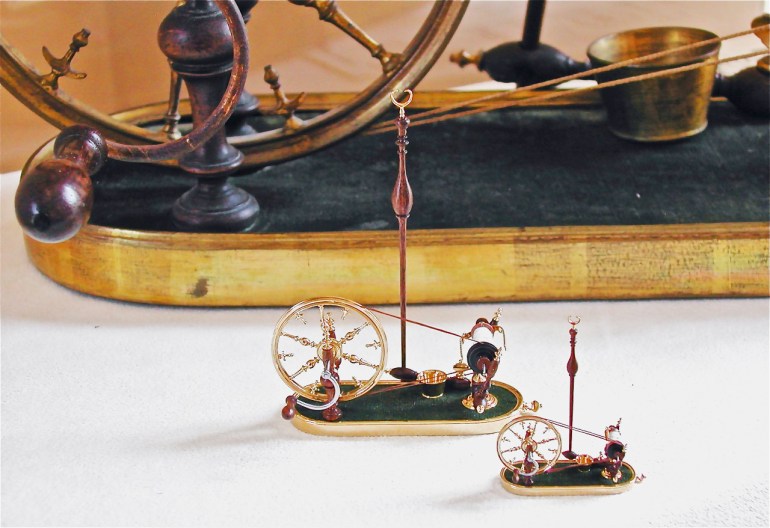 Robertson's longest project — Twin Manors, a pair of five-foot-by-three-foot dollhouses inspired by 18th-century Georgian homes — took nine years to finish. That included two years alone for research and planning. He came up with the idea after he visited a museum of antique dollhouses and noticed most of the wood in the houses was severely cracked. With the Twin Manors, he set out to build two high-tech houses that could stand the test of time.
"Why not make the windows go down like our windows on a car? Why not make the frame and structure like it was a regular building? The frame is made of aluminum, and the rooms all expand and contract. I built expansion joints into it," Robertson says. One manor is on display at the National Museum of Toys and Miniatures in Kansas City, and the other he plans to eventually sell to help pay for his retirement.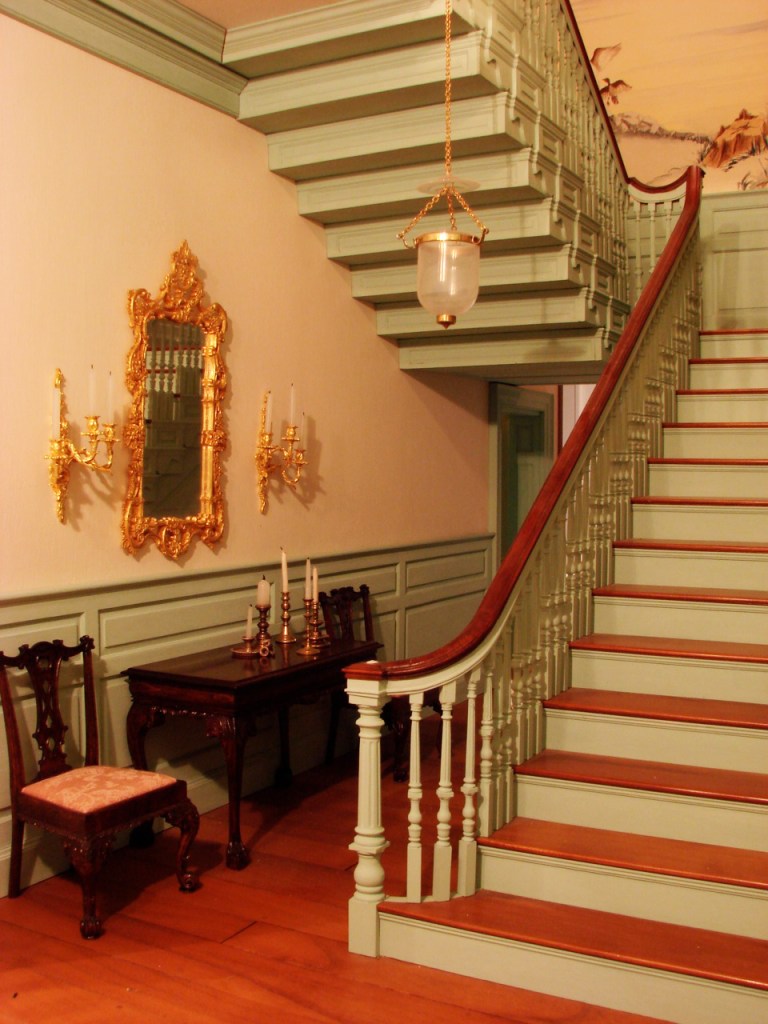 The Twin Manors' rooms are full of shrunken 18th-century furniture and stamp-sized oil paintings. The fully stocked dining rooms are decorated with blown glass crystal by glass artist Francis Whittemore, metal chairs, and a 1,000-piece staircase with wood caps that took 50 hours to carve.
As usual, Robertson didn't overlook a single detail. For example, in the kitchen, the doors above a fireplace open to a patch of aged brick, and etched into one brick is the message "Be Liberty Thine," something that he imagines a patriot would've scrawled in the 18th century.
It is estimated there are 75,000 pieces, 12,000 shingles, 750 panels in just one of the Manors. "All the woodwork and doorknobs in the Twin Manors are oval like they were in 18th-century Williamsburg. All the latches and locks work. There are secret compartments and passageways," he says. "None of that work shows, but it has to be there. The only way I know how to make things is the authentic, accurate way."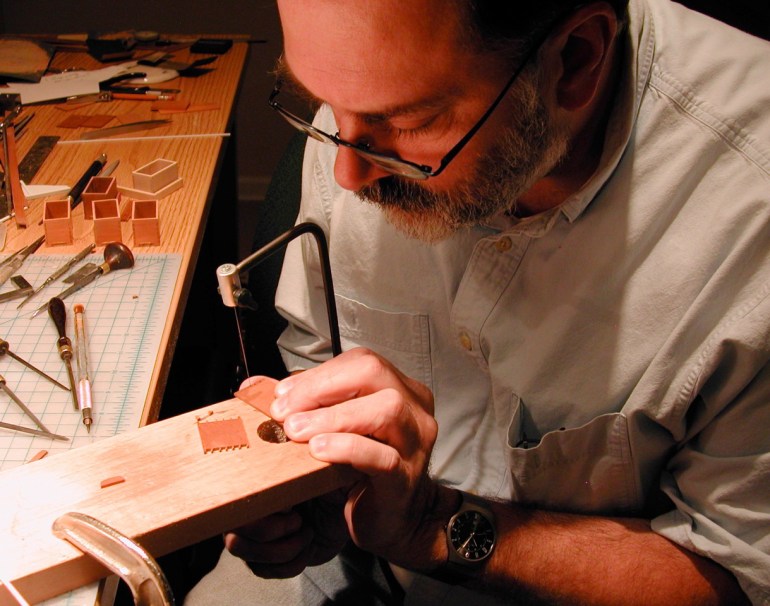 In his workshop, Robertson saves a little bit of everything — just in case he needs, say, a 400-year-old piece of wood for his next creation. He owns an old ostrich egg, 40,000-year-old mammoth tusks, tortoise shells, a variety of animal skins, and a heap of exotic aged hardwoods. He's an obsessive collector, which one needs to be in this line of work. Robertson says that he is the most relaxed when he's fashioning something delicate.
While building, he listens to podcasts, half-watches historical TV miniseries (they have long takes that don't require him to look up much), or listens to audiobooks, often histories and biographies related to the period and place of the piece that he's currently crafting. If he's listening to music, it's probably Jimi Hendrix — anything softer puts him to sleep.
"The idea of work stressing me out, it doesn't happen. It's been decades since I've gotten mad at the work," Robertson says. "It's just having the mentality to not be intimidated by the smallness. Sawing big blocks of wood is more stressful for me than cutting little dovetails twenty-thousandths of an inch wide."
When Robertson is not in his workshop, he's traveling the world to teach classes in miniature-making and to visit museums, antique shows and residences, following his lifelong passion for examining rare objects. "I love going to private chateaus, homes and castles where some count will show you his family treasures," he says. "I get to go to places like that, and I've been in the storage areas for the British Museum where everything is uncrated and sitting out, rooms that are 700 feet long filled with incredible stuff."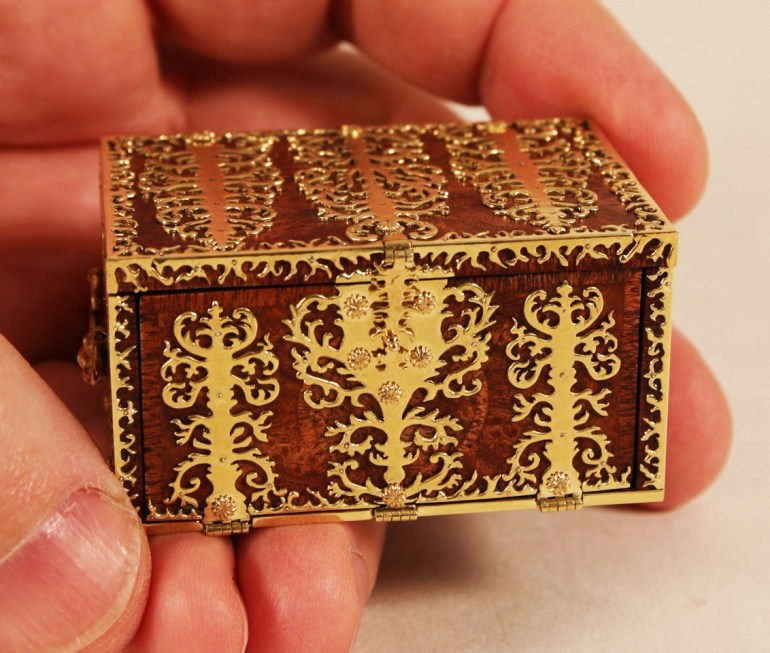 Robertson isn't the only artist making amazingly detailed minis. "We're scattered all over the world," he says. "We pretty much know each other. We all work in different mediums so we don't really step on each others' toes." In this network of master miniature-makers is a nano-knitter who can knit 90 stitches to the inch and a painter making micro renditions of masterworks.
What makes Robertson's work stand out from his peers is his ability to build with more than one material. "It's unusual in this trade to work equally in wood and metal," Robertson says. "That's why my work is unusual."
While he seldom makes pieces just for himself these days, his next project is intensely personal: two miniature rooms that will showcase some of the favorite items he's made over the years. One room is an early 19th-century gentleman's workshop with tiny gold-plated tool chests and fancy feather-light lathes, along with men's and ladies' tool sets. It's Robertson's tribute to 18th-century toolmakers like James Watt, Peter Stubs, Jacob Holtzapffel and Henry Maudslay, as well as to builders like Thomas Jefferson, Ben Franklin and Denis Diderot.
"I've even commissioned miniature portraits of these famous toolmakers," he says. "The other room is a take on an ivory room. I have a weakness for the history of the 17th-century ivory trade." It will contain an ivory turning done on a rose engine similar to that in a room in the Green Vault in Dresden, Germany.
Like most of his creations, for this project he'll be largely working from scratch and without existing plans or drawings. And that's just the way he likes it. Robertson says, "To me, the best part of making miniatures is discovering how to make them."