To create new art, Brian Dettmer trashes old books. The painter-turned-sculptor (TED Talk: Old books reborn as art) takes outdated reference materials such as textbooks and encyclopedias, seals them with varnish, then carves away at their pages with an X-Acto knife. Dettmer knifes through books swiftly from cover to cover to reveal images that explore our relationship to information. He adds no color or text; it's all what he calls "a subtractive sculptural process." Take a look at some of the amazing results.
Two dictionaries are given new life
In "Webster Two Point Oh" (2008), Dettmer connects two dictionaries to expose a new architecture to the books, creating "random poetry." Image courtesy of the artist and Kinz + Tillou Fine Art.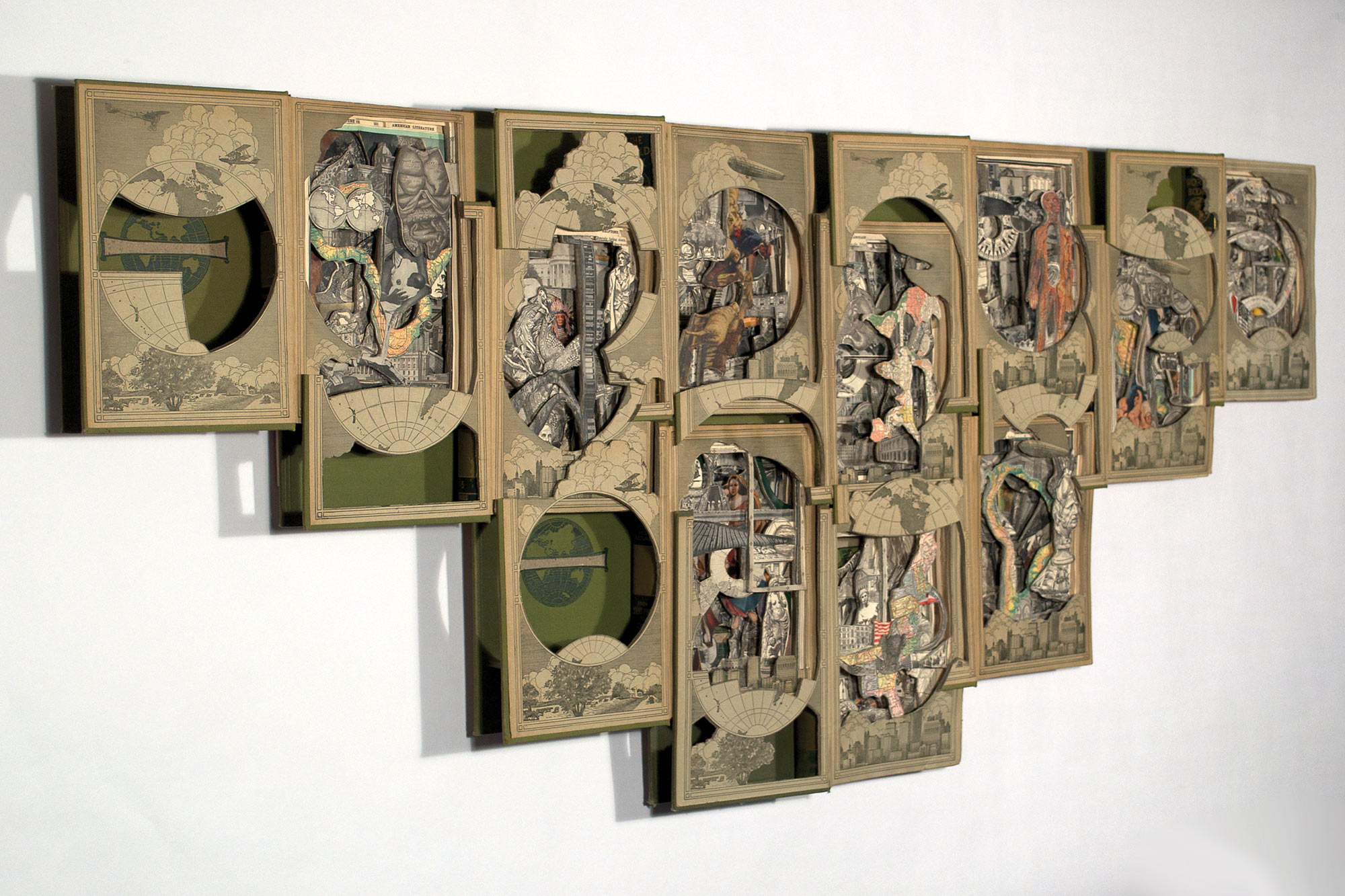 Hundred year old encyclopedias recycled as art
"Organized Knowledge in Story and Picture" (2010) uses a full set of World Book Encyclopedias from 1919, displaying the globes on the books' inside flaps. Says Dettmer, after World War I, "Rich white guys flew around the world and came back and shared with the rest of us what they learned about other cultures. This explores how wealth and exploration influenced the way people learned history." Image courtesy of the artist and Saltworks.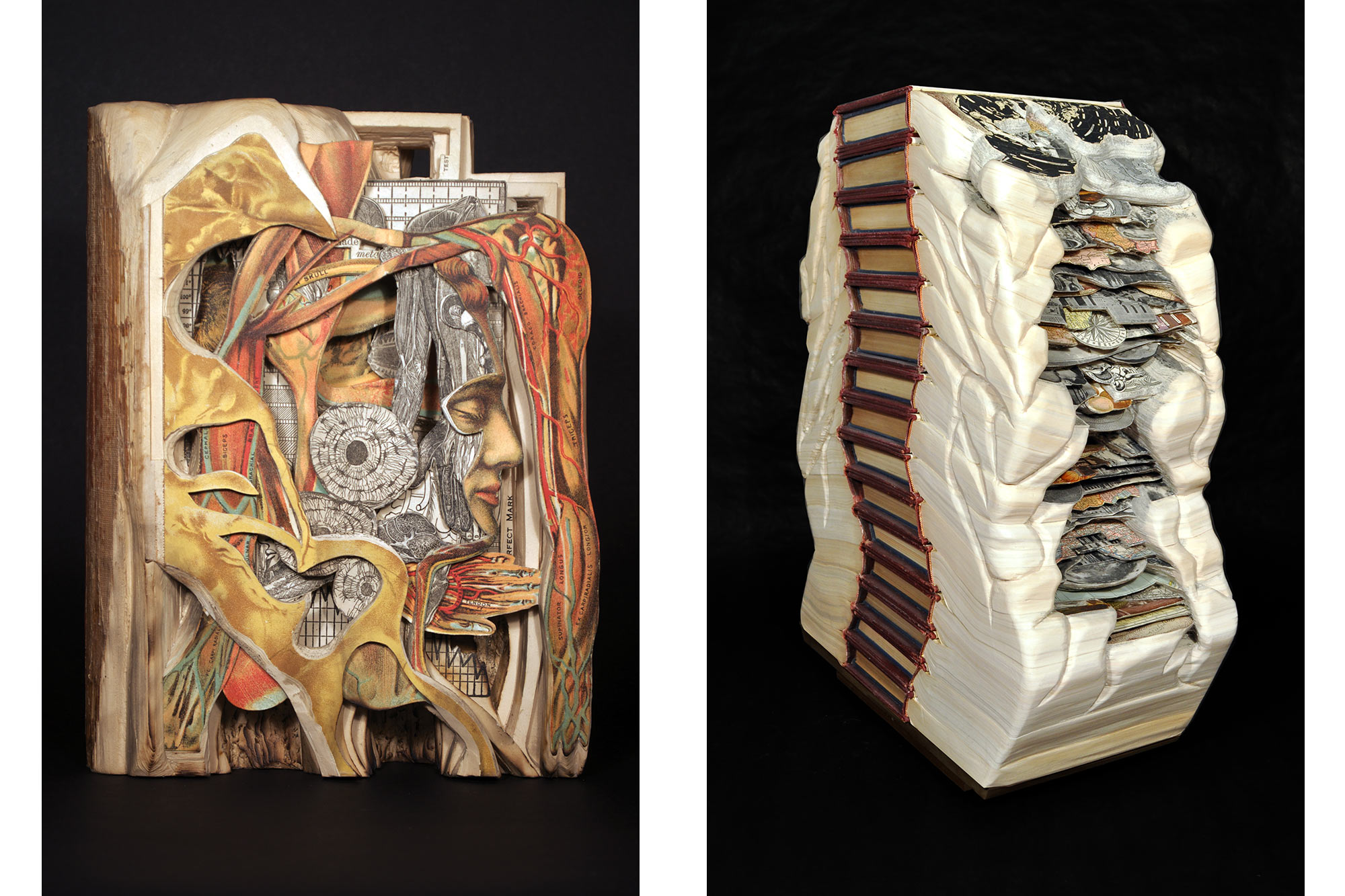 How to turn a book into a living document
Left: In "Absolute Authority" (2011), Dettmer shows a medical textbook from the 1930s as a body full of blood and muscle: in its own way, a living document. Right: In "Totem" (2010), a stack of encyclopedias resembles a totem pole, an object we can appreciate as much for its beauty as for its function as a tool of communication. "Absolute Authority" courtesy of the artist and Wexler Gallery. "Totem" courtesy of the artist and MiTO Gallery.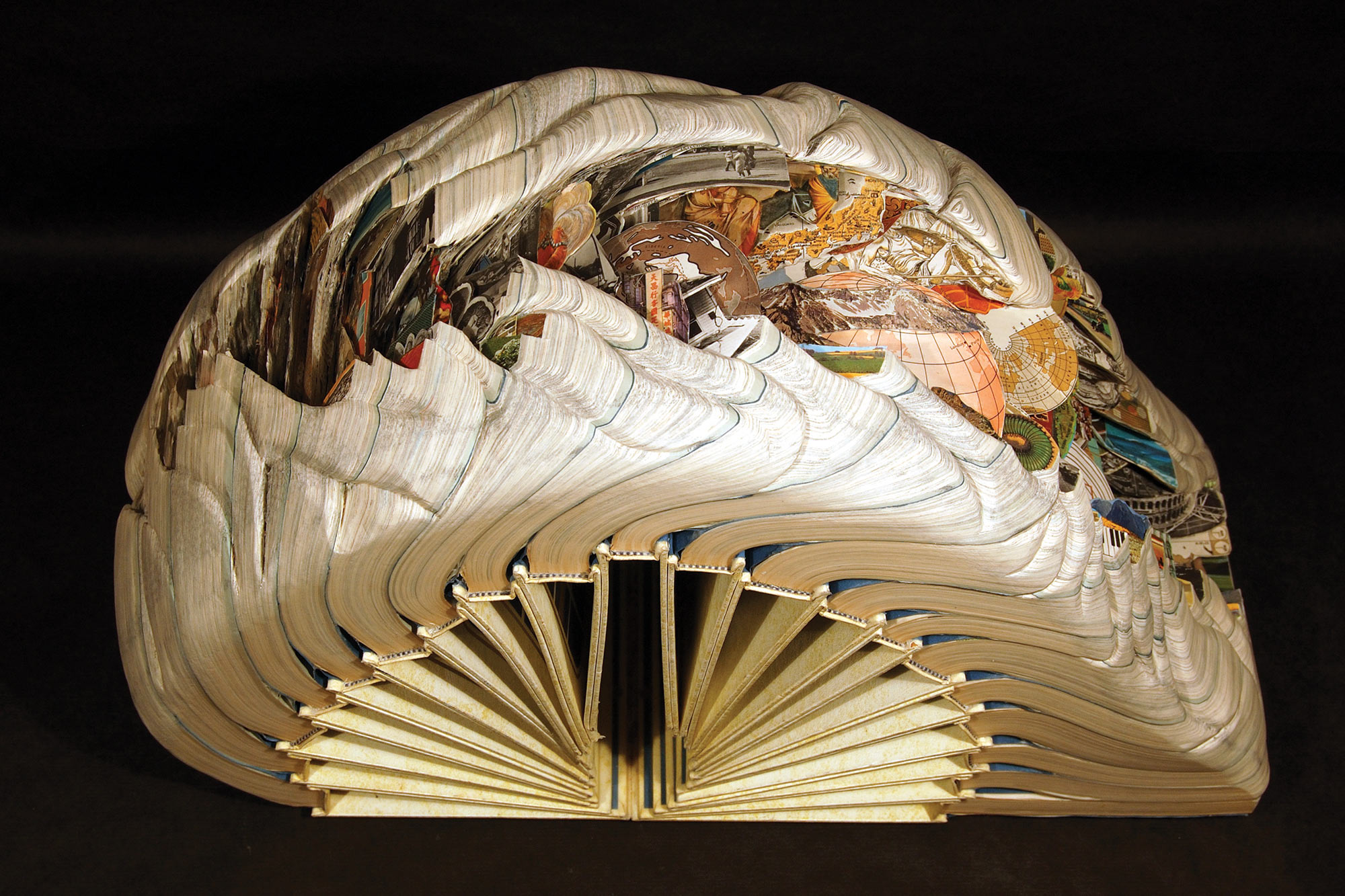 A neat way to reinvent an encyclopedia
For "New Books of Knowledge" (2009) Dettmer reveals geographic images to show this encyclopedia as a landscape. Image courtesy of the artist and Packer Schopf.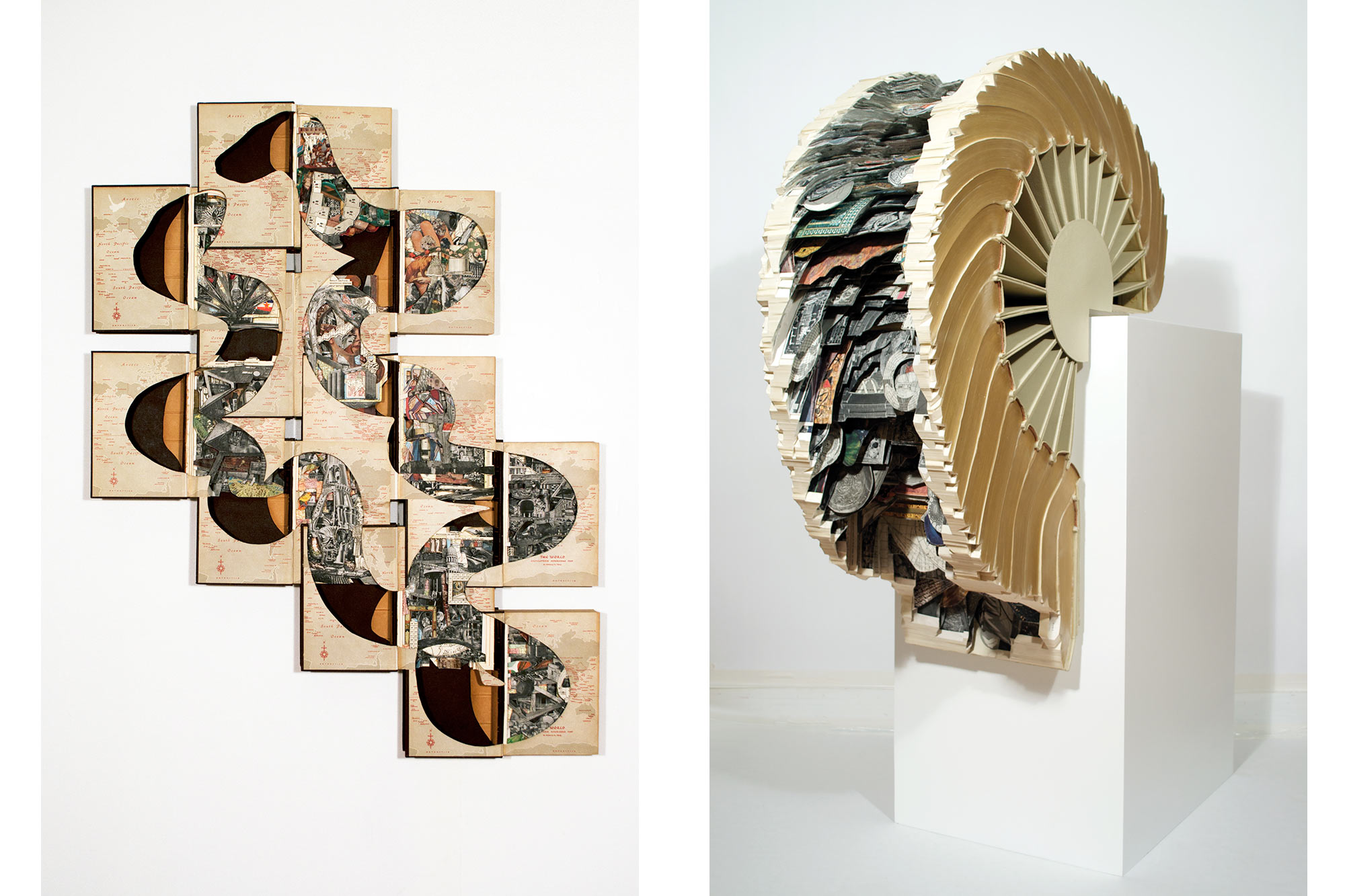 A playful take on the static book form
Left: One piece of the four-part "Americana 54 Two" (2013), which features four snake heads eating their tails, made from an entire set of Encyclopedia Americana. Right: "Saturation Will Result" (2011), which shows an encyclopedia springing from its static book form to become something more fluid. Says Dettmer, "Books can't really adapt, so I'm suggesting the idea of something washing through the books and erasing as it goes." Images courtesy of the artist and Kinz + Tillou Fine Art.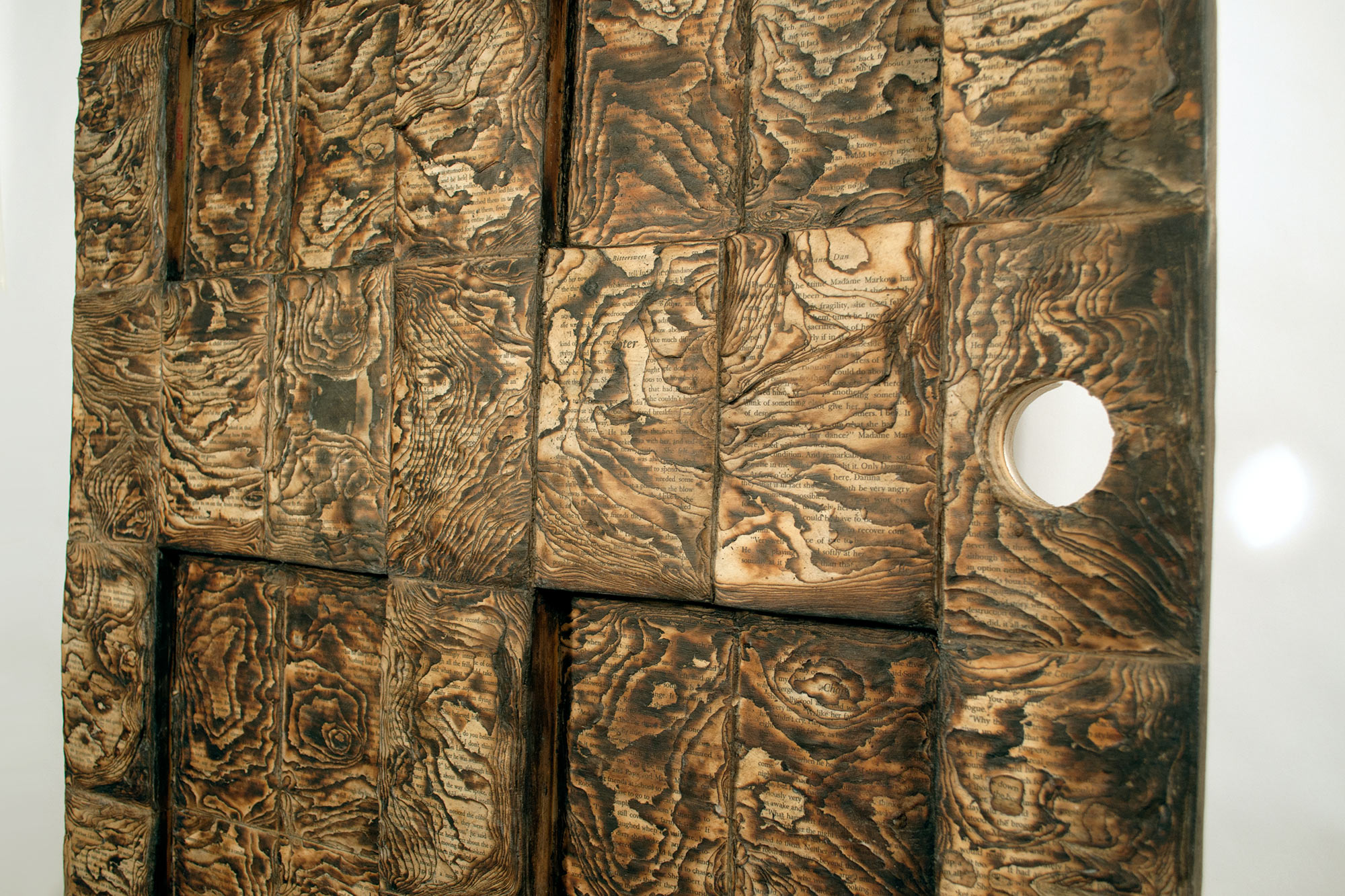 Romance novels, sanded down and burned
For "Emergency Exit" (2012), Dettmer glued together 84 paperback romance novels, sanded them down, then took a propane torch to them. All to create a sculpture the shape and size of a door. Image courtesy of the artist and Saltworks.
See a CBS News interview showing Dettmer's process.