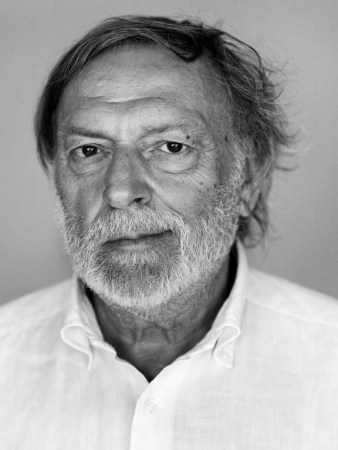 "The thing about the intensive care unit is that the lights never go off and the noise is constant," says photographer Giles Duley. He should know. After he stepped on an IED while on assignment in Afghanistan in 2011, he spent 46 days in intensive care in a hospital in his native United Kingdom. Forty-six days! That's a horrifying amount of time. The usual ICU stint is a few days at most. Add to that the fact that Duley, who lost both legs and one arm in the blast, could only communicate by blinking his eyelids, and you have something of a real-life nightmare scenario. "During that whole time, they thought I wouldn't make it, so my family would come in to say good-bye and I had no way of communicating with them. Obviously it was pretty scary," he says. Gulp.
To stop himself from being driven insane by the light, the noise and the fear while he lay in bed, Duley began a thought experiment. He'd photographed a bunch of celebrities in his time, and he'd also documented "the stories of the forgotten," as he described in this TEDxObserver talk in 2012. Now he got to wondering who he'd shoot if he ever had the chance to pick up a camera again. "I made this fantasy list of 100 people," he remembered in a recent telephone conversation. "Each time I came back to consciousness, I'd play one of those memory games. I'd try to remember the people on my list, and I'd imagine the shoot. And I always resolved if I did make it and found some way of taking pictures again, I would contact everyone on the list and see if I could take their portrait."
That time is now. Two years, 30 operations and a long rehabilitation later, his project, 100 Portraits Before I Die, is officially under way, and he has published the first two portraits — of Sudanese surgeon Gino Strada (above) and author Ben Okri. He's not revealing his full wish list just yet, but he does share that future subjects include musician PJ Harvey and fellow war photographer Don McCullin.
Most important to Duley is that this isn't simply a list of random personalities. Instead, it's a nuanced list of people who have had an influence on his life. That's why actor Henry Winkler is there. "I was addicted to Happy Days as a kid; I watched it religiously," Duley says with a laugh. "That might be cheesy, but this is a journey back through my life, a mosaic of people." This combination of image and story makes the portraits both intensely personal and hugely powerful, a genuine collaboration between photographer and subject. Look at the expression on Strada's face in the image above. The connection between the two is clear; this is a rare glimpse of pure intimacy.
"They're not doing it because they're publicizing something they're doing, or they're trying to get something out of it. It's a gift," says Duley, who despite (or perhaps because of) his fashion and music magazine heritage shows robust disdain for a celebrity-driven culture in which someone is only deemed interesting because they have something to promote. "I don't like the phrase 'to take a photograph.' A photograph is something that's given to you. It's a conversation between two people."
So far, everyone Duley has contacted has agreed to take part … all but one: the Beat poet Gary Snyder turned him down. "But the reason his agent gave was brilliant," Duley recalls. "'Gary is far too old and he lives far too out in the woods.' That's quite a lovely thing, isn't it? 'He lives far too out in the woods.' I love that. That's how I want to end up."
[youtube=http://www.youtube.com/watch?v=lxxoOJVedlQ&w=560&h=315]