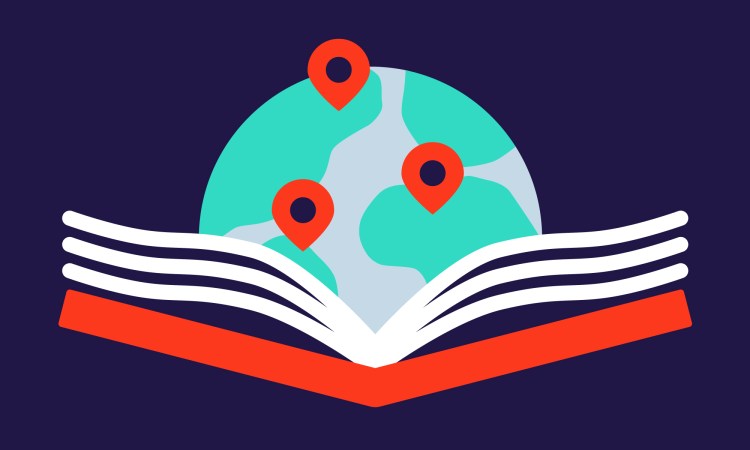 Author Ann Morgan invites book lovers to follow her on a literary journey through 196 countries.
"I'd always thought that I was well-traveled," says writer Ann Morgan (TED Talk: My year reading a book from every country in the world), but "actually, when I looked at my bookshelves, they told a very different story about me." Her shelves were crowded with English-language books, mainly from English-speaking countries. From the rest of the world? "Hardly anything," she says. So in 2012 she set for herself an ambitious goal: Read one book from every country on earth in one year. How did she find the books? Recommendations from locals, which came pouring in after she made an open plea on her blog. Morgan wrote a book about her literary journey; now she hopes readers will chart their own journeys with the help of the interactive maps, below. Each country contains a book or an unpublished translation from her reading list, with a teaser review from Morgan. "It's incredible the breadth of perspective you get," she says.
Click on the red pins in the maps below to see all 196 recommended books.
South America
[googlemaps https://www.google.com/maps/d/u/0/embed?mid=zOvrIxlZcov8.kYPmLXF9Elew&w=640&h=480%5D
In her selected readings from South America, Morgan encountered a number of characters in the throes of mental illness. "Amazing stories," Morgan says, "often told inside the head of people going through some quite extreme crises." The crime novels were equally unsettling: Death in the Andes by Peruvian author Mario Vargas Llosa includes a confounding number of culprits, from roving bands of terrorists to rumors of vengeful mountain spirits. "You may not even get an answer as to who was responsible for the crime in many of the books," says Morgan. "People I've spoken to say that this is most likely because of the history of corruption and violence that many regimes in South America have gone through." The tidy resolutions that English-language readers may crave don't exactly ring true here.
---
North America
[googlemaps https://www.google.com/maps/d/u/0/embed?mid=zOvrIxlZcov8.kejpibeZCIAU&w=640&h=480%5D
Much of Central American literature followed the patterns of South America. In the well-trod territory of U.S. literature, however, Morgan tried an experiment. She read American Gods, by the British writer Neil Gaiman. Some of her online readership objected to the choice of a foreign-born writer, which she found intriguing, given that other readers had no qualms suggesting English and American writers to represent other countries. "I definitely wanted to make sure that I didn't just choose books by British and American writers who've lived in other places for a while," she says. The experience made her determined to read books by people as closely connected to each nation as possible.
---
Europe
[googlemaps https://www.google.com/maps/d/u/0/embed?mid=zOvrIxlZcov8.kk2Oq2JKC_tg&w=640&h=480%5D
"Some of the funniest books that I read during my quest came from Europe," Morgan says. Eastern European authors were especially adept at dark humor. A personal favorite was Lake Como by Serbian author Srdjan Valjarevic. The main character, an alcoholic writer from war-torn Belgrade, attends a writing retreat in Northern Italy, where he's treated with pity by the other earnest artists in residence. "Actually he was just treating it as a free ride," Morgan says. "He just spends his time there getting drunk and chatting up the waitresses. It's a really funny book but quite touching as well."
---
Africa
[googlemaps https://www.google.com/maps/d/u/0/embed?mid=zOvrIxlZcov8.kBuROHIzvZtg&w=640&h=480%5D
Here, Morgan encountered a blend of vivid imagery and strong female characters. "Some of the most feminist writing I came across during my reading came from Africa, and not just by women either," she says. One highlight: Ualalapi, from one of Mozambique's most celebrated writers, Ungulani Ba Ka Khosa. "There's a description of a woman whose menstrual blood floods the whole village, which, I mean, it's quite alarming and strange."
---
Asia
[googlemaps https://www.google.com/maps/d/u/0/embed?mid=zOvrIxlZcov8.kxFFX-euw5fk&w=640&h=480%5D
"I met some fabulous characters in Asian literature," says Morgan. The child characters were especially vivid. One standout, she says, was the shepherd boy in the Mongolian novel The Blue Sky, by Galsan Tschinag. The boy smokes pipes and fantasizes about a 1,000-strong flock of sheep. "His perspective is so beautiful and the writing is so extraordinary that it really takes you into this very different world." For a darker turn, she recommends Smile As They Bow, a story about a transgender temple dancer in Myanmar. "He earns his living by persuading pilgrims to pay him money to dance for them, and he doesn't really believe in it, but then at the same time he sort of does," she says. "He's so incredibly vibrant, so irreverent and so funny."
---
Australia and Oceania
[googlemaps https://www.google.com/maps/d/u/0/embed?mid=zOvrIxlZcov8.kXJmGAZ5rNPI&w=640&h=480%5D
Don't overlook the literature from the tiny Pacific Islands, Morgan says. "There's still a strong tradition of performing stories, not just telling them, but using your whole body and gesturing and laughing and throwing in your own observations," she says. "Some of the most creative storytelling that brings in traditional culture and weaves those stories into ever-changing shapes for a new generation is very interesting." For a strange brew of history, mythology, songs and recipes (including the occasional list of edible plants), check out The Book of Luelen by Micronesian author Luelen Bernart.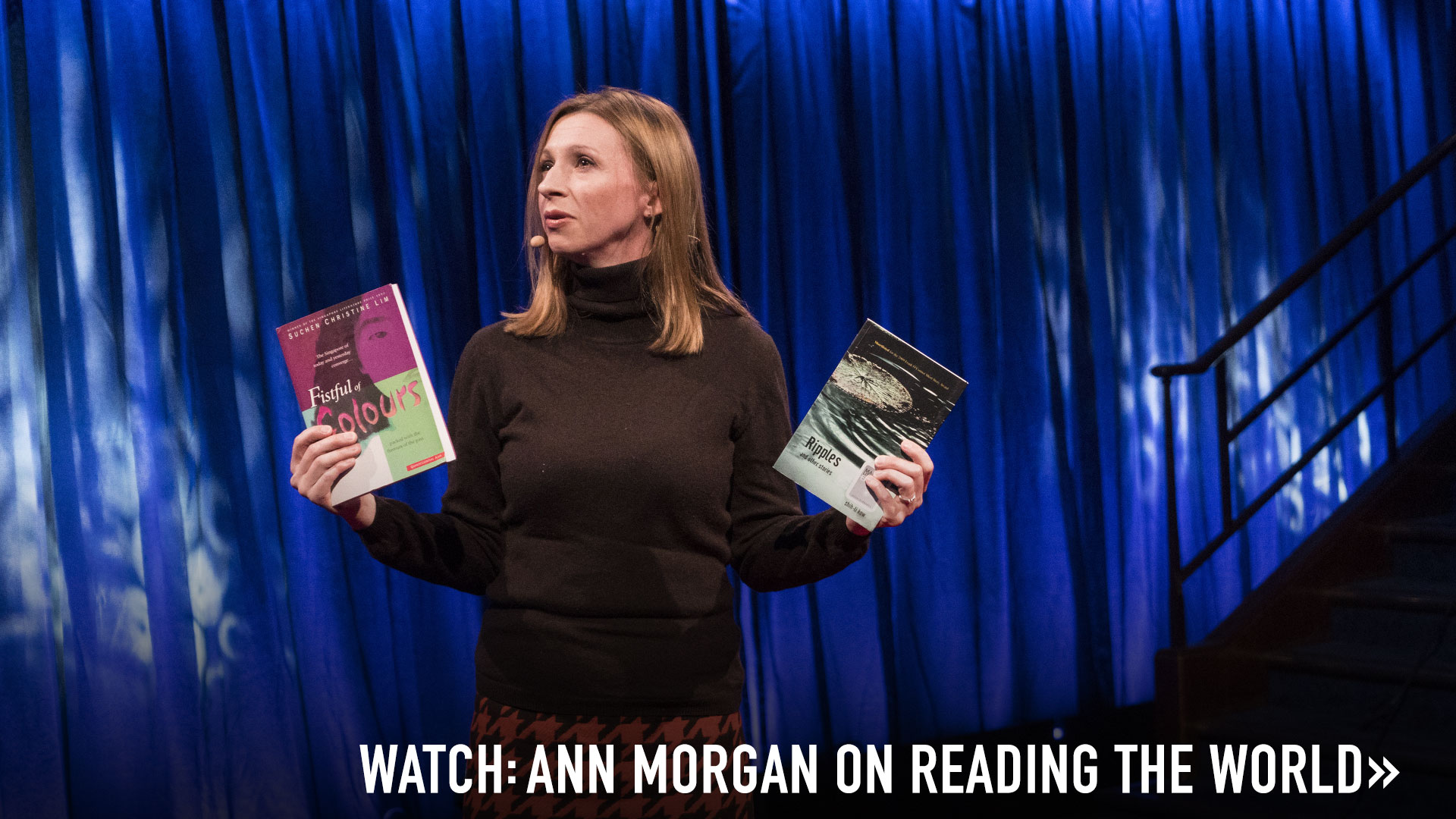 Illustration by Maya Sariahmed for TED.