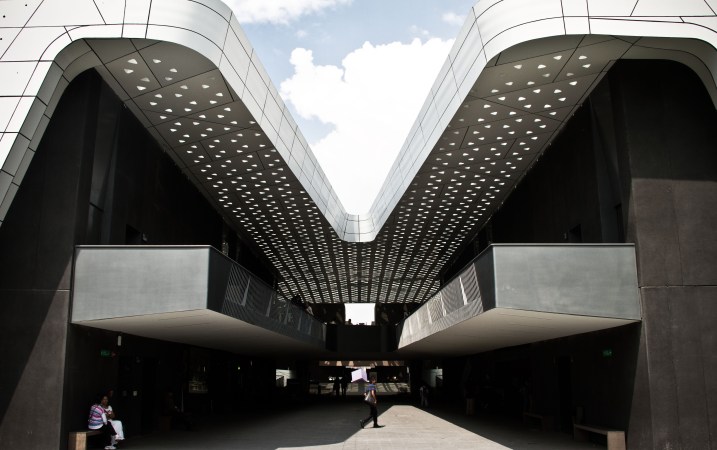 "For many years, travel was probably the most important component of my life. Every time I could throw a little pebble far away and run across the world to pick it up, the more distance I could put between myself and Mexico City, the happier I was. When I was back in the city, I would feel like the adventure was over."
This, it's safe to say, is not the most encouraging start to an interview about Mexico City. It seems almost like TED Fellow, TEDx organizer and TED City 2.0 Prize winner Gabriella Gomez-Mont would rather talk about anywhere else. Treviso, Italy, for instance, where she studied at design school Fabrica and worked on assignments for Benetton-sponsored Colors magazine. Or New York, where she lived for a year and worked on editorial projects at the Aperture Foundation. Or even New Haven, Connecticut, where she spent a year in 2012 at Yale studying a fellowship in global affairs.
New Haven! This could be one bust of a city profile.
"I truly believe I was born and raised in one of the most fascinating, most complex, most endless cities one can imagine."
Luckily, it soon becomes clear that Gomez-Mont is giving such details to explain precisely why she now appreciates her home metropolis so deeply. "I had the fortune of being on five continents and truly traveling my heart out," she says during a number of Skype calls from Mexico City, with Gomez-Mont scurrying from one cafe with a bad Internet connection to the next. (Her own office, about which more later, is under construction.) "Now I truly believe I was born and raised in one of the most fascinating, most complex, most endless cities one can imagine. Really, it has been like the cliché of T.S. Eliot, where you return to where you started and know it for the first time." Phew.
Gomez-Mont is a born-and-bred chilanga, or resident of Mexico City. She grew up in the 1970s in Polanco, a residential neighborhood filled with green spaces, where she remembers sitting on a white seat on the back of her father's bike as they tooled around the area, urban warriors before such a thing was cool. Then, age 13, she and her parents moved to a different world, to the Desierto de los Leones, literally Desert of the Lions, southwest of the city center. 'It's still within Mexico City, but my relationship to the city changed drastically when we moved there," Gomez-Mont says. For one thing, she became a lot more familiar with the inside of a car. School was a 45-minute drive away, and as she grew older, she'd beg friends to give her a lift to or from college or work. "For me it was home; for my friends it was vacation," she remembers.
Now Gomez-Mont lives in Condesa, the city's vibrant art and culture hub, once a horse track that was converted — coincidentally by her step-great-grandfather — into a residential area in the 1920s. Nowadays the neighborhood, which boasts Art Deco stylings alongside Art Nouveau and contemporary buildings, buzzes with galleries, restaurants, bars and coffee shops. Yet when she first moved there, in 2001, the area was rundown and a little derelict, essentially deserted after the 1985 earthquake that destroyed thousands of buildings throughout the city. Along with other artists, designers and creative types, Gomez-Mont was attracted to the cheap space there; even then, she recalls barely being able to afford her $150-a-month rent. Now, of course, rents are considerably higher, as the wheel of gentrification slowly turned and the area grew in popularity — and cost.
This story is not unique to Mexico City, of course. Creative professionals in cities from New York to London can tell a similar tale. Nonetheless, Gomez-Mont wants to try and figure out some solutions to this seemingly inexorable pattern. "Why is it that this community of people that makes neighborhoods vibrant in the first place, from whom the developers reap rewards, why are they the ones to get pushed out?" she asks. "And what can we do about it? What policy could we set in place to change this dynamic? What kind of incentives? What kind of rules could we experiment with? Let's actually protect the community that is making this space a special place in the city."
Her latest role means she'll get to ask these questions and, more meaningfully, experiment with potential answers. This year, she began working for Miguel Ángel Mancera, the mayor of Mexico City, who became her second-ever boss (her first was Charlie Tornell, when she worked as a copywriter at the ad agency Ogilvy & Mather in Mexico City). She'll be running the "Laboratorio para la Ciudad," essentially an experimental laboratory designed to cultivate city-focused dialogue and collaboration between government, the private sector, NGOs and regular citizens.
"10 years ago, I would go to the Biennale of architecture in Venice, and Mexico City was portrayed as everything you should not do, the future nobody wanted," she says. "But the city has made a comeback in many ways. We've come to realize how much richness the city has, because of the density of interesting things to do, and the possibility of sharing one space with completely different people." As she describes it, even the laboratory itself is an experiment. Based in the city center and to be designed by Emiliano Godoy and Héctor Esrawe, the office is based in a colonial tower, overlooking a government building. "I find this strangely metaphorical for the type of work we are doing," Gomez-Mont says. "From this quirky space we can oversee the expanse of the historical city center, the most layered part of this endless city — pre-hispanic, colonial, contemporary — which after all has been around for almost 700 years, making it not only the largest but also the oldest megalopolis in North America."
"I fall more and more in love with this lovely beast of a city every day. It'll break your heart, but it turns out it's one of the most fascinating cities I've ever been to."
Large, old — and diverse, as her experiences as a writer and filmmaker have shown her. "I once spent three weeks in a Mexico City dump, interviewing the people who manage it and finding out about their lives," she says. "Then I spent another month at masked wrestling matches, interviewing the wrestlers backstage and talking to all the different people there." This, she says, is how she strives to connect the pieces of the city-shaped jigsaw, and it's how she prevents herself from slipping into anything like a complacent, boring routine. "When you live in a complex city like Mexico City or New York, it's very easy to live your life on an island that doesn't necessarily ever touch any of the other islands," she says. "This is about going beyond that to find out about the city's guts, to see both collective and individual visions of how people make the city their own."
More than 10 years in, and Gomez-Mont is still coming to terms with full-time life in Mexico City. "I fall more and more in love with this lovely beast of a city every day," she says. "It'll break your heart, but it turns out it's one of the most fascinating cities I've ever been to. And let's face it, that's not for lack of trying."
[googlemaps https://maps.google.com.mx/maps/ms?ie=UTF8&hl=en&oe=UTF8&msa=0&msid=204612685314432807238.0004e7c3588157a5eb296&t=m&ll=19.397306,-99.18766&spn=0.155441,0.219727&z=12&output=embed&w=640&h=480%5D
Check out all of Gomez-Mont's favorite places in Mexico City in this handy annotated map. To see pictures, see this gallery of photographs shot by Felipe Luna. This article was published as part of our "Questions Worth Asking" series. This week's teaser: "What makes a city feel like home?"