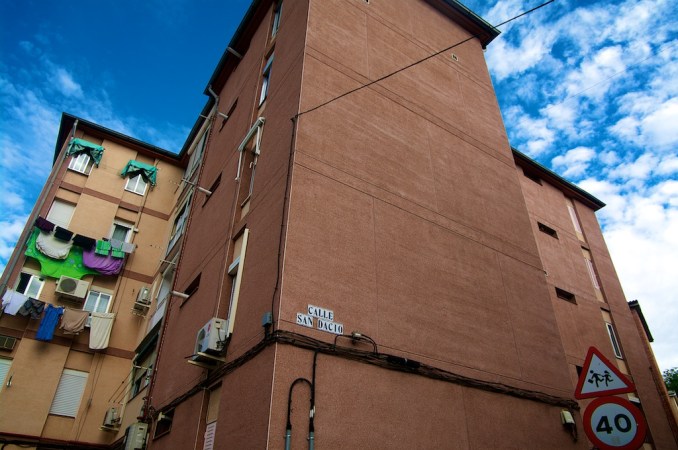 Spanish architect Iñaki Romero Larrea believes citizen participation is key to vibrant city life. He talks to Rebecca Smith Hurd about his efforts to transform Madrid.
Spanish architecture generally conjures images of grandeur, particularly when it comes to modernist and contemporary construction. Gaudí's basilica. Calatrava's bridges, airports and centers for the arts. Bofill's state and corporate headquarters. Moneo's museums. The list of splendiferous urban structures goes on and on.
But not everything built on the Iberian Peninsula in recent memory carries such cachet.
In Madrid — Spain's capital and Europe's third-largest metropolis — many neighborhoods struggle to cope with aging infrastructures, a situation that's only been complicated by the recent economic crisis. As the city and nation brace for more lean years ahead, many young architects are questioning their industry's status quo. Rather than devote more public monies to colossal, celebrity-driven projects, they ask, why not fund small, hyperlocal ones supported by everyday citizens? The big idea: make the redevelopment process open and participatory.
One group that's pushing such change to effect is Paisaje Transversal, an upstart collective based smack-dab in the center of Madrid. Founded in 2007 by five multidisciplinary design professionals, the group is working to cultivate — and empower — a grassroots community of people interested in urban planning in their own backyards.
"The boom years allowed for inefficient and presumptuous architecture," says co-founder Iñaki Romero Larrea, 29, who moved to Madrid from the Basque Country in 2002. "We're working toward a design that's more in line with the people's opinion and needs and that's more respectful of what already exists." (Hear him discuss his thinking in Spanish in this 2012 TEDxGranVía talk.)
Two years ago, Paisaje Transversal began testing its bottom-up methodology with residents of Virgen de Begoña, one of the more than 200 working-class neighborhoods that ring the city center from the other side of the M-30 highway loop. "Virgen de Begoña has a valuable position and its residents are associated and organized," says Romero Larrea. "A small portion of the population lives there, but their same problems plague more than a million others who live in similar places throughout the city."
Madrileños and other locals know Virgen de Begoña by its nickname, el barrio de escaleras — the neighborhood of stairs. When the linear brick buildings were erected in the 1960s, steps were installed to deal with the steep slope of the landscape. "To be able to cross from north to south, you have to pass through more than 10 points with various stairs," says Romero Larrea. This is a problem for parents pushing strollers, people using wheelchairs — and particularly for the 25-40% of inhabitants who are senior citizens with mobility issues. "The stairs are killing us," an older lady complained to a reporter for the TV news program, Madrid Directo in 2012. "To go to the doctor, stairs. To pass through here, stairs. To go the pharmacy, stairs. To buy bread, stairs."
Paisaje Transversal believes that residents don't need to meekly accept an unacceptable situation. The group helped the neighborhood association to obtain an official plan from the city so that it can receive government funding for rehabilitation projects. It also proposed a system of ramps to connect the neighborhood and a means to prioritize pedestrians over cars at intersections.
"To go to the doctor, stairs. To go the pharmacy, stairs. To buy bread, stairs."
For now, the thoughts remain on the drawing board, dependent on the nation's economic situation improving. Nonetheless, Romero Larrea believes that engaging the barrio's residents in fostering small but meaningful changes will also help to improve the city more broadly.
He still visits Virgen de Begoña to attend community meetings and events, but he currently spends most of his time at Paisaje Transversal's studio in Huertas in the center of town (once the stomping ground of Cervantes). Since prototyping its methodology in Madrid, the collective has expanded its scope to mount participatory projects nationwide, in other Spanish cities including Bilbao and Valencia.
The studio is just a 10-minute walk from his apartment building in La Latina, one of Madrid's oldest, most picturesque neighborhoods. "It's a group of flats from the 1940s that was built in place of an old theater that burned down," he says of his home. "[Ours is] very bright, on the fourth floor. I say that it looks like an Andalusian courtyard house, because it has no view but the white walls around it illuminate the interior." He rents the 850-square-foot unit with three roommates. "It's almost impossible to live alone on the average salary of a young Spaniard," he says.
His daily walk to work takes him through the zona alta of the culturally diverse Lavapiés district, which he describes as "full of stores selling Chinese goods wholesale." After hours, he typically stops for a beer at places like La Nieta Carmela, an artsy tapas bar. "I always make plans with someone to have una caña near the studio," Romero Larrea says. "It's a good way to end the day."
"It's almost impossible to live alone on the average salary of a young Spaniard."
He also enjoys taking visitors to Cerro del Tío Pío, a hilly park in Vallecas, on the southeastern edge of Madrid. The view at sunset is breathtaking and, he adds, also helps people understand the urban landscape at a glance and take in the city's sheer size. Occasionally, he leaves the hustle and bustle behind. But when he does, he doesn't go far — only to the Sierra de Madrid, a "natural paradise" that became a national park in June.
Romero Larrea originally hails from much farther north. He moved to Madrid from Vitoria-Gasteiz, capital of the Álava province, 11 years ago to study architecture at the Universidad Politecnica de Madrid. In 2007, he left for Germany to take additional courses at TU Dresden (Paisaje Transversal was at first a digital-only initiative). He returned to Spain the following year to settle in the capital. "Madrid is very welcoming," he notes. "Every newcomer is treated like a local and, in a world of migrants, that is a magnificent thing."
Nonetheless, Romero Larrea remains squarely focused on fostering change in Spain, particularly in the way that architectural and urban planning projects unfold. "I believe that transformation needs to happen with the profession, because if not, we'll turn into bipolar beings who work for one thing in our free time and against it in our jobs." He's proud of the small victories Paisaje Transversal has won in involving citizens in bettering their communities, in Virgen de Begoña and beyond. And he looks forward to collaborating with the public on more initiatives that allow people to connect, share information and build networks.
"The most gratifying thing," he says, "is to think that your effort improves the life of the people in the neighborhoods in which you work."
[googlemaps https://maps.google.com/maps/ms?ie=UTF8&hl=en&oe=UTF8&msa=0&msid=212119781877021638380.0004e7f161cbd4f2c8299&t=m&ll=40.438325,-3.686943&spn=0.125426,0.219727&z=12&output=embed&w=640&h=480%5D
Romero Larrea's favorite places in Madrid are detailed in the handy annotated map above. To see pictures, check out this gallery of photographs shot by Vanessa Gonzalez. This article was published as part of our "Questions Worth Asking" series. This week's teaser: "What makes a city feel like home?"
Rebecca Smith Hurd is a freelance writer and editor based in central Mexico. She runs the award-winning travel website AllAboutPuebla.com.