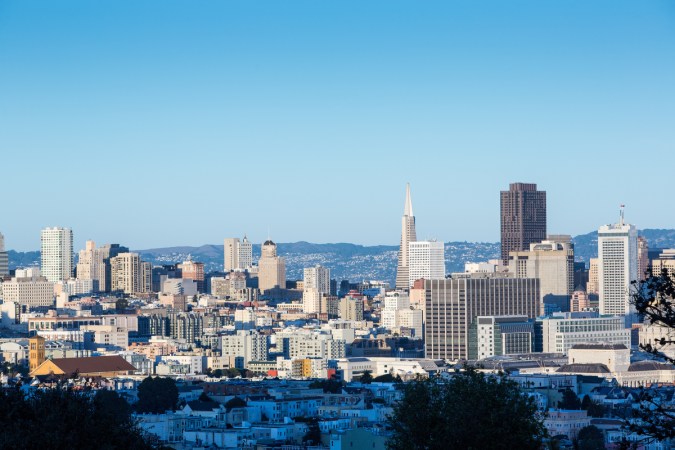 On St. Patrick's Day in 2008, Chris Downey, an architect in Piedmont, California, reported to the hospital for surgery to remove a brain tumor. The procedure was a success. But two days later, his sight started to fail. On the third day, it was gone. Yet as he tells Alison Prato, Downey never once thought of giving up his work in architecture.
Now, as a consultant to architectural practices in San Francisco and beyond, he commutes to the city via public transportation four days a week. On the fifth day, he heads to UC Berkeley, where he teaches accessibility and universal design.
It's a remarkable story, but Downey, who talked about the challenges of navigating through cities in his inspiring and funny TED Talk (the guy's got a great sense of humor), admits that it wasn't easy. After 46 years of living with sight, waking up one day blind — and with no sense of smell, which he also lost in the surgery — was "quite frankly, really terrifying."
"You don't just show up knowing how to do it," he says. "There's a lot of intense training that goes along with it. Mentally, it's hard work. You're having to think through things in a different way. The first time at a major intersection where I stepped off into the street to cross on my own, it was like, 'Oh my god.'"
Downey begins each day with a 5:05 a.m. pickup for crew practice (he rows with the East Bay Rowing Club on the Oakland Estuary). He rows, he says, for exercise and competition — and because it's the ideal sport for his situation. "It's a great way to start the day. It's amazing and cool being in these tiny boats with the water right there at your fingertips. Once you're in the boat, you're facing away from the direction you travel, so you're just another one of the guys. Everyone's relying on the feel of the boat and sound of the oars hitting the water."
As far as navigation for the blind, Downey says San Francisco and Piedmont are actually pretty good. Both places are walkable, and there's accessible public transit, including streetcars, buses, cable cars and the BART subway system.
"In the core of San Francisco, there are no big streets, so it's not like you have to cross anything that feels like a freeway," he says. "Having the grid of the city helps a lot. The only place it really falls apart is along the south side of Market Street, because the grid rotates into all these weird sections."
One unexpected thing Downey, who is six-foot-four, has to worry about while walking around? Tree branches. "I'm tall, so that puts me in good range of a lot of branches," he says with another laugh. "Walking around Piedmont is a real challenge sometimes because there are lots of low-lying limbs." Still, being friends with the town's director of public works (their kids have gone to school together since kindergarten) has its advantages: The street crews, aware of Downey's blindness, trim the branches near and around his house. "You gotta know the right people," he jokes.
"A little branch hanging out? No big deal. But big, honking, solid branches at forehead level? I've found a few of those. And they can be painful."
The street crews in his neighborhood know him, and they trim the branches near and around his house.
Downey became intrigued with architecture when he was 6 years old, when his parents worked with an architect to design a brand-new house in his hometown of Nashville, Tennessee. He realized that buildings and structures could be creative and fun. "I got to explore the house being constructed, which was great. It was like a playground — you could walk onto the roof from the tall side of the house, and it was built around big trees, creating a courtyard. It was a modern space that tied into the landscape."
Now, as one of the few blind architects in the world, Downey has taken a keen interest in multisensory design, which is important for visually impaired people who rely on touch, sound or smell to navigate. "Think about architectural environments that are [visually] monotonous, like hospitals or big convention centers," he says. "Try that blind, when it all feels the same and sounds the same."
When he first returned to work in Oakland, for example, he found that he couldn't get to the bathroom on his own. "I returned to the office before I started orientation and mobility training," he recalls. "The bathrooms were out of the office and down a few hallways. I typically had the office manager guide me there."
These days, he says, he designs with a tactile palette, not just a color palette, in mind. "Blind people rely on acoustics to get around. I test materials with my cane to see how they feel. Instead of doing a 'walk-through,' we create a 'tap-through,' so you hear what it's like when you tap your cane throughout the building."
He uses an embossing printer to print out drawings of the spaces he works on. (Recent projects include eye centers in California and at Duke University, and innovative transportation hubs in the Bay Area.)
"The San Francisco Bay Area really does have a vibrant and empowering blind community," he says. "I've always been quite intentional about networking. I wanted to meet the most effective, aggressive and accomplished blind people that I could. It seemed important to have great mentors while also keeping the bar high relative to expectations and goals. The blind crowd had it down, with all sorts of pragmatic and philosophical advice. Besides, it seemed like I kept meeting all sorts of really cool and interesting people — I was miffed that I had to lose my sight to meet them!" Today, Downey is himself a key member of the city's blind network, and also serves on the board of directors for LightHouse, an organization promoting independence and self-reliance for those who are blind or visually impaired.
I've always been quite intentional about networking. I wanted to meet the most effective, aggressive and accomplished blind people that I could.
"The blind crowd tends to be pretty resilient and great problem-solvers," he continues. For Downey, that resilience includes a newfound appreciation for life's everyday sounds.
"I love sitting on our front porch," he muses. "It's something I didn't think that much of before I lost my sight. I'll be sitting there, early in the morning, just listening to the birds coming out and the breezes blowing through. It's an incredible sensory experience. I'm hearing leaves falling off the branches and bouncing off other branches and hitting the sidewalk. It's not that I hear any better, it's just that I never would have noticed that before. It's incredibly beautiful to think about."
[googlemaps https://maps.google.com/maps/ms?msa=0&msid=211440806195084702266.0004ec90025a251a82e8a&ie=UTF8&t=m&ll=37.780077,-122.429752&spn=0.065124,0.109863&z=13&output=embed&w=640&h=480%5D
Check out some of Downey's favorite places in San Francisco in this handy annotated map. And see them in pictures with a gallery of photographs shot by Marla Aufmuth. This article was published as part of our "Questions Worth Asking" series. This week's teaser: "What makes a city feel like home?"
Alison Prato is a regular contributor to TED.