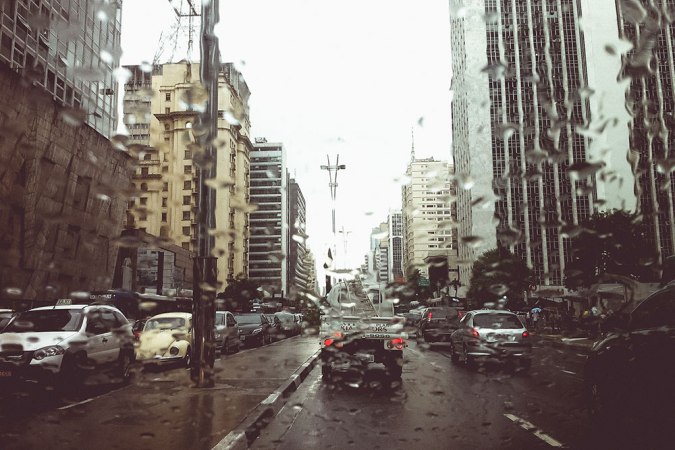 Juliana Machado Ferreira is not a city person. Although she grew up outside of São Paulo — the largest city in the largest country in South America, with a population of 11.32 million — she prefers the country's vast savannas and forests.
It's in those sweeping lands that she often works, spending up to 20 days at a time collecting blood samples from red-cowled cardinals and green-winged saltators as part of her anti-wildlife-trafficking research. But after living for three years in the Amazon with her husband, she is back in São Paulo, apartment hunting.
Living in São Paulo has its upsides. Ferreira, a 33-year-old biologist and wildlife advocate (and TED Fellow), has better access to the University of São Paulo, where she is working from the Laboratory of Evolutionary Biology and Vertebrate Conservation. She can also work more closely with SOS Fauna, a wildlife conservation NGO that helps combat Brazil's $2-billion-a-year illegal animal trade, as well as Freeland Brasil, a new organization she founded to work on complementary issues. The city makes it easier to meet with the politicians and police officers vital to wildlife protection.
She'll miss the Amazon, though. "Everything pulses with life. When it rains, it rains a lot, and the thunders are amazing, and when it's sunny, it's really sunny. Everything is superlative. It's big and powerful," she says. "I will miss feeling the true feeling of nature. It's a very special place."
São Paulo is a different kind of jungle. Two days a week — after breakfast over two regional newspapers, O Estado de São Paulo and Folha, which she reads for their different takes on local politics and social issues — Ferreira goes to a windowed office overlooking her parents' backyard. She is staying in her childhood home in the upscale suburb of Granja Viana until she finds something more permanent in the city. As she works and looks at real estate listings, she can see toucans foraging for fruit in the trees outside. They aren't supposed to be there. The birds, she thinks, were displaced when construction workers cleared a nearby swath of forest to make way for a new apartment complex.
The rest of the week, Ferreira drives to the university lab via the Raposo Tavares, the longest highway in São Paulo, stretching over 400 miles from the city center to the west. When she was young, this was a country road lined with trees and picnic areas; now it is nothing but a concrete chute lined with small brick houses built by squatters. Such neighborhoods have become so common that the local government has resigned itself to paving the roads and installing streetlights. From the homes, says Ferreira, you can hear the songs of caged birds. Most likely, they are wild species, some of the estimated 38 million animals poached in Brazil each year.
On a good day, it will take 25 minutes to drive just over ten miles. On a bad day, Ferreira is swept into the unpredictable rush-hour traffic, which can start early in the morning and last until nearly noon. These commutes take at least an hour and a half, with cars, buses and trucks at a standstill while delivery boys on motorcycles — called motoboys — dart "in and out of traffic," says Ferreira, "like crazy bees." Urban mobility in São Paulo is chaotic.
On a good day, it will take 25 minutes to drive just over ten miles.
Still, a car commute is the best option. It's too dangerous to navigate a bicycle on the crowded roads. The public buses are unreliable, don't follow schedules and can be unsafe late at night. Thefts and violence are common, as Ferreira herself has experienced in both São Paulo and in the northern state of Bahia.
To drown out the motoboys and the honking and the stress, Ferreira turns on the radio. Though she won't sing in front of people, claiming a terrible voice, in the car she belts out everything from bossa nova to Aretha Franklin to the Clash. If she wants something kitschy with a rhythm, she plays forró. If she's really in a singing mood, she goes for American classic rock. "Queen is good for traffic," she jokes.
Mornings at school are as hectic as the Raposo Tavares. "I'm not a very good multi-tasker. I always begin seven things at the same time and I never finish any, but I always advance on all of them," she says. This includes combing through hundreds of emails, fielding calls from real estate agents, editing scientific papers, juggling fundraising responsibilities for Freeland Brasil, helping with a documentary on wildlife trafficking with SOS Fauna, and making Skype calls with federal police in the capital city, Brasilia, about trafficking cases.
Lunch is a welcome break in a courtyard surrounded by Brazilian cherry trees, black mulberries and cabelluda, a native fruit-bearing shrub. Over homemade lunches, Ferreira and her colleagues discuss everything from evolution to gossip and listen to the songs of rufous-bellied thrushes, squirrel cuckoos and ruddy ground doves.
Lunch is a welcome break in a courtyard surrounded by Brazilian cherry trees, black mulberries and cabelluda, a native fruit-bearing shrub.
Then, it's back in the car, the traffic tempered by more singing. Ferreira uses the vehicle as a moving office to make work calls or even check email if the gridlock is especially immovable. For a break, she will call her husband or listen to language courses on DVDs.
Depending on the day, Ferreira winds up at one of her favorite coffee shops for a business meeting, such as Ekoa, a central and convenient spot with free Wi-Fi. Or she might drop in to visit with friends at Coffee Lab in São Paulo's artsy Vila Madalena neighborhood, or stop in for a treat at one of the city's famous bakeries, called padarias. Other times, she battles traffic to meet with politicians at the state legislative assembly, next to Ibirapuera Park on the south side of the city, to talk about their positions on the illegal wildlife trade and to make sure her views and data are heard. So far, she and others have persuaded Congress to review documents related to environmental policy and wild animal breeding programs. "This relationship with legislators is a work in progress," she says.
As the afternoon slides into evening, Ferreira is back in the car. Some evenings, she goes back to the suburbs for a late-evening swim at the local pool or a DeRose Method class, which is a little bit like yoga. Other nights, she may go out with her husband. This has reawakened a kind of love for city life, the part she missed while living in the Amazon. Out in São Paulo, Ferreira, a longtime vegetarian, may dine at Nectare, which she says is the "very best vegan restaurant ever," or at General Prime, where she will have a veggie sandwich with mushrooms and Brie. Or, for a rare treat, she may catch a cult movie at Espaço Itaú de Cinema and have ice cream at the nearby restaurant Frevinho.
While the city is big and polluted and sometimes feels lonely despite being home to more than 11 million, it is also a welcoming place for people from all over the world. Its vibrant communities include Italian, Jewish, Arabic and Japanese mixed in with Brazilian. "The food and the music gets so rich in the mixing of cultures that I think it is beautiful," Ferreira says. "I think São Paulo has a place for everybody."
[googlemaps https://maps.google.com/maps/ms?gl=us&hl=en&ie=UTF8&oe=UTF8&msa=0&msid=205761226413510827708.0004e94135a6baeef2743&t=m&ll=-23.581609,-46.717987&spn=0.151033,0.219727&z=12&output=embed&w=640&h=480%5D
Check out all of Ferreira's favorite places in São Paulo in this handy annotated map. To see pictures, see this gallery of photographs shot by Alessandra Fratus. This article was published as part of our "Questions Worth Asking" series. This week's teaser: "What makes a city feel like home?"
Brooke Borel is a regular contributor to TED.