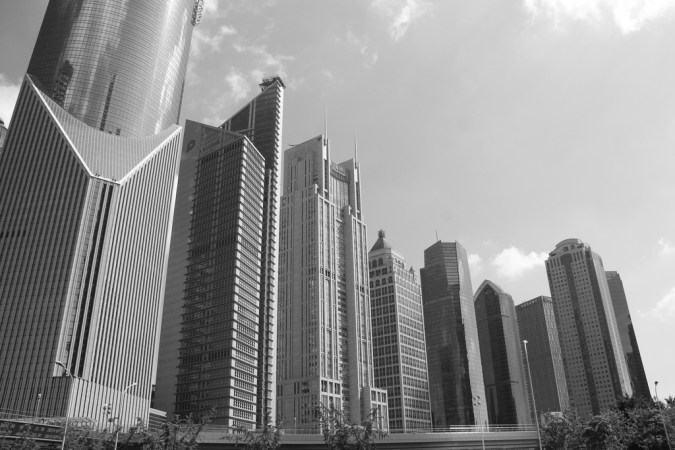 David Li is the founder of Shanghai-based hackerspace XinCheJian. He shares his take on life and work in the fast-paced Chinese city with Alex Gallafent.
In 2005, at the start of my first visit to Shanghai, the city clothed itself in a growling thunderstorm. When dusk fell and neon began to score the sky, the city was more Blade Runner-y than I thought a real place possible to be. I remember diving into a luxe spa for a post-train massage, slipping, mildly terrified, into an urgent slumber, if that's not a contradiction, as rain clattered the roof.
Shanghai will do that to you: the intensity, the thrill, the — um — overwriting. It's a sensation David Li knows well. He was born in Taiwan, studied computer science at USC, and worked as a programmer in Los Angeles during what he remembers as "the good old fun days" before the dotcom bubble burst. In 2003, after 13 years in the US, he headed to Shanghai. More than anywhere else he'd found, the city "captured the energy of the dotcom era," that sense that "everything is possible."
Back then, he says, the city shape-shifted month after month. "Everything was changing, everything was moving," he says. "The city was physically like that." New skyscrapers charged up around him, especially in the Pudong business district. In the early years of the new millennium there was one of those casual "facts" going around, at water coolers in London or New York: half, or a third, or most of the world's construction cranes were operating in Shanghai (the same was said about Dubai, as I remember). True or not, Shanghai seemed to be a new global center of gravity.
Now, says Li, things are a little different. Just as he's shifted gears (he's now in his early 40s), so has the city. The changes are subtle, more a matter of attitude. For a start, "people from outside hold Shanghai in much higher regard" than residents do: speed is impressive and, compared to Shanghai, the rest of the world is slow. But speed is "a fact of life" here, so locals—some 23 million of them—fixate on the more quotidian aspects of life: the penetrating humidity clogging up your throat whatever the weather, and the traffic snarls that wrap up every megacity in love with the automobile, which is to say all of them, and especially Shanghai.
The grand ambitions of real estate developers steal the headlines. But Li sees an appetite for innovation among regular city dwellers, too. He sees it up close at the hackerspace XinCheJian, a community space for tech experimentation he founded in 2010. XinCheJian provides lab space, tools, and workshops on programming and open-source hardware such as the Arduino microprocessor. About 150 people visit each week to tinker, hack, program and collaborate. XinCheJian is supported by membership dues and workshop fees, but it's more about recreation than business. XinCheJian is an escape from a city where every meeting is about how to make money.
Shanghai is a kind of hackerspace itself: it's been made and remade by waves of immigrants and colonizers down the years. It is, Li reminded me, the Chinese city most influenced by, and attuned to, the rest of the world. In the 19th century Europeans and Americans governed and occupied key locations in China through a system of forced "concessions." Shanghai, and its strategically powerful port, was particularly valuable; the British and Americans combined to form an International Settlement (its waning days memorably evoked by J. G. Ballard's Empire of the Sun), while the French Concession stood alone.
Shanghai is a kind of hackerspace itself: it's been made and remade by waves of immigrants and colonizers down the years.
Neither exist formally today, though the French Concession remains a key district in the city, characterized by creative businesses, global cuisine and backstreet coffee shops. "What's fashionable around the world gets to Shanghai pretty easily," Li says. There is, much to his dismay, little in the way of street food, here or elsewhere in the city. In an attempt to "keep up appearances" for the outside world, the city began requiring street food vendors to be licensed in 2011, and there is a history of tension and violence between authorities and unlicensed cart operators. Li says the air used to be filled with the spicy, smoky flavors of Xinjiang barbecue, but no longer.
The French Concession is the most walkable district of the city, a kind of "Shanghai bubble" of pretty, tree-lined streets. If you're based there or thereabouts, as XinCheJian is, the city is pleasant and manageable. Li himself lives about 15 minutes away by car, in a densely populated central district called Jing'an. Li, his wife and 8-year-old daughter live in an apartment, which they own.
Living centrally makes things relatively easy. If you happen to be based further away from the heart of Shanghai, good luck. Yes, there's an extensive public transportation system — buses, a subway — and cabs are relatively inexpensive in the center of town (about $4/journey). But it's slow, says Li. Many people choose to ride bikes, even along major roads and in everything but the most brutal temperatures. At least the city's almost uniformly flat.
Riding a bike is, of course, the cheap way to get around. Now Li says bicycles are "getting trendy," appealing to the moneyed middle class. When Brompton, the British folding bike company, sought a location for its first showroom in China, it chose Shanghai. But bike lanes, you ask? Forget it. Shanghai drivers often park their cars on sidewalks. "That will be the first thing to solve," says Li.
Bike lanes, you ask? Forget it. Shanghai drivers often park their cars on sidewalks.
David Li's passion is XinCheJian. To earn a living, he works as a freelance consultant to internet and mobile companies. That doesn't leave much time for anything else, although as much as he can, he tries to keep tabs on the city's cultural offerings. For all of Shanghai's 21st-century architecture, he says the city has yet to develop much of an appetite for contemporary art. The Shanghai Museum, which showcases classical Chinese culture, draws larger crowds than the Museum of Contemporary Art Shanghai. Both museums are in People's Park, just west of Shanghai's famous stretch of riverside, The Bund, where tourists fill up on Art Deco and knickknacks.
The Bund is full of historical buildings, but this is a city that's always directed at its future. Li estimates that, over the last decade, one new museum building has opened in Shanghai every year. He says the city does things in reverse order. The buildings arrive first, often at the direction of the government. Decisions about what to put in them come second. And audiences follow, or don't. Right now that means Shanghai is a wonderful place to see art in peace and quiet. Go after lunch on a weekday, as Li does from time to time, and you can have the run of giant spaces such as the new Power Station of Art, housed in a former thermal power plant. Take that, Tate Modern.
Li gives one instruction to every first-time visitor: pay a visit to Shanghai's trendy, affluent Xintiandi district, just south of People's Park. The business district's media office describes it as where "yesterday meets tomorrow in Shanghai today," which at one and the same time confuses and yet tells you everything you need to know. Xintiandi is dotted with shiny shops and sleek, upscale restaurants, many of them operating out of renovated traditional Shikumen homes (literally "stone warehouse gate"). Here, in a state of pedestrianized calm, you may top up on as many of the trappings of the global urban elite as you choose. Then, once you're dressed in the expensive drapings of the tony brand Shanghai Tang, and hydrated by, um, Starbucks, Li suggests you go get "one of the most amazing experiences you can get in Shanghai," a dose of anti-capitalist, anti-foreigner propaganda at the Museum of the First National Congress of the Chinese Communist Party (held here in 1921). Those two Shanghai experiences, opposites in harmony, will give any visitor a good sense of the Chinese moment. "It gives you a perspective on what this country looks like right now."
When he really wants to get away from it all, Li leaves Shanghai entirely, to head to one of the smaller cities nearby, such as Suzhou, Wuxi or Hangzhou. This last city, about 100 miles away, features Xī Hú, one of China's urban glories (literally, the "West Lake"). You can rent a bike, ride up into the hills and stop for green tea on the way back down.
In Shanghai itself, authorities are developing a "recreational area" southwest of the city center, a glorified park-on-a-hill called She Shan. There's a golf course and a small forest. But since it's so difficult and so maddening to wade through Shanghai, Li much prefers to take the fast train out to the West Lake. "It's actually easier to get there," he says.
[googlemaps https://maps.google.com/maps/ms?ie=UTF8&hl=en&oe=UTF8&msa=0&msid=203204314292117941975.0004e96ae8bb95eefeee3&t=m&ll=31.226601,121.493683&spn=0.07046,0.109863&z=13&output=embed&w=640&h=480%5D
Check out all of Li's favorite places in Shanghai in this handy annotated map. See also a gallery of photographs. This article was published as part of our "Questions Worth Asking" series. This week's teaser: "What makes a city feel like home?"
Alex Gallafent is a contributing correspondent for PRI's The World and a former BBC radio producer. He's also a freelance experience designer, currently with ESI Design, and a composer and sound designer for theater and film.