A lyrical meditation on the quiet place within.
The wait time at the Chichu Art Museum varies depending on the hour. According to the shuttle schedule, the white bus parks for as little as three minutes and as long as twenty-one before beeping, retracting its steps, closing its door, and driving back the way it came. But no matter the condition of the roads, the layover does not vary from the plan: Arrive 10:57, leave at 11:05; park at 16:52, close doors at 16:55; and so on. The bus, plain but for the words "Benesse House" printed cheerfully across the side, winds its way up along often rain-slicked esses, past tidy beaches, elegant forests, a pumpkin sculpture the size of a small hut.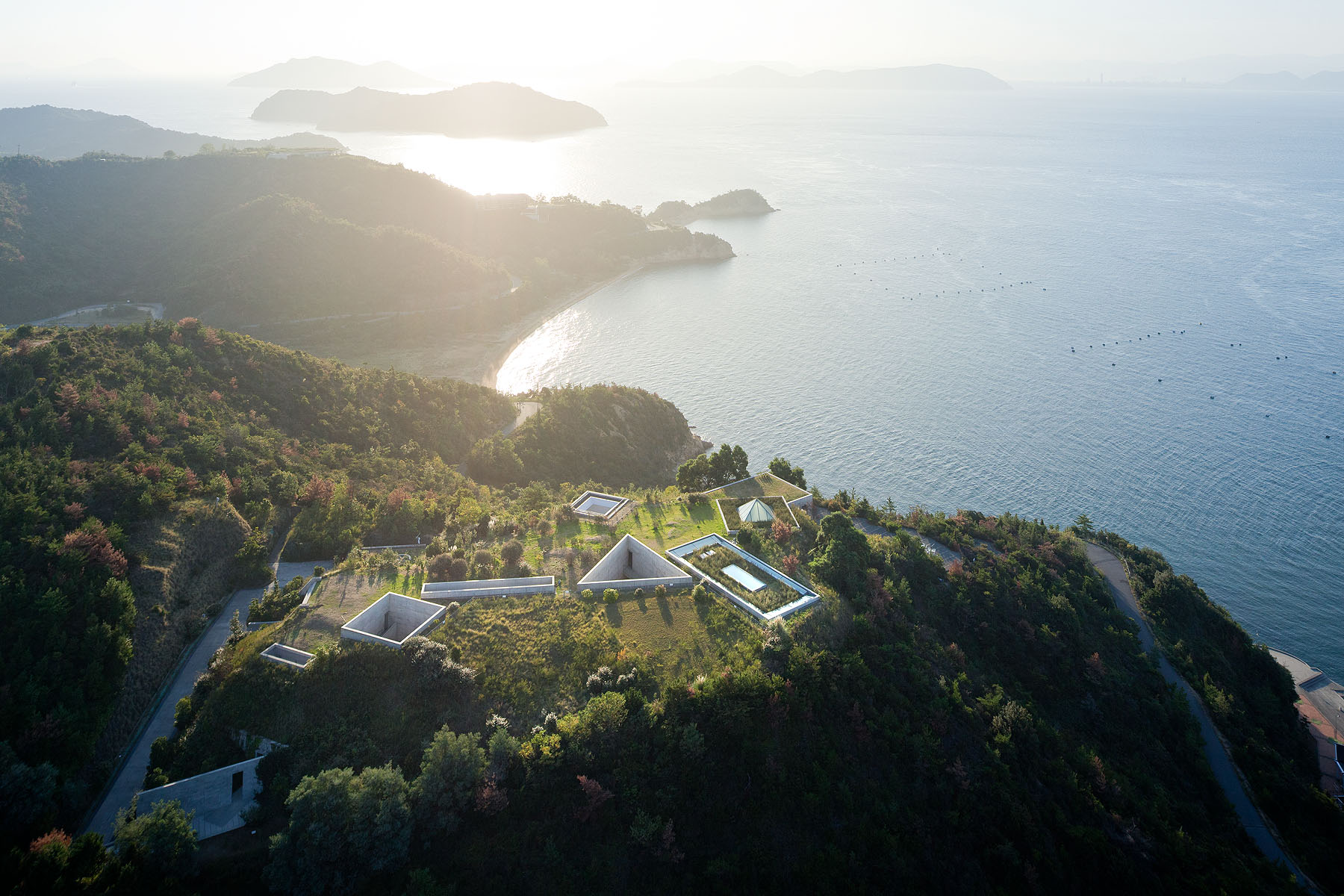 There are three islands in Japan's Inland Sea where some of the world's best contemporary art lives quietly nestled between trees. Naoshima, with a collection of three buildings by Pritzker-Prize winning architect Tadao Ando, houses exquisite site-specific sculptures and paintings from James Turrell, Walter de Maria, Lee Ufan, Claude Monet and Yayoi Kusama. On the smaller, rougher hewn Teshima, there is one art museum, by Ryue Nishizawa, the youngest architect to ever win the Pritzker. Inside, one piece of art, a breath-taking otherworldly installation by Rei Naito that uses water to evoke a meditative trance. [See: a gallery of beautiful photos of the island, by Iwan Baan.]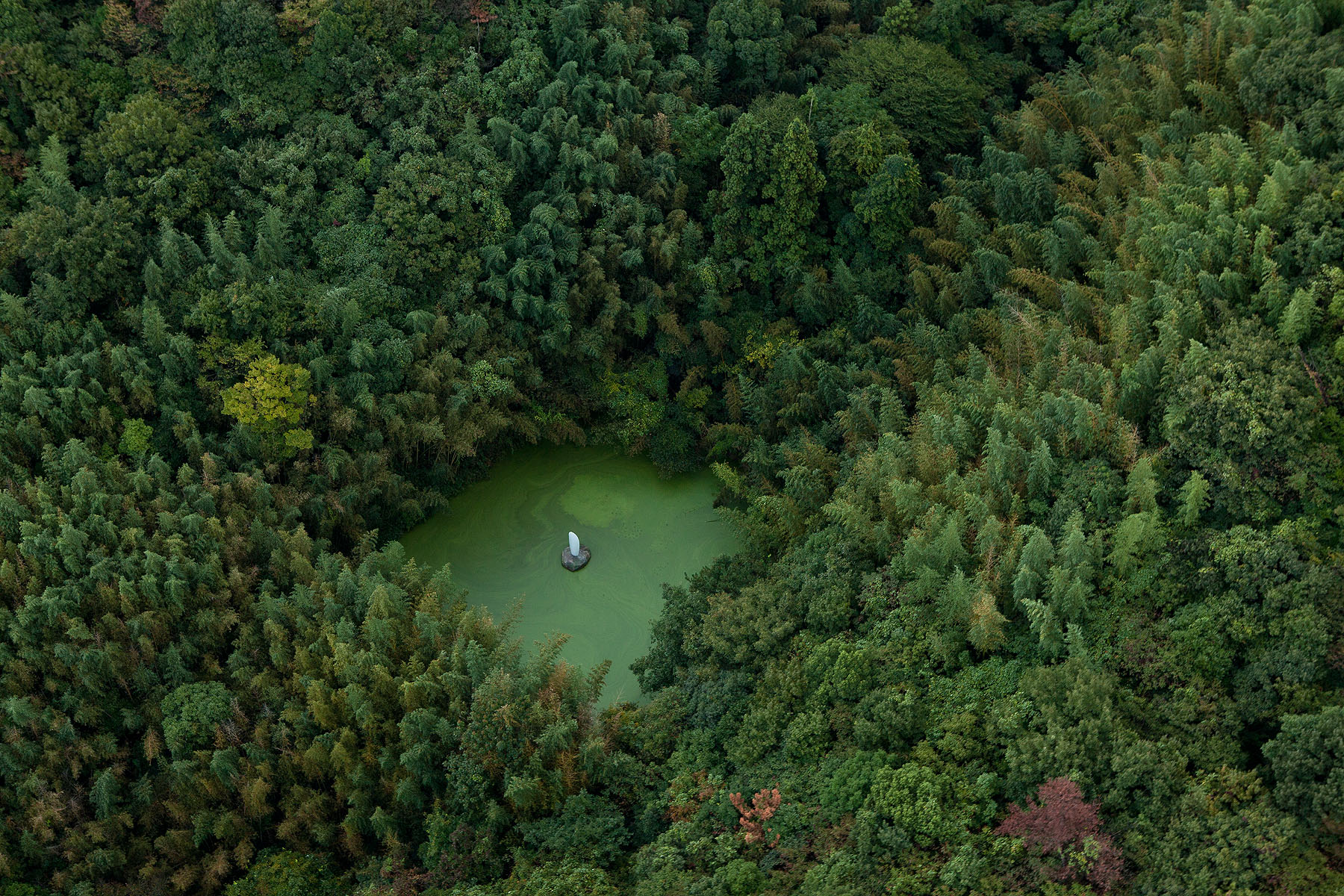 On Teshima there is no punctilious shuttle bus, and indeed very few cars. Here you travel by bicycle, perhaps with a small motor on the back wheel. Here you ride past thick groves embracing sculptures like hidden treasure. As you follow the main road, you come to a bend that dumps you out, with no fanfare whatsoever, in front of a building-sized water droplet, a seed-shaped spaceship from the future with clean, white, natural lines, a haiku embodied. The footpath by the ticket counter leads away, not toward, the museum, taking you behind a wall of trees to a lone bench overlooking the water. As if the gods of art are saying, "You're not ready yet," you're forced to breathe and confront the natural beauty of the island before you're allowed entrance.
In New York City, headquarters of all things queue-able, a place like Teshima could never exist. Here, the two comparable art destinations are Dia: Beacon and Storm King, paragons of big art you can access after you've finally found a parking spot. To find respite in New York in the summer, you have to cram yourself onto a train going to the Hamptons, or allocate a few extra hours to inching your way along I95 to Cape Cod. Every minute is an inconvenience on the way to somewhere cooler — yet willingly we line up, slaves to time, to the precious moments of awesomeness that always seem to be flying away from us, to be stored in the Instagram feeds of other people.
In 1985 a businessman named Soichiro Fukutake called up Naoshima's then mayor, Chikatsugu Miyake, to build a respite from the flashing, whizzing, soul-crushing pace of Japan's cities. Fukutake saw Tokyo as a "monstrous place that sucks people into a cortex of competition and exposes them to a surfeit of stimulation, excitement, tension, and pleasure," and so he chose art as a means to his utopian ends. He hired a 45-year-old Ando, who works only with steel, concrete, glass and wood, to build his fantasy world, and commissioned site-specific public art from Turrell and the like to be placed all over the island. Fukutake wanted to build a place where people could go to restore their depleted tanks, to change out the dirty residue of cynicism for clear, soaring sublime.
The result was Benesse Art Site Naoshima, a veritable art spa complete with a hotel-cum-art museum. The site is run by Fukutake's foundation alongside Benesse Holdings, and has expanded to the neighboring islands of Inujima and Teshima. For a place where minutes are precisely measured out in even packets with smooth, cutely decorated matte wrapping paper and bundled with string, where a hotel shuttle driver doesn't miss a single minute in his daily schedule, it's amazing how easily you can lose yourself there for hours, even days.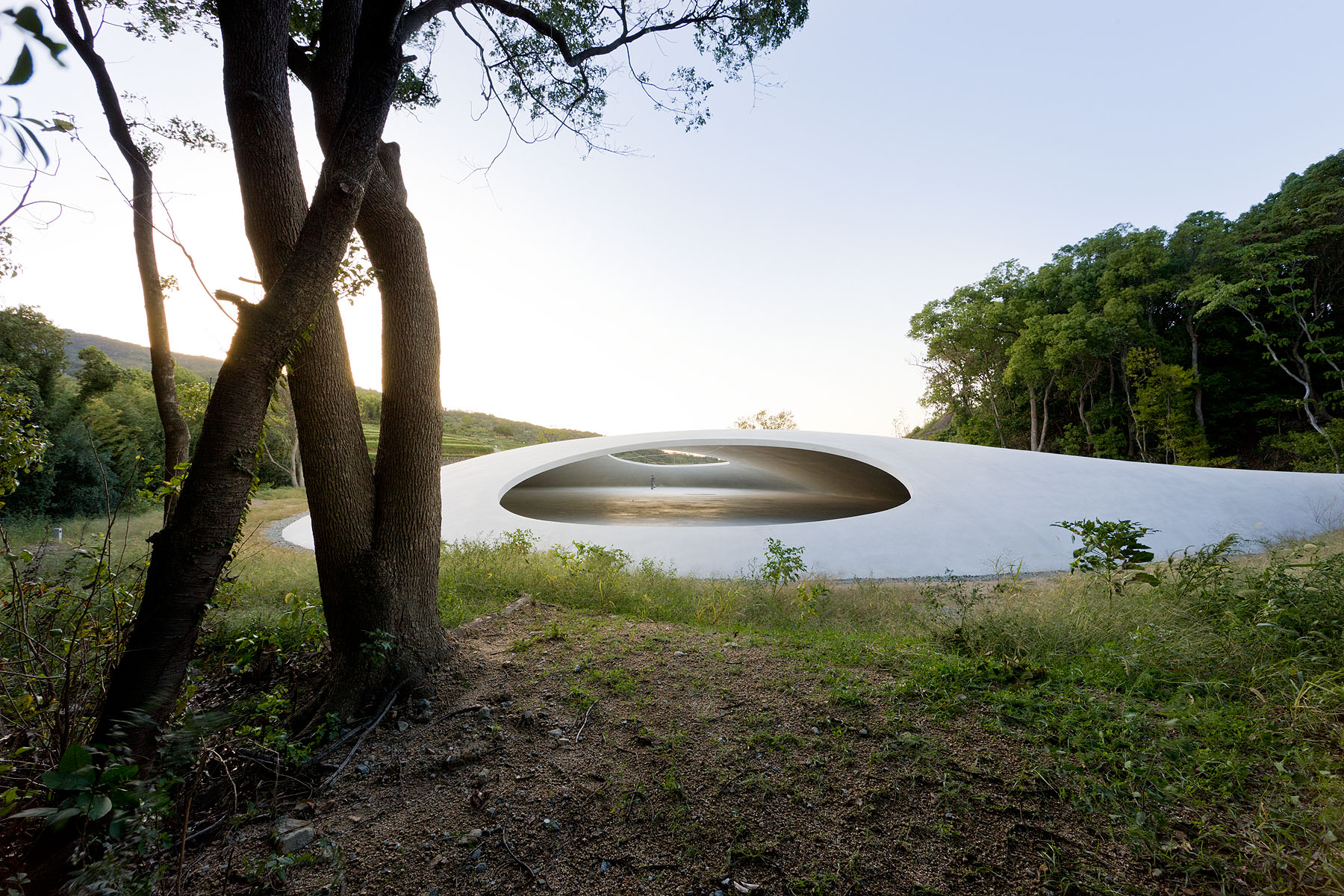 It's possible to travel thousands of miles to the other side of the world, to take a plane, three trains, two ferries and a bicycle, in order to stand completely still. It's possible to see something so beautiful that your hyperconnected, over-informed thoughts calm into a wordless lullaby, one you can carry with you wherever you go next. As you side-step tourists waiting in line for New York ramen, mentally calibrating the shortest route to your next social event, you only have to recall that moment, and it ripples like wind through your mind, leaving behind a stillness.
If you do that you just might find yourself sitting on the floor of a great earthen beast covered in white concrete, cavernous, and filled with light. Through two great openings in the ceiling you might let a stark blue sky and the tops of bright green trees wash over you. You might find yourself distilling a universe of worry into a single bead of water. You might watch as it grows slowly, almost imperceptibly, from a tiny hole in the ground, bubbling up until it bursts and crawls around your feet like animated forest spirits, hydroponic friends that, upon close inspection, rise from tiny holes in the floor.
Photos by Iwan Baan from Insular Insight: Where Art and Architecture Conspire with Nature, edited by Lars Müller and Akiko Miki. See a gallery of images from the book. And for more on moving to stand still, read Pico Iyer's new TED Book, The Art of Stillness.