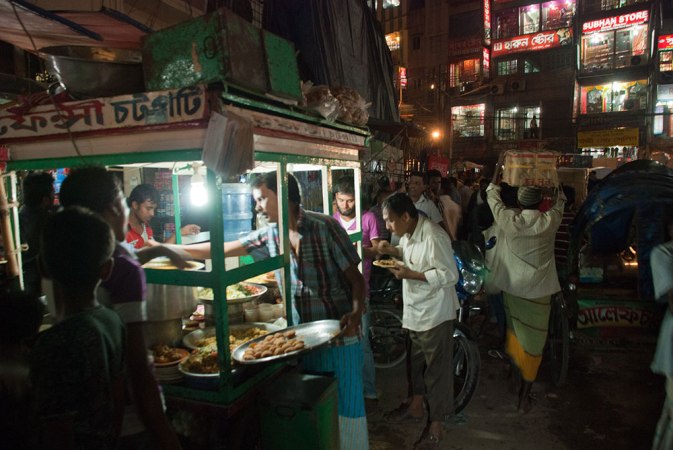 A headline-driven sketch of Dhaka, the Bangladeshi capital is, of course, incomplete. For a nuanced picture, you need to talk with someone like the architect, university lecturer and photographer Nurur Rahman Khan. Writer Alex Gallafent talks with the born-and-bred "Dhakaite."
You could, on first glance, see Dhaka as a fast and loose place, the kind of city that draws people in, churns them around and spits them out after a few tough years. Many in Dhaka face circumstances similar to those in other South Asian cities: poverty, limited education, exploitation. Dhaka itself sits at or near the bottom of rankings of the world's cities — not a happy picture. Perhaps you read about Dhaka because of the political unrest roiling Bangladesh in 2013. Or perhaps it was because of the collapse of a garment factory on the outskirts of the city in April of that year, which killed more than 1,000 people, a disaster that shone light on political and civic failings in the city.
As far as Nurur Rahman Khan is concerned, the city may have issues, but the title of "Dhakaite" is an honor.
Sure, as a child, he spent a couple of years living in Liverpool, England, while his father worked towards a Ph.D. But the strength of his feelings toward Dhaka have kept him there for almost his entire life. "It's what Dhaka does to you: the city is powerful enough to make you want to be a part of it," he says. Khan's Dhaka is steeped in culture and history, rooted in the central district of Ramna. In March 1971, when Khan was 6 years old, Ramna was the scene of a famous speech by nationalist leader Sheikh Mujibur Rahman. Proclaiming that "our struggle is for our freedom," Rahman's speech inspired many in the war with Pakistan that began not long after — a war that resulted in an independent Bangladesh.
Ramna is also where you'll find some of the country's leading academic institutions, including the University of Dhaka and Bangla Academy. Khan's father was a professor at the university; the family lived in academic housing for almost forty years. His mother taught at a women's college in the neighborhood. And Khan's own academic career in architecture took flight in Ramna — the way Khan describes it, his entire immediate family is connected to the area and its academies. (Not his 12-year-old son, though. Not yet.)
Discussing, thinking, debating — these are the social habits that Ramna prompts, says Khan. Instead of going to pubs or nightclubs, Khan and his friends will share tea in homes and cafés late into the night, chewing on the issues of the day. It's a form of socializing known as adda and, he says, "you can get hooked on this drug in no time." Adda is spontaneous and can happen at any time and in any place. Even now, Khan marvels at the flow of such conversations, which range "over many topics and moods, from light to serious, covering daily affairs, friends, events, the past, politics, religion, art, music, nostalgia, common interests, work and study." It is, he says, "never only about one thing or in one mood."
Dhaka and Bangladesh are dealing with some serious, intractable issues. Political inertia, deep social inequality and crumbling infrastructure aren't solved by drinking tea. Yet adda is a central part of city life. In general, says Khan, Dhakaites don't tend to seek out time alone. "People don't see a need for personal time," he adds. Maybe that's another reason the city's parks have become dilapidated in recent years: "People just don't crave peace and quiet."
That's lucky, because there are certainly plenty of distractions. Dhakaites are "big foodies," Khan says. The smells give the game away: on any corner, "you know that you're approaching a kebab shop, or a dalpuri shop, or a snack shop or a cha place." A whiff of all that and Khan knows he's home. One dish he says visitors can't avoid (and shouldn't attempt to) is kacchi biryani. It's lamb and rice cooked together, an aromatic feast that was a favorite of the Nabobs of Dhaka, Khan says. "They formulated the food taste of the city — the sweet dishes, kebabs, biriyanis, the fine dining. Those tastes used to belong to the rich and elite, but they filtered down to all classes of society. Now a wedding is not complete without a kacchi biriyani."
In other areas of life, though, Khan sees Dhaka losing its traditions. In the affluent district of Gulshan on the north side of the city, he observes a city rushing to be like its cosmopolitan global counterparts, with its own version of sleek malls, glitzy fusion restaurants and fancy galleries. "Most people there don't want to get around without their cars," he says. Further south, in Ramna and elsewhere, more traditional Dhakaites resist such "progress" by "making fun of the nouveau riche. The old people of Dhaka look at them and say, 'oh come on … who are they trying to show off to?'"
The changes have deepened Khan's appreciation for the city's history, an interest that frames his professional work. His architectural firm has designed offices, homes and diplomatic projects, including a renovation of the American embassy in Dhaka. His architectural research takes place in the capital too, a city that marries 500-year-old architecture alongside colonial styles and modern designs. Those include Dhaka's modernist jewel, the marble-and-concrete Jatiyo Sangshad Bhaban (National Assembly Building), northwest of Ramna. It was the last — and arguably greatest — work by the American architect Louis I. Kahn, a hero to his Bangladeshi near-namesake. (Khan has lectured on Kahn around the world.) Opened in 1982, the Jatiyo Sangshad Bhaban is extraordinary, a colossal floating palace that seems to have equal heft and weightlessness. The building is a powerful statement of democracy and national pride, a sad contrast with the collapsed garment factory on the outskirts of town.
Khan himself no longer lives in Ramna. Along with his father, his wife and his son, he now resides in Dhanmondi, an "upper middle class" residential area fifteen minutes west by car. Khan owns an apartment in a building built for civil servants — one of the first pieces of organized housing outside Ramna. "It's a great area. People are on their feet or on rickshaws doing their shopping." When Khan works at his practice, in another part of Dhanmondi, he generally travels by rickshaw, a half-hour journey on a good day.
Other journeys require a car, such as his undergraduate teaching commitments at BRAC University, east of the Jatiyo Sangshad Bhaban, and North South University, an hour and a half away to the north. Unlike many car owners in Dhaka, Khan says he usually drives himself around town. "We are the only megacity in the world without a good mass-transit system," he says. Plans to build a subway for Dhaka's 14 million residents have remained on the drawing board for decades, even as the population has continued to grow. Just as it was in the 1970s, rickshaws and buses remain Dhaka's principal options for public transportation, but now there are more cars on the road, more noise, more honking. Not that it gets on his nerves. He quotes Delirious New York, the book in which architect Rem Koolhaas suggests that within the noise of a city we find every extreme, or as Koolhaas puts it, both "splendors and miseries."
Dhaka is not perfect, not by any means. Khan complains that the city seems unable to extract itself from a morass of poor planning and politics. But the chaos requires Dhakaites "to find our way around," and he still finds that exciting. "Thank god Salvador Dalì wasn't born in Dhaka," Khan adds. "He wouldn't have been very creative here; the city's already surreal."
[googlemaps https://maps.google.com/maps/ms?msa=0&msid=205761226413510827708.0004eb75dfe26ef0a73a1&ie=UTF8&t=m&ll=23.740726,90.391731&spn=0.075425,0.109863&z=13&output=embed&w=640&h=480%5D
Check out Nurur Rahman Khan's favorite places in Dhaka in this handy annotated map. To see pictures, see this gallery of photographs shot by Mohammad Tauheed. This article was published as part of our "Questions Worth Asking" series. This week's teaser: "What makes a city feel like home?"
Alex Gallafent is a contributing correspondent for PRI's The World and a former BBC radio producer. He's also a freelance experience designer, currently with ESI Design, and a composer and sound designer for theater and film.
Editors' note: The previous headline of this piece, "It's messy but it's home. Life in Dhaka, Bangladesh," was, as perfectly described on Twitter, "itchy" and offensive to some readers, whose feedback we deeply appreciate. We've changed the headline to better reflect the content of the story.